Outfit ideas for picnic: keep it simple and comfortable. Are you planning to go for a picnic, but wondering what to wear?
Picnics are all about keeping it simple, comfortable, and stylish. You don't want to be uncomfortable and unable to enjoy your day to the fullest. So, it's essential to choose your outfit carefully. The key is to go for something that's both comfortable and versatile enough to let you move around freely and enjoy your time without worrying about wardrobe malfunctions.
From a floral summer dress to a pair of denim shorts and a t-shirt, there are plenty of options available that can help you achieve the perfect picnic look. In this article, we'll explore some of the best outfit ideas for a picnic that will make you look and feel amazing all day long.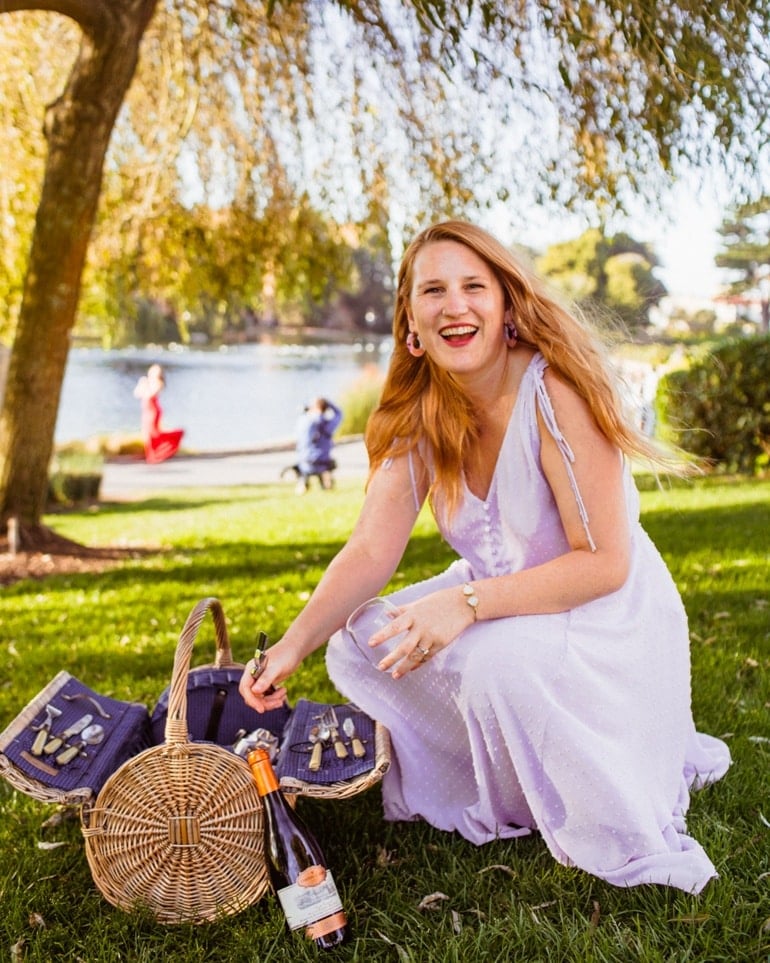 Credit: whimsysoul.com
Romantic Picnic Outfit Ideas
Picnics are one of the best summer activities, with the perfect weather, great food and gorgeous scenery. However, choosing the right outfit can be quite daunting, especially for romantic picnics. You want to look chic, yet comfortable, and be able to soak in the sun without any restrictions.
Here are some outfit ideas that will have you looking elegant and feeling confident for a romantic picnic.
Soft And Flowy Maxi Dresses With Floral Prints
Maxi dresses are the perfect choice for a romantic picnic. They're flowy, comfortable, and stylish all at once. Here are some key points to keep in mind:
Choose a style that flatters your body type, maybe a halter-neck for those with broad shoulders or an empire waist to highlight your curves.
Opt for soft, lightweight fabrics that are breathable like cotton or silk.
Pair your dress with strappy sandals or wedges and simple accessories.
Off-Shoulder Crop Tops Paired With High-Waisted Shorts
Crop tops and high-waisted shorts are a great option for a fun and flirty picnic look. Here are some key points to keep in mind:
When choosing a crop top, select an off-shoulder style that will show off your neckline, or add some style by wearing a lace or ruffle detail.
For shorts, opt for a high-waisted style that will accentuate your curves. Denim shorts or linen shorts are a great pick.
Accessorize your outfit with a straw hat or floppy hat, and a pair of chic sunglasses.
Strappy Sandals Or Wedges For A Chic Touch
No picnic outfit is complete without the perfect footwear. Adding strappy sandals or wedges will take your look to the next level. Here are some key points to keep in mind:
Choose footwear that is comfortable to walk on the grass or even sand.
Consider the color of the footwear and how well it complements your outfit. Neutral, metallic, or pastel-tone sandals or wedges are a great choice.
To add a chic touch, pair strappy sandals or wedges with a seasonally appropriate bag, such as a straw or woven tote to store all your picnic essentials.
There you have it; outfit ideas perfect for a romantic picnic. Keep in mind the above tips and select the right dress or top and shorts, with the perfect accessory, and most importantly, don't forget to have some fun with the look.
Casual Picnic Outfit Ideas
Ready for a fun day full of sunshine and tasty treats? Going on a picnic is a perfect way to enjoy the outdoors while indulging in delicious snacks. However, choosing the perfect outfit can be tricky. You want to be comfortable, yet stylish, and ready to move around.
Here are some casual picnic outfit ideas that will make you feel confident and ready for any adventure.
Loose-Fitting T-Shirts With Distressed Denim Shorts
Comfort is key, and what's more comfortable than a loose-fitting t-shirt? Opt for a casual cotton t-shirt that allows you to move around freely and feel relaxed.
Pair it with distressed denim shorts that give off a cool, laid-back vibe. Denim is breathable and durable fabric, perfect for a picnic, and distressed shorts will show off a trendy, edgy style.
You can accessorize this outfit with a cute cross-body bag, a hat, and some chunky bracelets to complete the look.
Light-Colored Linen Pants And A Breezy Blouse
Linen is an excellent choice for summer clothing as it is lightweight and breathable, making it ideal for a hot day. Light-colored linen pants will keep you cool and breezy while looking chic and classy.
Pair them with a breezy blouse or a shirt with rolled-up sleeves. Opt for a light shade for a relaxing and classic feel.
Complete this outfit with a comfortable pair of flats or sandals and a sun hat.
Comfortable Sneakers Or Slip-On Shoes
You want to be comfortable throughout the picnic, so sensible footwear is an absolute must. Comfortable sneakers or slip-on shoes will keep you stable and ready to explore the surroundings.
When it comes to sneakers, you can't go wrong with a white pair of canvas sneakers or colorful ones that match your outfit style. If you prefer slip-on shoes, loafers or mules are trendy options that add sophistication to your outfit.
Remember to bring socks to keep your feet dry and hygiene.
These casual picnic outfit ideas will make you feel comfortable and stylish. Opt for loose-fitting t-shirts with distressed denim shorts, light-colored linen pants with a breezy blouse, or comfortable sneakers or slip-on shoes that will keep you comfortable no matter where your adventures take you.
Get ready for a day full of fun and memories!
Trendy Picnic Outfit Ideas
Are you ready for a day out in the sun, surrounded by beautiful nature, and enjoying some delicious food? Picnics are a perfect summer activity. But deciding what to wear can be challenging. You want to look trendy, fashionable, and remain comfortable at the same time.
If you are struggling with picking the right outfit, let us guide you with some fantastic ideas. In this blog post, we will explore trendy picnic outfit ideas that will make you look stylish while enjoying your day.
Gingham Patterns And Pastel Colors For A Modern Twist
Gingham patterns and pastel colors are taking over the fashion industry by storm. It's a classic summer staple that will add a modern twist to your outfit. Here are some key points:
Gingham patterned dress or skirt paired with a white blouse or t-shirt.
A pastel-colored jumpsuit with nude heels and minimal accessories will make you look chic.
Wear a gingham patterned top, and pair it with high-waisted shorts to make your outfit look casual yet trendy.
High-Waisted Pants With A Cropped Tank Top
High-waisted pants give an instant vintage vibe to the outfit. Pair them with cropped tanks and sandals for a trendy and comfortable look. The points to consider are:
White high waisted palazzos with a bright-colored cropped tank top and a boho-style hat.
Blue denim pants paired with a white cropped top and sneakers for a sporty look.
For a comfortable and casual look, pair khaki-colored high waisted shorts with a cropped plain white tank top.
Mules Or Espadrilles For A Fashionable Edge
Mules or espadrilles are the perfect summertime shoe. They make your outfit look trendy and fashionable without compromising comfort. Here are some points to consider for selecting the perfect footwear:
Pair espadrilles with a summer dress or a skirt for a chic, feminine look.
Opt for mules if you're wearing high-waisted shorts and a crop top, it will give a trendy edge.
A pair of strappy espadrilles with a jumpsuit will add the final touch of sophistication to the outfit.
Gingham patterns and pastel colors, high-waisted pants with a cropped tank top, and mules or espadrilles are excellent options for a trendy picnic outfit. Don't forget to enjoy the day and make some beautiful memories!
Accessorizing For Picnic Perfect Style
When it comes to picnic perfect style, accessorizing is just as important as the outfit itself. Here are a few ways to add a touch of glamour to your picnic attire:
Oversized Sun Hats And Sunglasses For Sun Protection
Protecting your skin from the sun's harmful rays is a must, and oversized sun hats and sunglasses can help you look stylish while doing so. Here's what you should consider:
Choose sun hats with wide brims and neutral colors that will complement any outfit.
Pair your sun hat with oversized sunglasses for added protection and a touch of glamour.
Look for sunglasses with uv protection, polarized lenses, and a classic style that you can wear year after year.
Straw Bags Or Woven Totes For A Natural Feel
Straw bags and woven totes not only look chic but are also perfect for carrying all your picnic essentials. Here's what you should consider:
Look for straw bags in different shapes and sizes to suit your needs.
Choose woven totes with sturdy handles that can support the weight of your picnic supplies.
Opt for natural materials like woven straw or seagrass that complement the outdoors and complement any outfit.
Layered Necklaces Or Statement Earrings For Added Flair
If you want to add a touch of glamour to your picnic outfit, layered necklaces or statement earrings are a great option. Here's what you should consider:
Opt for layered necklaces with different lengths and textures to add depth to your outfit.
Look for statement earrings that complement your outfit and add a touch of whimsy.
Keep your other accessories minimal to allow your necklace or earrings to shine.
Accessorizing is the perfect way to elevate your picnic outfit and make a statement while still keeping it comfortable and practical. Incorporate these ideas into your picnic ensemble to add the perfect touch of glamour for a day of fun in the sun.
Frequently Asked Questions On Outfit Ideas For Picnic
What Should I Wear For A Picnic?
For a picnic, you should wear a comfortable outfit like a cute sundress, shorts with a light top, or flowy pants paired with a casual top. Also, consider choosing breathable fabrics and wearing comfortable footwear.
How Do I Look Cute For A Picnic?
To look cute at a picnic, opt for easy and breezy outfits like a maxi dress or a cute denim skirt and top combination. Add a pop of color with your shoes or accessories, and don't forget to accessorize with a sun hat.
What Shoes Are Suitable For A Picnic?
The best shoes to wear for a picnic are comfortable and practical. Flat sandals, sneakers, or canvas shoes are great choices for outdoor events like picnics. If you want to wear heels, choose wedges or espadrilles so that you don't sink into the grass.
Conclusion
Picnics are events that can be enjoyed by the whole family. It offers opportunities for families and friends to bond, relax, and have fun. However, without adequate outfit preparations, it might be challenging to fully enjoy the trip. The right outfit promotes comfort, accessibility, and mobility, which are essential for a picnic experience.
It is important to prioritize practicality, comfort, and style when selecting your picnic outfit. The perfect outfit for a picnic is one that allows you to feel comfortable, confident, and stylish while you create memories. Whether you prefer classic, casual, or trendy looks, the outfit ideas for picnics covered in this post are sure to leave you feeling ready for your next picnic event.
With these ideas, you can confidently enjoy your picnic while looking amazing. So, choose the best outfit that suits you and embark on an exciting picnic trip with your loved ones!