A monochromatic outfit is an ensemble that comprises of pieces of clothing in the same color or shade. This means that the outfit has different pieces but is made using only one color or shade.
Monochromatic outfits are a popular fashion trend that has been growing in popularity in recent years. The trend is popular because it offers a sleek and cohesive look that is both stylish and modern. With monochromatic outfits, you can mix and match different pieces of clothing in the same color to create a fashionable statement that is unique and eye-catching.
Monochrome outfits can be casual or dressy depending on how you style them. Overall, monochromatic outfits are a great way to showcase your fashion style and creativity.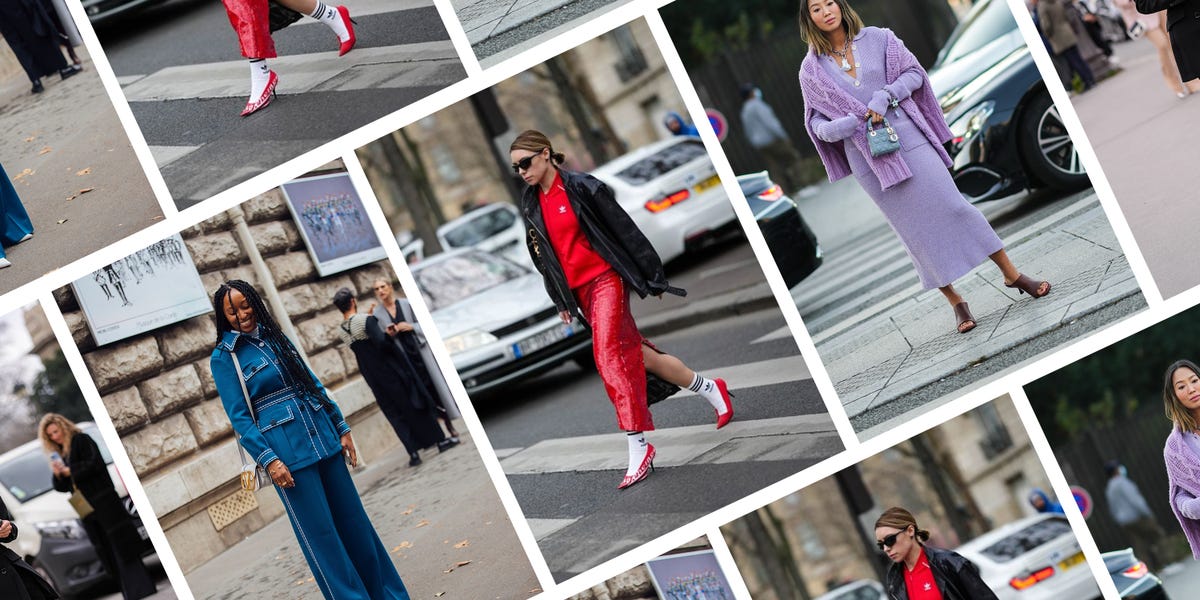 Credit: www.harpersbazaar.com
Benefits Of Wearing Monochromatic Outfit
Monochromatic outfit is a fashion trend that involves wearing the same color from head to toe. It may seem like a simple style, but it has a significant impact on how you look and feel. We will discuss the benefits of wearing a monochromatic outfit.
Highlighting Fashion Sense
When you wear a monochromatic outfit, you showcase your unique fashion sense. It demonstrates that you have an eye for style and an appreciation for minimalism. By pairing different hues and textures of the same color, your outfit becomes visually engaging.
Monochrome outfits are versatile, making them suitable for any occasion from casual outings to formal events.
Monochromatic outfits reflect a unique and distinct style.
Minimalism and simplicity are showcased with monochrome outfits.
Using different hues and textures of the same color creates a visually striking outfit.
Slimming Effect On The Body
Wearing a monochromatic outfit can give the appearance of a slimmer silhouette. By wearing a single color, the eye flows uninterrupted from head to toe, creating a visual lengthening effect. The absence of color blocking or contrasting shades removes any emphasis on specific body parts, making your frame look lean and seamless.
Monochromatic outfits create an elongated and streamlined line.
A continuous flow of one color avoids attention on specific body parts.
Monochromatic outfits create a slimming silhouette.
Enhancing Confidence And Self-Esteem
When you look good, you feel good. Wearing a monochromatic outfit elevates your confidence and self-esteem. Not only does it make you stand out, but it also gives you a sense of control. You can easily mix and match pieces within your wardrobe and adapt it for different occasions.
Lastly, monochromatic outfits demand attention and can leave a lasting impression.
Monochromatic outfits increase confidence and self-esteem.
Mix and match pieces within your wardrobe allow versatility and adaptability.
A monochromatic outfit captures attention and leaves a memorable impression.
Overall, wearing a monochromatic outfit is not only a fashion choice, but it has numerous benefits for both your appearance and confidence. Give it a try and enhance your style in a minimalist and stylish way.
How To Create A Monochromatic Outfit
Monochromatic outfit is a type of dressing where you select pieces of clothing with the same color tone or variations of the same color. This fashion trend is becoming increasingly popular and is here to stay. Many fashionistas and celebrities have tried and tested this style and have pulled it off effortlessly.
Choosing The Right Color
Choosing the right color is the most important factor when creating a monochromatic outfit. All your clothing items should have the same color tone or variations of the same color. Follow these tips when choosing the right color:
Stick to colors that flatter your skin tone.
Avoid colors that wash you out or clash with your complexion.
Start with neutral colors like black, white, and beige, then move towards bold colors like red, pink, and green.
Utilizing Different Shades And Textures
Monochromatic outfits do not have to be flat and dull. Mix and match different shades and textures to add depth and dimension:
Use darker and lighter shades of your chosen color to create contrast.
Experiment with different fabrics like denim, leather, lace, and velvet to create variations in texture.
Accessorizing
Accessories can make or break your outfit. When accessorizing your monochromatic ensemble, keep these tips in mind:
Use accessories to break up the monotony of your outfit.
Go for contrasting accessories like gold jewelry with a navy blue dress.
Use statement pieces like a bold belt or a bright clutch to add a pop of color.
Creating a monochromatic outfit is not as difficult as it seems. Using the right color, mixing and matching different shades and textures, and accessorizing correctly can make all the difference. With these tips, you can create a stylish and trendy monochromatic outfit that will turn heads wherever you go.
Dos And Don'Ts Of Wearing Monochromatic Outfit
What Is Monochromatic Outfit?
Monochromatic outfit is a style of dressing that is comprised of a single color from head to toe. It may sound like a boring choice, but it can actually be a chic and sophisticated look, especially when styled right. If you're new to this trend, here are some dos and don'ts to keep in mind.
Ways To Prevent Looking Too Plain
Incorporate texture: Wearing pieces with different textures can add depth and interest to your outfit. For instance, you can pair a silk blouse with a wool skirt or a chunky knit sweater with leather pants.
Play with proportions: Opt for pieces of different lengths and cuts to balance out your outfit and prevent it from looking too monotonous. For example, you can wear a fitted top with wide-leg pants or a cropped jacket with a long flowy skirt.
Accessorize strategically: Add statement accessories like a bold necklace, oversized sunglasses or a colorful pair of shoes to add personality and flair to your outfit. Just be careful not to overdo it or your accessories may end up competing with your overall look.
Mixing And Matching Colors
Stick to one color family: To keep your monochromatic outfit cohesive, pick shades that belong to the same color family. For instance, if you're going for a blue outfit, you can choose from a range of blues from navy to light blue to create depth and interest.
Experiment with shades: Don't be afraid to mix and match different shades of the same color to create a more dynamic look. Think of it as playing with different hues and tones to create a harmonious palette.
Add accent colors: If you feel like your outfit needs a pop of color, you can add small accents of a contrasting color like red, yellow or green. This will prevent your outfit from looking too one-dimensional while still staying true to the monochromatic theme.
Ways To Make Monochromatic Outfit Work For Various Occasions
Workwear: A monochromatic outfit can be a great option for the office as it is professional and polished. Stick to neutral colors like black, grey or navy and opt for tailored pieces like a blazer, trousers or a pencil skirt to create a sophisticated look.
Formal events: To make a monochromatic outfit work for a formal event like a wedding or a gala, choose luxurious fabrics like silk or velvet and play with texture and shine. For example, you can wear a satin dress with sparkly earrings to create a glamorous look.
Casual occasions: Monochromatic outfits can also work for a more casual setting. Opt for comfortable pieces like a sweater and denim jeans or a cotton dress and accessorize with a statement bag or shoes to elevate your look. Just make sure the shades match to maintain a cohesive look.
Remember, the key to nailing a monochromatic outfit is to experiment and have fun with it. Whether you're going for a more traditional or a more daring look, there's a way to make this trend work for you and your personal style.
Celebrity Style Inspiration For Monochromatic Outfit
Monochromatic outfits have been trending for quite a while now, and it's not hard to understand why. They're stylistically elegant, easy to pull off, and create a chic, timeless look. Celebrities love to rock this look too, and there are various ways to style monochrome outfits from wardrobe basics to statement pieces.
Here are some celebrity style inspirations for monochromatic outfits:
Examples Of Celebrities Pulling Off A Monochromatic Look:
Monochrome fashion trends have inspired many celebrities across the globe, from fashion icons to women who love to keep it simple yet stylish. Here are examples of a few celebrities who have aced the monochromatic look.
Kendall jenner: Kendall has a great sense of style and can be seen dressing up and down effortlessly. She showed that a denim-on-denim look with matching shoes in a light wash can look chic and cool.
Victoria beckham: Victoria beckham has constantly proven that she can pull off any look. She chooses to wear neutral shades of beige and brown, which complement her perfectly.
Rihanna: Known for her fashion-forward choices, rihanna can be seen wearing monochromatic outfits on multiple occasions. She rocked a yellow outfit with stunning heels and matched statement jewelry to complete the look.
What Can Be Learned From Their Fashion Choices:
The following are some key takeaways from the celeb's fashion choices when it comes to monochromatic outfits:
Simplicity can be eye-catching: Outfits in a single color family can look chic and stylish as long as you wear it with confidence.
Accessorize wisely: Simple monochrome outfits can be spiced up with statement jewelry, scarves, or belts. It allows the outfit to have that oomph effect, while maintaining its simplicity.
Change it up: You don't always need to stick to the usual monochrome shades like black, white, and grey. Experiment with bright and bold colors that suit your skin tone.
Comfort is key: When it comes to monochromatic outfits, comfort is key. It may look great, but it should also feel good.
Monochromatic outfits may seem daunting at first, but with a bit of experimentation and confidence, anyone can rock it!
Frequently Asked Questions 
What Is A Monochromatic Outfit?
A monochromatic outfit consists of clothing pieces that are all of the same color or varying shades of a single color. Wearing matching shades creates a cohesive, streamlined appearance.
What Colors Work Best For A Monochromatic Outfit?
Neutral colors like black, white, and gray make for classic monochromatic outfits. You can also experiment with brighter shades or choose different hues of a single color to add depth and interest to your look.
How Can You Add Visual Interest To A Monochromatic Outfit?
Accessories and textures are key to breaking up a monochromatic outfit visually. Consider adding a statement necklace or bracelet or using different textures like lace or denim to create a more dynamic look.
When Is It Appropriate To Wear A Monochromatic Outfit?
A monochromatic outfit can be appropriate anywhere, from casual outings to formal events. It offers a subtle yet sophisticated look and can be a great way to show off your fashion sense.
How Do You Accessorize A Monochromatic Outfit?
When accessorizing a monochromatic outfit, consider adding pieces that are a different color from your clothing. A brightly colored clutch or statement necklace can add a pop of visual interest without detracting from the unity of your monochromatic look.
Conclusion
Monochromatic outfits are an eye-catching style statement that can make you look chic and put-together. With just one hue, you can create a visually stunning outfit that shows off your style and personality. By using variations of one color, you can add depth and dimension to your outfit with ease.
With the right accessories and styling, a monochromatic outfit can be perfect for any occasion, from a casual day out to a formal event. Another advantage of a monochromatic outfit is that it can make you look taller and slimmer by elongating your silhouette.
It's no wonder that this style has become increasingly popular in recent years, and it's definitely worth trying out for yourself. So, the next time you're looking to refresh your wardrobe or need a quick and easy outfit choice, consider a monochromatic ensemble.