For a fun day out at disney world, wear comfortable clothes and shoes. Avoid wearing anything tight-fitting, elaborate, or uncomfortable.
Visiting disney world is every child's dream. It's a place of wonder and magic where everyone can live their fairy tale for a day. However, making sure that you are dressed appropriately can make or break your day at the park.
Aside from being stylish, your attire needs to be comfortable and functional. Disney world can be a lot of walking around and standing in long queues, so wearing comfortable shoes is a must. Dress appropriately for the weather and consider layering your clothing to adjust to the temperature changes throughout the day. Finally, accessorize your outfit with disney themed items to get into the spirit of things. In this article, we'll explore many different outfit options so that you can choose the perfect outfit for your day at disney world.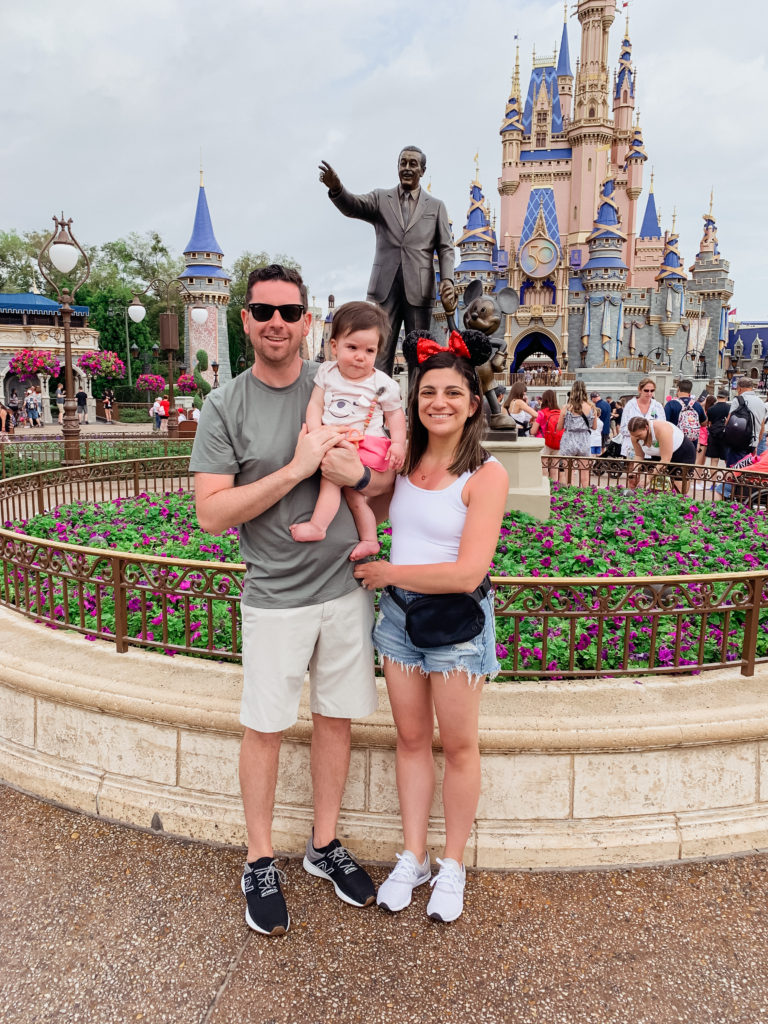 Credit: kmmlifestyle.com
What To Consider When Choosing Your Disney World Outfit
The Importance Of Comfort And Practicality
When it comes to deciding what to wear at disney world, comfort and practicality should be your top priority. Keep in mind that you will be spending the entire day walking, standing, and potentially waiting in lines. Here are some points to consider:
Choose breathable fabrics that will help you stay cool in the florida heat.
Wear comfortable shoes that you can walk in for long periods without causing blisters or pain.
Avoid wearing clothing that restricts your movement.
Keep your personal belongings to a minimum so that you don't have to carry a heavy bag around all day.
Factors To Consider: Weather, Activities, And Park Style
When choosing your disney world outfit, it's essential to consider the weather, the activities you plan to do, and the overall park style. Here are some tips to help you out:
Check the weather forecast before you go. If it's going to be hot and sunny, wear a hat and sunscreen. If it's going to rain, carry a poncho or an umbrella.
Think about the activities you plan to do. If you'll be riding water rides or going to a water park, wear quick-drying clothing that won't stay wet for long. If you'll be taking a lot of photos, wear clothing that will look good in pictures.
Consider the park style. You may want to wear clothing that matches the theme of the park you're visiting. For example, if you're going to magic kingdom, you could wear a shirt with mickey mouse on it.
Styling Tips To Stay Fashionable And Fun While Comfortable
Staying comfortable doesn't mean you have to sacrifice style. Here are some tips to help you stay fashionable and fun while being comfortable:
Accessorize with a hat, sunglasses, or a statement piece of jewelry to add some flair to your outfit.
Choose tops with fun prints or patterns to show off your personality.
Pair your outfit with a trendy fanny pack or a crossbody bag that won't weigh you down.
Opt for shorts or skirts that are comfortable and stylish.
Remember that what you wear at disney world should make you feel comfortable and confident so that you can focus on having fun. Follow these tips to stay cool, fashionable, and practical all day long.
What To Wear At Disney World For A Family Trip
Disney world is a magical place for everyone, and it's even better when you feel comfortable and stylish! But what to wear at disney world for a family trip? Here, we've got you covered with outfit ideas, packing lists, and even how to match for coordinated family outfits for photos.
How To Match For Coordinated Family Outfits For Photos
Matching family outfits for disney world photos are a great way to show off your family unity and create cherished memories. Follow these tips for a coordinated family look:
Pick a color scheme that complements each other's outfits. If one family member wants to wear a bright color, have everyone else wear a neutral one.
Check out stores that sell matching family outfits such as etsy or amazon.
Consider getting matching disney-themed tees or hats.
Accessorize with matching bracelets, necklaces, or earrings.
Outfit Ideas For Different Family Roles: Parents, Kids, And Infants
Each family member has different needs, so here are some outfit ideas for parents, kids, and infants.
Parents
Parents should wear comfortable clothes so they can chase the kids around the park. Here are some ideas:
Cotton t-shirts or tanks paired with shorts or jeans.
Light jackets or cardigans for cooler evenings.
Sneakers or comfortable walking shoes are a must.
Kids
Kids will want to wear something fun and colorful. Here are some recommendations:
Disney-themed t-shirts or tanks.
Shorts or leggings for mobility.
Comfortable shoes such as sneakers or sandals.
Infants
Babies need comfortable clothing too, but with an added touch of cuteness.
Onesies with disney characters or quotes on them.
Soft, breathable pants or shorts.
Comfy shoes or booties.
Packing List For A Family Trip To Disney World
Here's a packing list to make sure you don't forget anything for your family trip to disney world:
Sunscreen and sunglasses to protect from sunburns.
Comfortable shoes for everyone, as there's a lot of walking to do.
Light jackets or sweaters for when it gets cooler in the evenings.
Hats or caps to protect from heat and humidity.
Reusable water bottles to keep everyone hydrated throughout the day.
Disney-themed clothing or accessories for fun family photos.
A small backpack to carry essentials such as wallets, phones, and snacks.
Baby essentials such as diapers, wipes, formula, and extra clothes.
What to wear at disney world for a family trip is a combination of comfort, style, and fun. Use these outfit ideas, tips for matching family looks, and packing lists to make sure you're ready for a magical time at the happiest place on earth!
What To Wear At Disney World For Different Seasons
When it comes to planning a trip to disney world, figuring out what to wear is crucial. Florida's weather is notoriously unpredictable. You never know when it's going to rain, be hot and humid, or cooler than anticipated. To help you prepare, we listed tips on what to wear for different seasons.
Summer Attire: How To Stay Cool And Comfortable
Summers in florida are hot and humid, with temperatures easily reaching the high 90s. It's best to pack lightweight and moisture-wicking clothes to stay cool and comfortable. Here are some tips:
Dress in light-colored, breathable clothes to reflect the sun's rays and absorb less heat.
Wear moisture-wicking, quick-dry fabrics that allow sweat to evaporate quickly.
Put on a hat or visor to protect your face from the sun.
Wear comfortable, supportive sandals or sneakers. Make sure to break them in beforehand to avoid blisters.
Winter Attire: How To Layer Without Bulk
Florida's winters are mild compared to other states, with temperatures ranging from the 50s to 70s. However, it's still crucial to prepare for cooler weather. Here are some tips to help you layer without bulk:
Dress in layers so you can adjust accordingly to the changing temperatures.
Wear a light jacket or sweater that you can easily remove if you get too hot.
Opt for clothes made of wool or fleece to keep you warm without adding too much bulk.
Put on closed-toe shoes or sneakers to keep your feet warm.
Rainy Day Attire: How To Stay Dry And Stylish
Florida is known for sudden rainstorms that can last for hours and sometimes even days. To make the most out of your trip, be prepared for the rain. Here are some tips on how to stay dry and stylish:
Pack a lightweight raincoat or poncho that can fit in your backpack or purse.
Wear waterproof shoes or boots that can handle puddles and mud.
Dress in quick-drying fabrics that won't soak up the rainwater.
Put on a hat or cap to protect your face from the rain.
Packing the right clothes for disney world is essential to ensure your comfort and enjoyment of the trip. Use these tips to help you plan accordingly, no matter the season you visit. Remember to stay hydrated, wear sunscreen, and most importantly, have fun!
Dress Code Policy At Disney World
Overview Of Disney'S Dress Code Policy
A visit to disney world requires planning, and the dress code policy is a crucial aspect to consider. Visitors are expected to follow a specific dress code to maintain the park's family-friendly environment. Here is an overview of the policy:
Costumes are not allowed for visitors aged 14 and above.
Clothing must be appropriate, not offensive, and not display vulgar language or graphics.
Shoes must be worn at all times in the park and be practical for the day's activities.
What Not To Wear At Disney World
To uphold the park's family-friendly environment, disney world prohibits some clothing items and accessories. To avoid any inconvenience or disappointment, visitors should refrain from wearing:
Clothing with exposed undergarments
Clothing that drags on the ground
Masks, unless worn for medical reasons
Clothing with violent or graphic images or language
Remember, disney world is a place where families with children visit, so dress accordingly.
Dress Code Policy For Character Dining, Water Parks, And Special Events
Disney world has separate dress code policies for character dining, water parks, and special events. Here's what visitors should know about them:
Character dining: While there's room for flexibility, visitors are expected to dress appropriately for the occasion. For example, guests could dress up for meals with belle or cinderella in their iconic dresses or outfits.
Water parks: Swimsuits, swim trunks, and cover-ups are appropriate, as long as they are family-friendly and not overly revealing.
Special events: Disney world hosts various special events throughout the year, and the dress code may vary based on the event. Visitors should check the guidelines before attending.
Disney world is a magical place that appeals to people of all ages. However, dressing appropriately is an essential part of ensuring a magical experience for everyone. Plan and dress accordingly to enjoy your visit to the fullest.
Frequently Asked Questions On What To Wear At Disney World?
What Kind Of Shoes Should I Wear?
Comfortable shoes like sneakers or walking shoes are recommended as there is a lot of walking involved.
What Should I Wear On Rides?
Avoid wearing loose clothing and wear comfortable clothing that you can move in easily.
How Should I Dress For The Weather?
During summer, wear light and breathable clothing and remember to bring sunscreen and a hat. During winter, dress in layers.
Can I Wear A Costume To Disney World?
Costumes are not allowed for anyone over the age of 14, except during special events like mickey's not-so-scary halloween party.
Should I Bring A Bag?
Carry a small bag with essentials like sunscreen, phone, wallet, and water. Consider bringing a backpack for larger items.
Is There A Dress Code For Dining?
Disney world has dress codes for some dining experiences. Check the requirements before making reservations.
Conclusion
As you can see, planning your wardrobe for a trip to disney world can be quite a task. Remember that the weather in orlando can be unpredictable, so be sure to pack clothes that can cater to varying temperatures. Opt for comfortable footwear and carry a backpack to keep your essentials handy.
Keep in mind the dress code restrictions at some of the parks, and don't forget to accessorize. With these tips, you can stay comfortable, stylish, and ready for anything disney world has to offer. Bon voyage!