For clubbing, wear comfortable clothing and shoes that make you feel confident. For a stylish and trendy look, opt for dresses or jumpsuits with strappy heels or platform sneakers.
Clubbing is a fun night out, and dressing accordingly can add to the excitement. Whether you're heading to a vip club or a local spot, what you wear is essential to feeling confident and ready to dance the night away.
However, club fashion can be tricky, as it often calls for a balance between comfort and style. Luckily, there are many options to choose from, including dresses, jumpsuits, skirts, and even denim. The key is to prioritize comfort while still looking chic, so you can focus on enjoying your night out. In this article, we'll discuss some tips and ideas for what to wear clubbing so that you can feel confident and stylish on your next night out.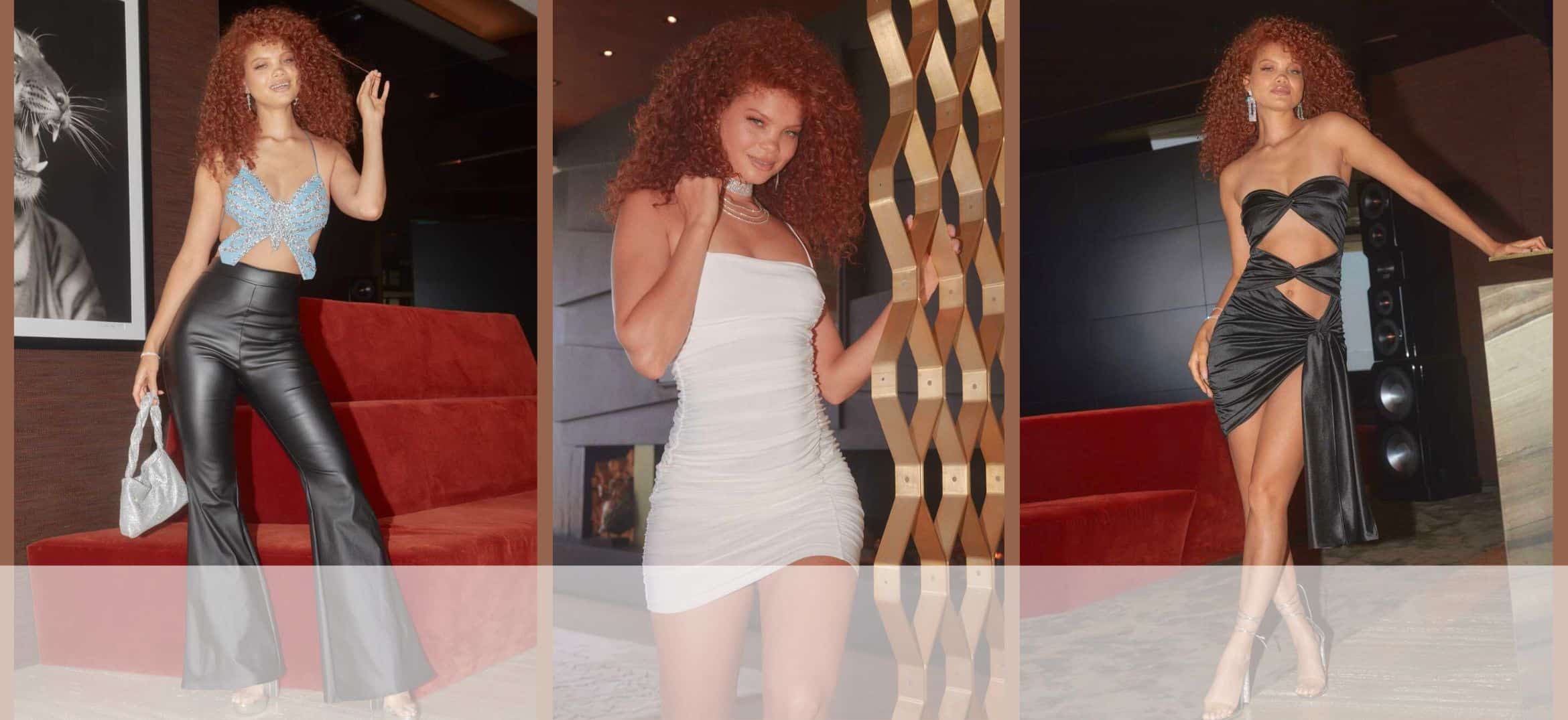 Credit: www.windsorstore.com
Understanding The Clubbing Scene
Clubbing is a social activity that involves dancing, drinking and socializing in a nightclub or any other venue that is devoted to music and dance. It has its unique culture and etiquette that you need to know to blend in and enjoy yourself.
Understanding the clubbing scene requires that you know what clubbing is all about, know your clubbing venue and be familiar with the dress code culture.
What Clubbing Is All About?
Clubbing is a way of socializing and having fun with friends and meeting new people.
It's a way of enjoying music, dancing and letting off steam.
Clubbing is all about being in an electric atmosphere surrounded by like-minded people who want to have a good time.
Knowing Your Clubbing Venue
Knowing your clubbing venue is crucial as each venue has its unique atmosphere and vibe. Here are some key points to keep in mind:
Research your clubbing venue before your visit to know the type of music played, age demographics, location, and opening and closing times.
Check the dress code and adhere to it.
Make sure you know where the restrooms and bars are located.
Be familiar with the different areas of the club and the kind of people who hang out there.
Understanding The Dress Code Culture
Clubbing dress code culture varies depending on the venue and the kind of event hosted. Here is a general guide to adhere to:
Dress to impress but keep it comfortable and practical.
Smart casual attire is always a safe option; avoid wearing sportswear, ripped clothing, or tank tops.
Some clubs have specific dress codes such as black tie, smart casual, or beachwear. Always check ahead of time to avoid being turned away.
Shoes are essential. Avoid flip flops or sneakers and opt for dressy shoes instead.
Remember, your attire speaks volumes of your personality and can help you blend in with the clubbing scene. By understanding the clubbing culture, venue, and dress code, you can prepare yourself for an unforgettable experience on the dance floor.
The Dress Code Essentials For Clubbing
Going clubbing tonight? One of the most common dilemmas when it comes to clubbing is what to wear. The perfect outfit for clubbing depends on the type of nightclub and event you're attending. Here are the dress code essentials for clubbing.
Study The Club'S Dress Code Policy
Before you go clubbing, it's essential to do some research on the venue's dress code. You can either visit their website or call the club to inquire about their dress code policy. This will help you avoid getting turned away at the door for not adhering to their dress code policy.
Here are some things to note:
Most nightclubs have a dress code policy that they enforce strictly.
Dress code policies may vary depending on the event and night of the week.
Dress codes are enforced to maintain a certain level of sophistication and safety in the club.
Dress Code For Men
Men should aim to dress smart-casual for a nightclub. The following are some of the essential items of clothing for men when clubbing:
A well-fitted shirt or a polo shirt
Dark-colored jeans or dress pants
Dress shoes or smart sneakers
A watch and simple accessories
A blazer or a jacket (optional)
Men should avoid wearing sports team jerseys, baggy clothing, and flip-flops as they are not considered appropriate for clubbing.
Dress Code For Women
For women, clubbing outfits should be sexy, stylish and comfortable to dance in. Here are some dress code essentials for women:
A body-hugging dress or a skirt with a chic top
High-heeled pumps or comfortable wedges
A statement clutch or party bag
Sassy jewelry and accessories like a statement necklace, bangles, or earrings.
Cute jackets or cardigans (optional)
Women should avoid wearing athletic wear, flip-flops, and overly revealing outfits.
Footwear And Accessories
When it comes to the footwear, aim for comfort as you'll be standing and dancing for most of the night. Before choosing your accessories, consider the size of the club and the theme of the event. Here are some specific tips to keep in mind:
For footwear, choose shoes that are comfortable and stylish. High-heeled pumps, wedges or stylish sneakers are great choices depending on the style of the outfit.
When it comes to accessories, less is more. Choose statement pieces like larger hoops or chandelier earrings. Additionally, try including statement necklaces or bangles for an extra pop of style.
When choosing what to wear clubbing, it's important to consider the dress code policy of the venue and the style of the event. Dress comfortably, stylishly, and within the club's dress code policy. Remember, less is more when it comes to accessories.
Now you're ready to hit the nightclub!
Understanding The Different Clubbing Styles
Fashionable And Trendy
Clubbing is a perfect excuse to show off your trendy style and experiment with different outfits. Here's what you need to know:
Opt for a fitted and flattering dress paired with heels or ankle boots.
Wear high-waisted pants or jeans with a statement top and high heels.
Combine a jumpsuit with statement jewelry and high heels.
Accessorize with trendy earrings, a statement necklace, or a clutch purse.
Casual And Comfortable
If your idea of a perfect clubbing outfit is casual and comfortable, you're in luck because this style is on-trend. Here are some tips:
Pair skinny jeans or leggings with a comfortable top and sneakers or sandals.
Choose a flowy dress with comfortable shoes.
Wear a shirt dress with trendy flats.
Accessorize with a cross-body bag and simple jewelry.
Glamorous And Sophisticated
If you're looking for an outfit that oozes sophistication and glamour, opt for timeless and elegant pieces with a modern twist. Here are some ideas:
Wear a cocktail dress with high heels or strappy sandals.
Combine a pencil skirt with a sophisticated blouse and high heels.
Choose a jumpsuit or wide-legged pants with a beautiful top and high heels.
Accessorize with classic jewelry and a clutch bag.
Up To You: Creating A Personal Style
If you're the type of person who likes to create their own style, then clubbing can be your chance to shine. Remember that the most important thing is to feel confident in what you're wearing. Here are some ideas:
Choose pieces that reflect your personality.
Mix and match prints, textures, and colors.
Accessorize with unique and eye-catching pieces.
Remember that fashion has no rules, so don't be afraid to experiment.
Clubbing is all about feeling confident, comfortable, and stylish. Whether you prefer fashionable and trendy, casual and comfortable, glamorous and sophisticated, or creating a personal style, remember to wear what makes you feel good and have fun!
Clubbing Attire Mistakes To Avoid
Going out clubbing is a perfect opportunity to showcase your sense of style and elevate your fashion game. It's a time to put on your best outfit, glam up, and let your hair down. However, dressing up for clubbing can be challenging, and making mistakes while picking an outfit may lead to an unflattering look.
So, to help you avoid common clubbing attire mistakes, we've compiled a list of the most common ones based on the following subheadings:
Going Too Casual Or Too Formal
Dressing up in clothes that appear too casual or too formal will make you stand out in the club for all the wrong reasons.
Avoid wearing flip flops, gym shoes, hoodies, or baggy clothes as these items give too much of a casual feel.
On the other hand, stay away from ball gowns, full-on suits, and overly dressy cocktail dresses which will come across as too formal. Instead, go for a clubbing outfit that is somewhere in between casual and formal, such as dressy tops, fitted jeans, leather pants, or bodycon dresses.
Not Dressing For The Venue
Another clubbing attire mistake to avoid is not dressing according to the club's dress code or vibe.
Check the club's website or social media pages beforehand to get an idea of the type of clothing that is allowed or expected.
Pick an outfit that matches the specific vibe of the club; for instance, avoid wearing bright colors or summery dresses in a gothic or underground club.
It's also a good idea to consider the weather and temperature of the club while picking an outfit.
Wearing Stilettos Or Uncomfortable Shoes
High heels are a staple for many women clubbing outfits, but wearing stilettos or other uncomfortable shoes for long hours can make for a painful and uncomfortable night, which is the last thing you want while trying to have fun.
Opt for comfortable yet stylish shoes that you can wear for an extended period, such as block heels or wedges.
Consider the surface area of the club as well, and avoid wearing shoes with a slippery sole to prevent falls or accidents.
Over-Accessorizing Or Under-Accessorizing
Accessories are an essential part of any clubbing outfit, but dressing too much or too little can hurt your overall look.
Do not pile on multiple pieces of jewelry or wear large belts or bags as they can make you look cluttered and overdressed.
Similarly, under-accessorizing can make your outfit appear dull and incomplete.
A good rule of thumb is to keep it simple and wear a couple of statement pieces such as a statement necklace or earrings with a cocktail ring.
Remember, your clubbing attire should reflect your individual style and personality while understanding the occasion's dress code and vibe. With the above tips on common clubbing attire mistakes to avoid, we hope you'll have a fantastic time on the dance floor.
Expert Tips For Clubbing Attire
Comfort Is Key
When planning your clubbing attire, it's essential to think about comfort. As you'll be on your feet for an extended period, wearing something comfortable is essential. You don't want to end up with blisters by the evening's end.
Consider the following tips to ensure comfort:
Avoid wearing high heels, as they can be painful after hours of wear.
Opt for comfortable shoes with good support to avoid aching feet.
Select clothing that is not too tight or restrictive so that you can move freely and dance comfortably all night.
Bring a jacket or sweater if you tend to get cold easily, as the club can be chilly at times.
Unique Is Better Than Trendy
While it's tempting to follow the latest fashion trend, clubbing attire that is unique makes you stand out from the crowd. Wearing something exclusive will also make you feel confident and comfortable, which is essential for a night out.
The following tips will help you determine unique clubbing attire:
Experiment with different colours, accessories, and fabrics to create your unique look.
Consider shopping at vintage or second-hand stores for one-of-a-kind pieces.
Keep in mind your personal style, as the goal is to feel comfortable in what you're wearing.
Don't be afraid to be different and show your individuality.
Make Sure That You Can Dance
Comfort and the ability to dance freely are essential for enjoying a night out at a club fully. Consider the following tips to ensure you can dance the night away:
Wear comfortable shoes that allow you to move and dance without restriction.
Choose clothing that gives you the freedom to move and shake on the dance floor.
Avoid wearing anything too tight or constricting that might prevent you from busting a move.
Don'T Be Scared To Show Some Skin
Clubbing attire is the perfect opportunity to show off some skin. While you should dress appropriately, don't be afraid to flaunt your assets. Here's what to keep in mind when it comes to showing some skin:
Wear clothing that is appropriate for the venue and occasion.
Show off one part of your body, but not every part.
You don't need to wear anything too revealing to look sexy or sophisticated.
Don't forget to accessorize your outfit with statement jewellery or a bold lipstick to complement your look.
Overall, when it comes to clubbing attire, comfort, uniqueness, and freedom of movement are essential. Make sure your outfit ensures all three, and you'll have a fantastic night out on the town!
Frequently Asked Questions For What To Wear Clubbing?
What Is The Best Type Of Outfit For Clubbing?
Aim for something comfortable, stylish, and free of wrinkles. Opt for fitted dresses, high-waisted jeans with crop tops, or oversized blazers with a mini-skirt and heels. Don't forget to accessorize with statement jewelry.
Can I Wear Sneakers Clubbing?
While sneakers can be comfortable, they are not the best option for clubbing. Stick to heels or ankle boots to elevate your outfit and make a statement. However, if you must go for sneakers, opt for stylish and clean ones that match your outfit.
What Type Of Accessories Should I Wear To A Club?
Accessorizing can quickly elevate any outfit for clubbing. Go for statement jewelry such as chunky earrings or layered necklaces. Opt for clutch bags instead of bulky purses and add some sparkle with some glittery makeup. However, don't go too overboard and remember to balance out your accessories.
Can I Wear Jeans To A Club?
Jeans can be stylish and versatile for clubbing. Opt for high-waisted skinny jeans or flared jeans with a crop top or blouse and heels. However, avoid wearing baggy or ripped jeans and make sure they are comfortable enough for dancing and moving around.
Are There Any Dress Codes To Follow For Clubbing?
Different clubs may have different dress codes, so it's best to check before heading out. Most clubs require a dressy or trendy attire, and some may prohibit certain items such as athletic wear or sneakers. Stick to the common dress codes and you'll be good to go.
Conclusion
Overall, dressing for a night out at the club is all about being comfortable, confident, and of course, stylish. Remember to take into consideration the club's dress code, use accessories to elevate your outfit, and don't be afraid to experiment with different textures, patterns, and colors.
Whether you opt for a classic lbd or a bold jumpsuit, the most important thing is that you feel good in what you're wearing. With these tips and tricks in mind, you're sure to stand out on any dance floor.
So, go ahead and get dressed up! It's time to have some fun and let loose with your friends. Just don't forget to wear comfortable shoes and embrace your inner fashionista!