When visiting hawaii, wear breathable clothing, swimsuits, and comfortable shoes. Hawaii has a tropical climate and beaches, making light clothing essential for outdoor activities.
Pack sunscreen and a hat to protect yourself from the sun, and don't forget to dress modestly when visiting religious sites. Hawaii is a popular tourist destination that boasts pristine beaches, stunning natural beauty, and a laid-back lifestyle. Visitors can enjoy hiking, surfing, snorkeling, and exploring the local culture.
When planning a trip to hawaii, packing the right clothing is crucial. The tropical climate means that lightweight and breathable clothing is a must, alongside swimsuits and comfortable shoes. Sunscreen, a hat, and sunglasses are also recommended to protect yourself from the sun. It's important to dress modestly when visiting religious sites, so plan accordingly. This guide will help you pack for your hawaiian adventure and ensure that you're comfortable and stylish during your trip.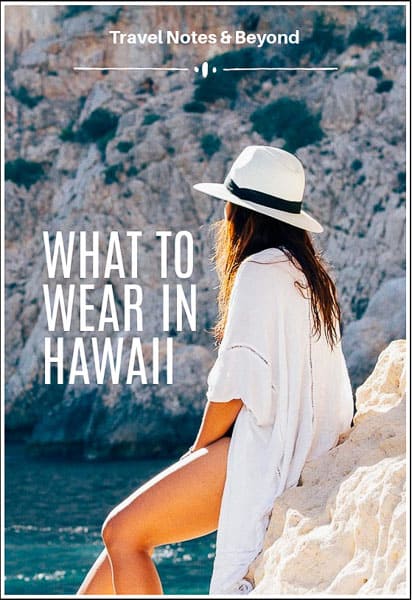 Credit: travelnotesandbeyond.com
Understanding Hawaii'S Climate And Culture: A Brief Overview
Hawaii's tropical climate and unique blend of cultures make it a coveted vacation destination. As a tourist, packing effectively is essential to ensure comfort and enjoyment throughout your stay. We'll take a closer look at hawaii's climate and how its multi-cultural society affects fashion trends.
Quick Look At The Average Temperatures And Rainfall For Different Regions In Hawaii
Hawaii comprises a chain of islands with varying temperatures and rainfall. As such, it's important to consider the climatic conditions of where you'll be staying to determine what clothes to pack. Here's a summary of the average temperatures and rainfall to expect in different regions:
Honolulu: Temperatures vary from 75 to 85°f year-round, with tropical rain showers from november to march.
Maui: Temperatures range from 70 to 90°f, with less rainfall than honolulu in most areas.
Big island (hawaii): Temperatures range from 65 to 80°f, with rainfall varying by region. The hilo side receives more rainfall throughout the year compared to the kona side.
Kauai: Temperatures range from 70 to 80°f, with more frequent rainfall compared to other areas. The north and east shores typically experience more rainfall year-round, while the south and west shores are generally drier.
Brief Intro To Hawaii'S Multi-Cultural Society And How It Influences Fashion
Hawaii's multi-cultural society has a significant impact on its fashion scene. With a diverse population that includes native hawaiians, asians, caucasians, and polynesians, the state's fashion is unique, eclectic, and reflective of its diverse history. Here are some ways in which hawaii's multi-cultural society influences fashion trends:
Aloha shirts: This garment is synonymous with hawaiian fashion and a staple in many locals' wardrobe. Originally worn by native hawaii residents, the popularity of aloha shirts caught on among tourists and spread worldwide.
Traditional clothing: Many aspects of traditional hawaiian clothing, such as holoku (long dresses) and muumuu (loose-fitting dresses), are still popular today. The colorful prints and designs are a testament to hawaii's polynesian roots.
Asian influence: The fusion of hawaiian and asian cultures has resulted in trendy fashion designs such as the "kimono-hoodie" and modern variations of the traditional cheongsam.
Beachwear: With hawaii's warm climate and abundant beaches and water activities, beachwear is a significant component of its fashion scene. Swimwear, sarongs, and flip flops, and stylish hats are just a few examples of beach-inspired clothing in hawaii.
Hawaii's climate and unique fashion scene are heavily influenced by its multi-cultural society. By understanding these factors, you can effectively pack for your trip and embrace the unique fashion trends that hawaii has to offer.
Dressing For The Beach: What To Wear Hawaii?
Hawaiian beaches are known for their beautiful turquoise waters and soft, golden sand. But choosing what to wear for a day at the beach can sometimes be difficult. Keep these tips in mind for a comfortable and stylish beach day in hawaii.
The Perfect Beach Dress Styles That Are Practical And Flattering
It's essential to wear something comfortable and lightweight when spending a day at the beach. These perfect beach dress styles are practical and flattering for all body types:
Maxi dress: A flowy maxi dress is a fashionable and practical choice for a beach day. Its long length offers good coverage while still allowing your skin to breathe.
Sundress: A lightweight sundress is another excellent option for a day at the beach. This dress style comes in a range of prints and styles, making it easy to find one that matches your personal style.
Sarong: A sarong is a versatile piece that can be worn as a dress, skirt, or cover-up. It's an ideal accessory for layering over your swimsuit, providing good coverage while still feeling breathable.
Choosing Swimwear That Suits Your Body Type And Activity Level
Choosing the right swimwear is essential for enjoying a day at the beach comfortably. Here are some tips for selecting swimwear that suits your body type and activity level:
Bikini: A bikini is a good option if you're planning on swimming or participating in water sports. However, it might not be the most comfortable for lounging on the beach.
One-piece swimsuit: A one-piece swimsuit is a classic and stylish option that offers good coverage and support. It's an excellent choice for those looking for something comfortable and practical.
High-waisted bottoms: High-waisted bottoms are trendy and offer good coverage around the waist and hips. Pair with a swim top or a cropped t-shirt for a stylish beach look.
Rash guard: A rash guard is an excellent choice if you're planning on spending most of your day in the water or engaging in water sports. It provides good coverage and protects your skin from the sun.
Remember, the most important thing is to feel comfortable and confident in what you're wearing. By selecting the right dress and swimwear styles, you'll look and feel great on your hawaiian beach vacation.
Exploring The Island: Comfortable Yet Stylish Outfits
Hawaii is known for its tropical climate, beautiful beaches, and laid-back lifestyle. When packing for your hawaiian trip, comfort is key, but you still want to look stylish and put together. Here are some tips for creating versatile outfits that are perfect for exploring the island.
Breathable And Lightweight Fabrics That Are Travel-Friendly
The warm hawaiian sun and humidity can make it challenging to dress comfortably. You'll want to opt for breathable and lightweight fabrics that will keep you cool and comfortable. Consider the following materials:
Cotton
Linen
Rayon
Chambray
Silk
Pair these materials with loose-fitting styles, like maxi dresses, flowy tops, and wide-leg pants. Not only will you feel comfortable, but you'll also look stylish and put together.
Mixing And Matching Clothing Items To Create Versatile Looks
Packing for hawaii can be tricky, especially if you're limited on space. The key to making the most of your clothing options is by mixing and matching items. You can create several outfits using only a few staple pieces. Here are some tips:
Stick to a color scheme. Choose a few colors that you can mix and match effortlessly.
Pack versatile items like a pair of denim shorts or a sundress that can be dressed up or down.
Don't forget to bring comfortable shoes like sandals or sneakers for exploring the island.
By packing smart, you can create several stylish outfits without overpacking. Remember, hawaii is all about embracing the laid-back lifestyle, so embrace the opportunity to dress casually.
With these tips, you're ready to explore hawaii in comfort and style. Don't forget to pack your sunscreen, hats, and sunglasses to complete your island look.
Nightlife And Outdoor Dinners: Dressing Up With Aloha
Hawaii is all about the laid-back, island life; you'll mostly see people walking around in flip flops and t-shirts. However, when it's time to go out for some nightlife or a fancy dinner, it's time to step up your game.
Hawaiians have a dress code called "aloha attire" that you'll want to follow. Read on to learn more about what that means and how to add a touch of hawaiian flair to your outfit.
What "Aloha Attire" Means And Appropriate Times To Wear It
Aloha attire is a dress code that incorporates traditional hawaiian clothing and prints, while still being stylish and modern.
Aloha attire usually consists of hawaiian-style shirts, dresses, pants or shorts, and skirts.
Men should wear collared shirts with long pants or khaki shorts, while women can wear sundresses or skirts with blouses or t-shirts.
Aloha attire is appropriate for outdoor dinners, luaus, weddings, and other special events. It's always important to check the dress code before attending any of these events.
Tips For Accessorizing And Adding A Touch Of Island Flair To Your Outfit
Add some colorful and tropical accessories to your outfit, such as flower leis, hair clips, or bracelets.
Wear some comfortable and stylish sandals or flip flops to complete your look.
Incorporate some traditional hawaiian prints into your outfit, such as floral, palm trees, or hibiscus flowers.
Add a touch of color to your outfit with a bright scarf or a colorful statement necklace.
Keep it simple. Your outfit should not have too many colors or prints, as it can clash and become overwhelming.
Remember, aloha attire is all about being comfortable and stylish. It's time to trade in your everyday attire for something fun and festive. So, dress up with aloha and enjoy an evening out on the beautiful, hawaiian islands.
Frequently Asked Questions For What To Wear Hawaii?
What Is The Best Clothing Style For Hawaii?
The best clothing for hawaii vacation is light and breezy fabrics to beat the heat. Go for bright colored outfits, lightweight dresses, shorts, cotton tees, and breathable fabric. Remember to pack a hat, sunglasses and comfortable walking shoes.
Can I Wear Swimsuits Outside My Hotel In Hawaii?
Though swimsuits are acceptable at beaches and poolsides, avoid wearing them in public places, restaurants, or towns. You may prefer to invest in a beach cover-up or casual summer dresses before leaving your hotel to visit public attractions.
Will I Need To Bring A Winter Coat To Hawaii?
Hawaii enjoys tropical weather throughout the year; hence a winter coat is unnecessary. However, it's advisable to pack a light jacket, a cardigan or sweater, and a waterproof raincoat as island weather can be unpredictable and chilly at night.
What Shoes Are Best For Exploring Hawaii?
The best shoes for hawaii vacation are closed-toe casual shoes like sneakers, flats, or loafers, which are perfect for exploring the island's terrain. Flip flops and sandals are ideal for beaches and poolside only, while high heels are unnecessary.
Can I Wear Jewelry In Hawaii?
Though it's safe to wear your jewelry in hawaii, it's advisable to leave your precious jewelry at home. Opt for simple and affordable accessories that pair well with your outfits. Pack your statement jewelry to vanity up for special events only.
Conclusion
It's always tricky to pack for a trip, but hawaii can be especially tough because of its varied terrain and unpredictable weather. The best advice is to be practical and versatile, essentially packing for a range of activities and temperatures.
Light, breathable fabrics that can be layered are a must, and don't forget the sun protection. Also, it's never a bad idea to pack a little something special for those fancy dinners out. Ultimately, the key to packing for hawaii is to strike a balance between casual comfort and island style.
By following these guidelines, you'll be sure to have everything you need to make the most of your hawaiian vacation. So, pack up, get excited, and aloha!