In italy, men should wear lightweight shirts, pants and blazers or sport jackets in the warmer months, and wool suits and sweaters in the colder months. They should avoid shorts, athletic wear or anything too casual in public spaces.
When visiting italy, it's important for men to dress appropriately for the occasion and the season. Italy has a reputation for its stylish locals, so it's best to leave the athletic wear and flip flops at home. In the summer months, lightweight shirts and pants are ideal, paired with a blazer or sport jacket for dressier occasions.
However, in the winter months, wool suits and sweaters are more appropriate, especially for business settings. It's also important to remember that most churches and religious sites require conservative dress, meaning no shorts or sleeveless tops. Overall, dressing well in italy shows respect to the culture and helps one blend in with the locals.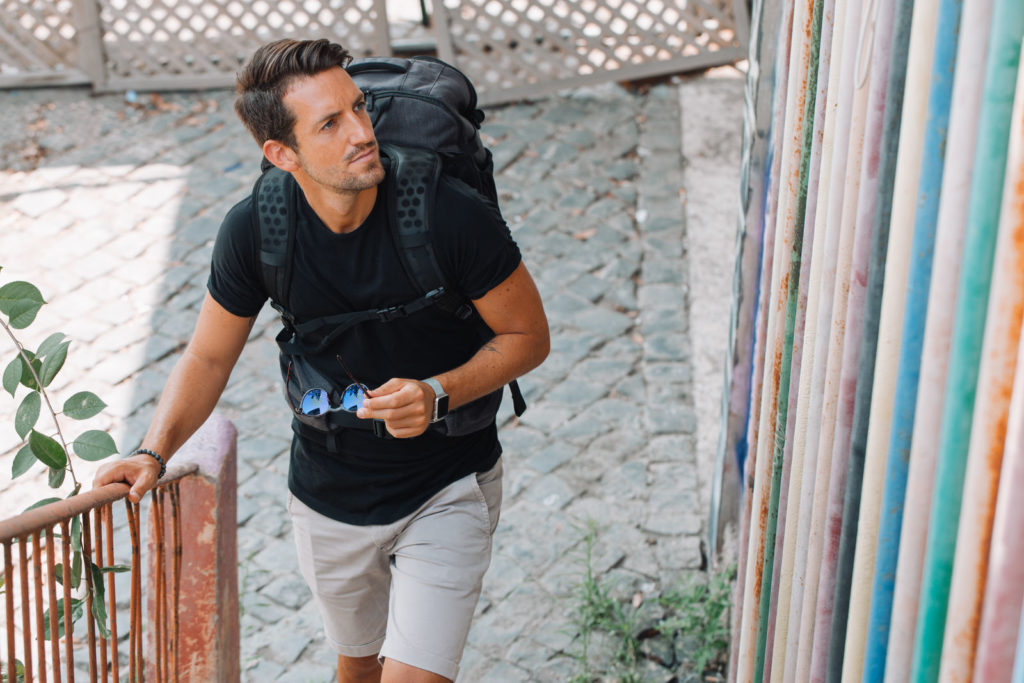 Credit: blog.tortugabackpacks.com
Considerations Before Packing
Planning what to pack for a trip to italy can be a daunting task, especially for guys who want to look fashionable while adhering to local dress codes. Here are some factors to consider before packing your bag:
Climate And Weather Conditions In Italy
Italy has a diverse climate due to the country's elongated shape. Different regions have varying temperatures, making packing for italy quite tricky. The best approach is to check the weather forecast for your destination and packing accordingly. Here are some things to keep in mind:
Northern italy tends to be cooler than southern italy.
Summers in southern italy are very hot, so short-sleeved shirts, shorts, and lighter fabrics are ideal.
The winters in northern italy can be cold, so packing thick jackets and layers is essential.
Rain is common in northern italy during fall and spring, so pack a waterproof jacket.
Popular Destinations And Dress Codes
The dress code for popular destinations in italy varies depending on the area you're visiting. Here are some guidelines to follow:
In touristy areas and cities like rome, venice, and florence, dress nicely to avoid looking out of place.
When visiting religious sites, such as the vatican or churches, dress modestly and cover your shoulders and knees.
Beachwear is acceptable only at the beach, so avoid wearing shorts and flip flops in cities.
Time Of The Year And Seasonal Trends
To fit in with the locals, stay updated with seasonal trends. Here are some general tips:
In summer, italians wear lighter fabrics and brighter colors such as linen and breathable cotton.
During winter, darker colors and thicker materials like wool and cashmere are preferred.
Fashionable leather shoes are a year-round staple in italy.
Body Type And Personal Style
When packing for italy, it is crucial to consider your body type and personal style. Here are some tips to help guide you:
Italians appreciate a well-tailored look, so consider getting clothes that fit well.
Stick to classic pieces that can be dressed up or down, such as a versatile blazer or a pair of well-fitted jeans.
Accessorize with high-quality items such as a classic watch or leather belt.
Overall, italy is a fashion-forward country and dressing well is essential. Keep in mind these considerations before packing your bag and enjoy exploring the country in style.
Clothing Essentials For Men In Italy
Italy is a country of romance, style, and fashion. Men visiting italy for business or pleasure should be aware of the fashion norms to blend in. Remember, italians are style-conscious and don't spare any expense to impress. To help you pack smarter, let's explore the essential clothing items for men in italy.
Stylish Shirts And T-Shirts For Men
Italians love to dress up and prefer to wear formal shirts. Men should carry at least one or two formal shirts, preferably in neutral colours like white, black, or blue. However, don't shy away from experimenting with bold colours. A few designer t-shirts will also come in handy or a classic polo shirt.
Wear fitted shirts. Oversized shirts are a fashion faux pas in italy.
Avoid wearing shirts with large logos or graphics. Keep it subtle and minimalistic.
Smart-Casual Pants And Trousers
Jeans are not welcome in formal settings in italy, but for informal, they will do. It is recommended to stick to trousers in neutral colours such as beige, grey, or navy blue. Cotton chinos in pastel shades of green, pink, or yellow can also look smart.
Slim-fitted trousers give a sleek look.
Avoid wearing shorts if you plan to visit a church or a museum.
Shoes Fit For The Occasion
Shoes are often the first thing italians notice! Shoes are the most critical aspect of your fashion ensemble. Avoid wearing trainers or sneakers when you're out exploring the city. Opt for classic leather shoes instead, like the ones you wear with suits.
Lace-up shoes like derbies or oxfords in brown or black look good with formal trousers.
Carry comfortable loafers or loafers without socks to relax and explore the city.
Italians are quite uptight about cleaning their shoes. Ensure they are well-polished and clean.
Accessories For Men – Tie Or No Tie?
While ties are not mandatory in italy, they do make you look suaver. Pack a few silk ties in colours that complement your shirts. As for belts, keep them leather and in the same colour as your shoes. Summers in italy are quite hot, so don't forget to pack sunglasses in a classic shape like aviators or wayfarers.
Accessorize smartly, less but well-curated.
Avoid over-accessorizing as italians prefer minimalism.
Jackets And Coats
While packing for italy, consider the weather conditions. Winter in the country with its freezing temperatures demands warm overcoats, trench coats, or pea coats accompanied by a wool scarf and gloves. In summer, light jackets or blazers like linen and cotton will do.
Italian dressing style is not just about looking good; it's about practicality as well.
Invest in quality jackets and overcoats, which will last for years.
If you want to dress like an italian man, stick to formal, fitted clothes, leather shoes, and subtle accessories. Italians are always in tune with the latest fashion trends and aren't afraid to experiment, so be open to trying new styles.
Fashion, style, and elegance are all about confidence, and when you dress impeccably in italy, you're sure to stand out.
Dressing For Specific Occasions
When it comes to dressing for specific occasions in italy, it's important to keep the country's fashion history and style in mind. Italians take great pride in their appearance and dress impeccably, no matter the occasion. This means that you should consider what to wear based on your itinerary and the events you are attending.
Here's a breakdown of what to wear for each occasion:
Business Formal Attire In Italy
If you're attending a business meeting in italy, it's essential to dress appropriately. Italians favour classic, tailored looks and elegant accessories. Here are some tips to help you dress for a business meeting:
Opt for a fitted suit in a neutral shade like black, grey, or navy.
Wear a clean, crisp shirt with a classic collar in white or light blue.
Pair the suit with a high-quality belt and dress shoes.
Add a silk tie in a classic pattern for a sophisticated touch.
Dressing For A Formal Dinner Party
Italy is known for its food, and dinner parties can get quite formal. Whether you're dining at a local family-owned restaurant or an upscale establishment, dressing appropriately is crucial. Here's what to wear to a dinner party:
A fitted suit in a dark shade is always appropriate.
Pair the suit with a crisp, white shirt and a tie.
Choose elegant dress shoes and a matching belt.
Add a pocket square for a touch of sophistication.
What To Wear For A Wedding In Italy
Weddings in italy can be extravagant affairs, and dressing appropriately is essential. Whether you're attending a wedding in the city or countryside, you should dress elegantly. Here's what to wear:
A classic suit in a neutral or light shade is perfect for a wedding.
Choose a shirt in a light colour like white or light blue.
Pair the suit with dress shoes and a matching belt.
Add a tie or bow tie in a bold colour or pattern to showcase your personality.
Outfit Guidelines For Nightlife In Italy
Italians love to go out at night and have a good time, so packing a few outfits for a night on the town is a must. Here are some tips for dressing for nightlife in italy:
Choose a fitted shirt in a bold shade or pattern.
Pair the shirt with dark denim or slim-fit trousers.
Wear dress shoes or boots.
Add a leather jacket or blazer for a touch of sophistication.
What To Pack For The Beach Or A Pool Day
Italy boasts some of the most stunning beaches in europe, and packing a few items for a beach or pool day is essential. Here are some items to consider:
A comfortable swimsuit in a classic colour like black, navy, or white.
A lightweight linen shirt for a stylish cover-up.
Flip-flops or sandals for easy slip-on and off.
A wide-brimmed hat to protect you from the sun.
Overall, italy is a country where fashion is an essential part of everyday life, and it's important to dress appropriately for each occasion. These guidelines will help you to pack the perfect clothing for your italian vacation.
Fashion Do'S And Don'Ts In Italy
Italy is a fashion capital, renowned for its exquisite fashion sense that sets it apart from the rest of the world. Italian fashion is elegant, timeless, and sophisticated, which makes it even more critical than you dress appropriately during your visit.
In this blog post, we will explore the fashion do's and don'ts in italy, answering some of the questions that often come up.
Top 5 Fashion Mistakes To Avoid In Italy
It is important to keep in mind some of the fashion mistakes to avoid while traveling to italy. The locals are likely to judge you based on your appearance, and these are the mistakes you should steer clear of.
Wearing athletic shoes – stick to fashionable shoes that go well with your outfit instead of wearing bulky athletic shoes.
Carrying too much luggage – over-packing can prevent you from experimenting with your fashion sense and sometimes make it difficult to navigate crowds.
Dressing too casually – casual dressing is not entirely frowned upon, but it has its limits. Wearing overly casual clothes like sweatpants or tank tops can make you stand out like a sore thumb.
Wearing shorts in the city – shorts might be comfortable, but the ideal way to dress in the city is long pants, especially while visiting religious spaces.
Wearing too much jewelry – keep accessories minimal to avoid looking tacky.
Best Cologne To Wear In Italy
Italians are all about smelling good, and wearing the right cologne is a must if you want to blend in. Here are some options for best cologne to wear in italy:
Acqua di parma colonia – a classic italian brand that delivers a fresh fragrance.
Tom ford neroli portofino eau de parfum – this scent is subtle yet refreshing.
Giorgio armani acqua di gio – a favorite choice for its clean and oceanic scent.
Can You Wear Shorts In Italy? Debunking The Myths
A common misconception is that it is not appropriate to wear shorts in italy. However, this is not true. You can wear shorts, especially on a hot summer day. That being said, there are still some guidelines to follow:
Avoid wearing shorts while visiting religious spaces.
Dress shorts up by pairing them with a stylish shirt and fashionable shoes.
Choose neutral colors like beige or navy to make yourself look sophisticated.
Embracing The Italian Fashion Sense
The italians take their fashion seriously, and there are certain rules to follow. Here are some tips to help you embrace the italian fashion sense:
Invest in quality fabrics – italian fashion is known for its quality, so invest in high-quality fabrics that will last you a while.
Dress up – italians are always dressed appropriately, so avoid looking too casual.
Mix and match – italians are known for their unique sense of style, so don't be afraid to experiment.
Keep it simple – simplicity is key to italian fashion, so do not overdo it with accessories.
Always look polished – italians always look polished, so ensure that your clothes are clean and wrinkle-free.
Frequently Asked Questions For What To Wear In Italy For Guys?
What Should Be The Essential Clothing Items For A Guy Traveling To Italy?
You should pack linen shirts, polo shirts, leather shoes, white sneakers, comfortable pants, and a blazer type jacket to dress up or down.
Can I Wear Shorts In Italy?
Wearing shorts is okay in italy, but they are considered "touristy". To blend in with locals, wear comfortable pants or lightweight chinos.
Can I Wear Athletic Shoes In Italy?
It is best to avoid athletic shoes while in italy since it will make you stand out as a tourist. Wear white sneakers that are in style with your outfit.
Should I Wear A Hat In Italy?
If you want to protect yourself from the sun or want to improve your fashion sense, you may wear a hat.
What Color Is Suitable For Clothes In Italy?
Most italians will wear neutral colors like navy, beige and white, but you can also wear bright colors just as long as you don't use neon ones.
Conclusion
As a guy traveling to italy, you might be overwhelmed with the fashion choices available. However, by following the simple tips mentioned in this article, you can easily ace your italian fashion game. Remember that italy is a country that takes fashion seriously, and it's always a good idea to dress smart and stylish.
Therefore, invest in a good-quality suit, chinos, blazers, and shoes. Also, don't forget to carry a versatile scarf that can come in handy in case of sudden weather changes or to amp up your overall look. Lastly, be confident, be yourself, and enjoy the italian fashion game while you explore the remarkable architecture, museums, and food that italy has to offer.
So, gear up with your favorite outfits and let your italian adventure begin!