In October, it is recommended to wear layered clothing and bring a light jacket or sweater when visiting Italy. Welcome to Italy, a country famous for its rich history, stunning architecture, delectable cuisine, and fashionable locals.
If you're planning a trip to Italy in October, it's essential to pack appropriately for the weather. While Italy experiences mild temperatures during this time, it's advisable to dress in layers and bring a light jacket or sweater for cooler evenings.
Whether you're exploring the vibrant streets of Rome, strolling through the romantic canals of Venice, or marveling at the iconic landmarks in Florence, dressing comfortably and stylishly is key. This article will guide you on what to wear in Italy in October, ensuring you're ready to soak up the Italian culture while feeling confident and comfortable.
Understanding The Climate In Italy In October
Understanding the Climate in Italy in October
Italy experiences a variety of climates in October. The northern regions, such as Milan and Venice, tend to have cooler temperatures ranging from 10 to 15 degrees Celsius (50 to 59 degrees Fahrenheit). Central areas like Rome have slightly milder temperatures, typically around 15 to 20 degrees Celsius (59 to 68 degrees Fahrenheit). In the southern parts of Italy, such as Naples and Sicily, temperatures can be more pleasant, ranging from 20 to 25 degrees Celsius (68 to 77 degrees Fahrenheit).
October in Italy also sees a change in rainfall patterns. The northern part of the country experiences more rainfall, while the southern regions tend to be drier. In Milan and Venice, rainfall can range from 60 to 80 millimeters (2.4 to 3.1 inches). Rome sees around 80 to 100 millimeters (3.1 to 3.9 inches) of rainfall, while Naples and Sicily have significantly less precipitation, with around 40 to 60 millimeters (1.6 to 2.4 inches).
October in Italy marks the transition from summer to autumn. As the month progresses, you can expect to see the leaves changing colors, creating a beautiful landscape across the country. It's essential to be prepared for both warm and cool temperatures during this period. Layering your clothing is a practical approach, allowing you to adjust your outfit according to the weather throughout the day.
Essential Clothing Items For October In Italy
In October, Italy experiences a transitional weather pattern, with temperatures cooling down but still relatively mild. It's essential to pack a range of layering essentials to cope with the changing weather. Lightweight jackets and sweaters are perfect for adding warmth without being too bulky. Long-sleeved shirts and blouses are ideal for versatile styling options. When it comes to pants and trousers, opting for versatile pieces will allow you to mix and match with your tops. Additionally, comfortable footwear is a must-have for exploring Italy's charming streets and attractions. Consider packing a pair of supportive walking shoes or stylish comfortable boots. By packing these essential clothing items, you'll be well-prepared for your October adventures in Italy!
Stylish Outfit Ideas For October In Italy
Italy in October offers a perfect blend of warm weather and crisp autumn air, making it important to dress stylishly and comfortably. For a Casual Chic look, prioritize mixing comfort and style with versatile clothing pieces. Opt for a pair of **slim-fit jeans** or **tapered trousers** paired with a **lightweight sweater** or **tunic top**. Layer it up with a **light jacket** or **blazer** for cooler evenings. When visiting cultural sites and religious buildings, ensure your attire is respectful and modest. Opt for **knee-length skirts or dresses** paired with **cardigans** or **blouses** for women, and **slacks** with **button-down shirts** for men. For fashionable evening attire, consider a **little black dress** or a **smart jumpsuit**. Accessorizing can enhance any outfit, so don't forget to add a statement necklace, a chic scarf, or a stylish hat. Experiment with different combinations and create your own unique style!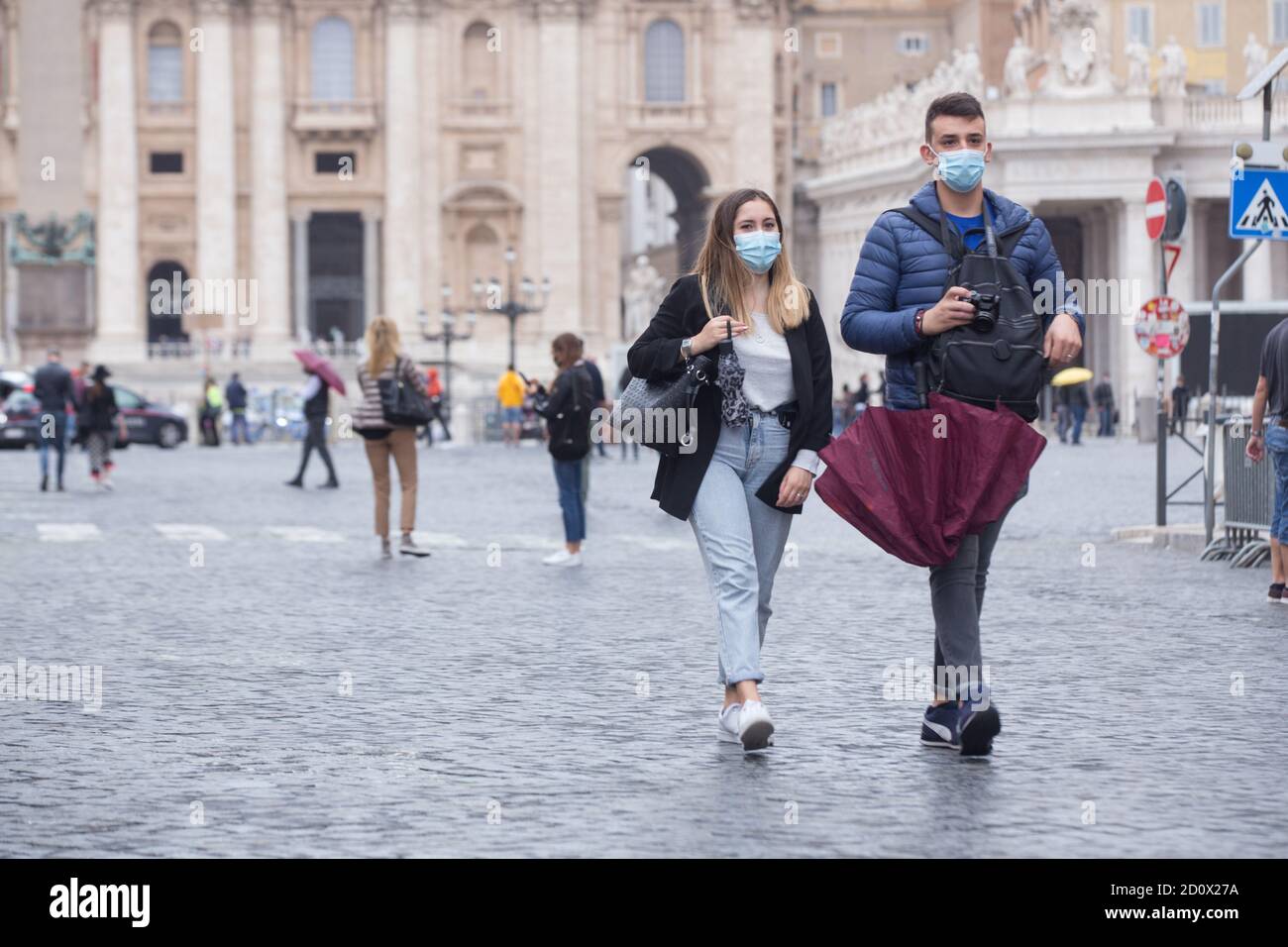 Credit: www.alamy.com
Packing Tips And Travel Essentials
Choosing the right luggage for your trip to Italy in October is essential. Opt for a versatile suitcase or backpack that is easy to maneuver and fits airline regulations. When organizing your clothing and accessories, **consider the weather fluctuations** in Italy during this month. Pack a mix of **layer-friendly outfits** such as lightweight t-shirts, long-sleeve shirts, sweaters, and a jacket. Don't forget to include comfortable walking shoes for exploring the cobblestone streets of Italian cities. Adapting to different activities and destinations is crucial, so **pack both casual and formal attire**. Don't miss out on **accessories** like scarves and hats to add style to your outfits. Additionally, make sure to bring **adequate toiletries** and **medications**. Having travel essentials like a **universal adapter**, a compact umbrella, a travel pillow, and a reusable water bottle can make your journey even more convenient and enjoyable.
Dos And Don'Ts For Dressing In Italy In October
When visiting Italy in October, it's important to dress appropriately for different occasions to blend in with the local fashion customs and norms. To ensure you make a good impression, adhere to these dos and don'ts when it comes to dressing in Italy during this time of year.
| Occasion | Appropriate Attire |
| --- | --- |
| Sightseeing tours and casual outings | Opt for comfortable clothing, such as jeans or trousers paired with stylish tops or shirts. Layer with a light jacket or sweater for cooler evenings. |
| Formal events or dinner | Choose elegant attire like dresses or tailored suits. Don't hesitate to add a sophisticated touch with accessories. |
| Religious sites and churches | Respectful clothing choices are required. Ensure your shoulders and knees are covered. Scarves are useful for women. |
Avoid common fashion faux pas by refraining from wearing overly revealing or beachwear attire in public places. Italians tend to be fashion-conscious, so it's advisable to dress smartly. By following these simple guidelines, you'll fit in seamlessly while enjoying your time in Italy in October.
Adapting To The Local Fashion Trends And Culture
October is a wonderful time to explore Italy's fashion scene and embrace the local culture. Italian fashion brands and designers are renowned for their style and craftsmanship, making it a perfect opportunity to discover new favorites. Take inspiration from Italian style icons and influences to create unique and fashionable outfits.
Observing street style and fashion week trends can also provide insights into the latest Italian fashion trends. Incorporate these trends into your wardrobe to stay stylish and up-to-date. From bold patterns and colors to elegant accessories, there are countless ways to add an Italian touch to your outfits.
| | |
| --- | --- |
| Italian Fashion Brands | Italian Designers |
| • Gucci | • Giorgio Armani |
| • Prada | • Dolce & Gabbana |
| • Versace | • Missoni |
Embracing Italian fashion elements will not only enhance your style but also allow you to appreciate the country's rich fashion heritage. So, whether you're strolling through the streets of Rome or exploring the fashion districts of Milan, dress to impress and immerse yourself in the captivating world of Italian fashion.
Shopping Tips For Finding October Fashion In Italy
When it comes to shopping for fashion in Italy in October, there are a variety of options to explore. From popular retail stores and departmental chains to local markets and boutiques, you'll find something to suit your taste and style.
One option is to visit popular retail stores and departmental chains such as Zara, H&M, and Benetton. These stores offer a wide range of fashionable clothing and accessories.
If you prefer a more unique shopping experience, consider exploring local markets and boutiques. These places often offer handmade and one-of-a-kind items. Visit places like Mercato Monti in Rome or Mercato delle Erbe in Bologna to find hidden gems.
Additionally, if you're a fan of vintage fashion or enjoy thrifting, Italy has a great selection of vintage and second-hand shops. These shops offer a variety of clothing and accessories from different eras.
Lastly, don't forget to look for deals and discounts. Many stores offer discounts during the month of October, especially during sales events like the Saldi.
| Popular Retail Stores and Departmental Chains | Local Markets and Boutiques | Exploring Vintage and Second-Hand Shops | Finding Deals and Discounts |
| --- | --- | --- | --- |
| Zara | Mercato Monti | Vintage Shop Rome | Saldi |
| H&M | Mercato delle Erbe | Humana Vintage | |
| Benetton | | Pifebo Vintage | |
Beyond Clothing: Other Essentials For Your Italy Trip
To ensure a comfortable and enjoyable trip to Italy in October, it's important to pack beyond just clothing. Consider bringing weather-appropriate accessories such as a lightweight scarf, gloves, and a hat to protect yourself from chilly mornings and evenings. Skincare and personal care items like sunscreen, lip balm, and moisturizer are essential to keep your skin hydrated and protected. Don't forget to pack any necessary medications and a first aid kit in case of any emergencies. Additionally, useful gadgets and travel accessories like a power bank, a portable charger, and a universal adapter will come in handy throughout your trip. By packing these essentials, you'll be well-prepared for any situation and can fully enjoy your time in Italy during October.
Conclusion
To summarize, when planning what to wear in Italy in October, it's essential to strike a balance between style and comfort while considering the weather conditions. Layering is your best friend during this time of year, as it allows you to adapt to fluctuating temperatures.
Opt for lightweight sweaters, long-sleeved shirts, and cardigans paired with trousers or jeans. Don't forget to pack a rain jacket or umbrella for the occasional showers. When it comes to footwear, choose comfortable yet stylish options like ankle boots or sneakers that you can walk comfortably in for long periods.
Accessory-wise, consider a scarf or hat to add a touch of warmth and style. Remember to pack an adapter for your electronics and a sturdy day bag for exploring. By keeping these tips in mind, you'll be well-prepared to enjoy your Italian adventures in October.