Wear comfortable clothing with a touch of southern style in nashville. As the capital city of tennessee, nashville has made a name for itself as a hub for music, history, cuisine and fashion.
Whenever you plan to visit nashville, choosing the perfect wardrobe that suits the climate is essential. Situated in the southeastern united states and known for its humid subtropical climate, the city experiences hot summers and mild winters. The best time to explore nashville is from late spring through early fall when the weather is pleasantly warm.
So, when you are planning what to wear in nashville, dressing comfortably is key. Nashville is known for a laid-back style with a touch of southern charm. Whatever you choose to pack, ensure it's comfortable, lightweight, and incorporates a touch of country style.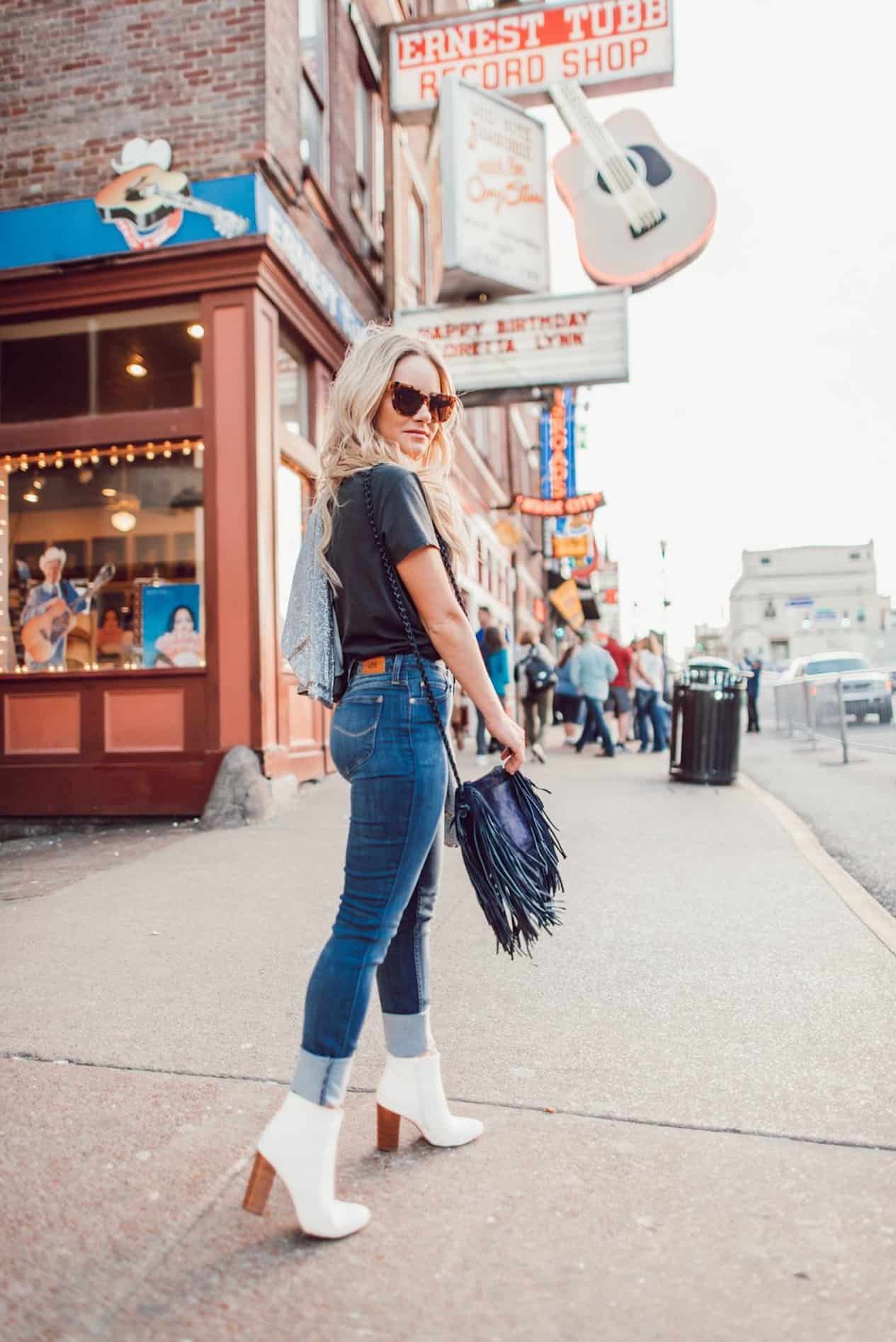 Credit: styleyouroccasion.com
Bohemian Chic: The Perfect Attire For Music Festivals
Heading to a music festival in nashville and wondering what to wear? Bohemian chic is the perfect attire that will make you stand out while keeping you comfortable. Here are some key points to keep in mind:
Fringe Jackets And Tops
Fringe is a perfect bohemian element that can make your wardrobe look a lot more stylish.
Fringe jackets and tops are both stylish and practical, keeping you warm when it gets chilly at night.
You can pair these fringed items with shorts, skirts, or jeans for a complete look.
High Waisted Shorts
High waisted shorts are a staple item in every bohemian wardrobe and perfect for music festivals.
They are comfortable and stylish, making you feel confident while dancing to your favorite tunes.
You can style these shorts with a matching crop top, a flowy blouse, or a fringed jacket/top to complete the look.
Denim Skirt Or Dress
A denim skirt or dress is another essential bohemian piece that will keep you comfortable while maintaining a chic look.
These items are versatile and can be styled in multiple ways based on your choice.
Pair your denim skirt or dress with tights, boots, or sandals and finish the outfit with a fringed jacket or a statement necklace.
Whether you are headed to bonnaroo or the cma festival, bohemian chic is the perfect attire for music festivals. Don't forget to accessorize with a hat, sunglasses, and a statement bag to complete the look.
Country Girl: Dress Up Like A Southern Belle
Nashville is a city that embraces its southern roots. As you wander through the streets, you'll notice that many locals embrace the southern belle style. If you want to dress up like a true country girl, here's what you need to know:
Floral Or Gingham Dress
Floral or gingham dresses are perfect for a southern belle look. The dress can be tea-length or knee-length, but it must be flowy and feminine.
Colors like pink, blue, red, and yellow all work wonderfully. Choose a dress with a high neckline and short sleeves.
Pair it with some strappy sandals, a cute colorful purse, and delicate jewelry, and you are ready to take on the town!
Cowboy Boots
Cowboy boots are a must-have for any nashville trip. They are practical, stylish, and comfortable.
Choose a pair of boots with a low heel and intricate stitching. You can pair them with jeans, dresses, or skirts.
The great thing about cowboy boots is that they can be dressed up or down. For a more casual look, pair them with denim shorts and a simple top.
Classic Denim Jacket
A classic denim jacket is a versatile piece that adds a laid-back vibe to any outfit. It pairs perfectly with a floral or gingham dress.
Choose a fitted denim jacket that falls at the hips. You can opt for a light or dark wash, but stay away from anything too distressing.
Pair it with some boots or sandals, and you're all set for a day of exploring in nashville.
Remember, when you're dressing as a southern belle, you want to look feminine, timeless, and stylish. Embrace the city's southern charm and have fun with your outfits!
Urban Hype: How To Blend In With The Nashville Locals?
Urban Hype: How To Blend In With The Nashville Locals
Nashville is the music capital of the world, and it's no surprise that the city has a unique urban style that blends country, rock, and hip hop to create its own unique look. The locals in nashville are fashion-conscious, and they take pride in their appearance.
If you want to blend in with the nashville locals, your outfit should reflect the city's vibrant music scene and unique style.
Outfits Perfect For Broadway Clubs
Broadway in nashville is the ultimate destination for anyone looking to experience live country music. The district is a long stretch of bars and clubs where you can listen to the best live music nashville has to offer. If you're visiting broadway, you want to dress up and look your best.
Here are some outfits perfect for broadway clubs:
Pair a mini black dress with high heels for a chic and classic look.
A leather jacket with a simple top and high waisted jeans say you're stylish, cool, and of course, rocking the country vibe.
A jumpsuit or romper is quite perfect for that chic and effortless vibe, pair with boots, and you're ready to hit the dance floor.
High Waisted Jeans And Crop Tops
High waisted jeans and crop tops are trending everywhere, and nashville is no exception. This chic and effortless look is perfect for both day and night outings in the city. If you're wondering what outfits to wear and ways to style high waisted jeans and crop tops, here are a few tips:
Pair high waisted jeans with a crop top and ankle boots for that classic country music vibe.
Dress up your crop top and jeans by throwing on a blazer or leather jacket for a little bit of edge.
Accessorize your outfit with cowboy boots or a hat; after all, this is music city.
Oversized Hoodies And Sweatshirts
Oversized hoodies and sweatshirts are trendy and perfect for a laid-back and comfortable outfit. They are perfect for exploring the city on a cold day, and paired with the right accessories, you can still pull off a chic look. Here are some tips for styling oversized hoodies and sweatshirts around nashville:
Pair an oversized hoodie with leggings and sneakers for a comfortable and sporty look while exploring the city.
Layer your sweatshirt with a denim jacket and accessorize with boots for a casual and chic vibe.
A monochromatic outfit with an oversized hoodie or sweatshirt elevates a basic outfit and exudes street-style.
Nashville has a vibrant fashion scene with a unique blend of country, rock, and hip hop. Whether you're hanging out in broadway clubs, exploring the city, or attending a music festival, these outfit suggestions are guaranteed to help you blend in with the nashville locals.
Remember, accessorizing is key to perfecting the nashville look. So go forth, have fun, and enjoy your time in the music capital of the world!
Hats: Always A Great Accessory
Nashville is a city that loves hats! It's a stylish accessory that can elevate any outfit and protect you from the sun. If you're wondering which hat to wear in nashville, we've got you covered. From floppy hats to cowboy hats and baseball caps, here are our top picks for hats in music city.
Floppy Hats
If you're looking for an effortlessly cool hat for a day out in nashville, a floppy hat is your best bet. Here are some key points to consider:
Floppy hats are a great way to add some chicness to your outfit.
They come in different sizes and shapes, so you can find the one that suits your style and face shape.
When choosing a floppy hat, opt for neutral colors like black, beige, or navy that will pair well with almost any outfit.
Don't be afraid to mix and match patterns and textures in your outfit. A floppy hat can be paired with floral dresses, denim shorts, and even swimsuits.
Cowboy Hats
Cowboy hats are a nashville staple. They're perfect for country-themed events or when you want to channel your inner cowgirl. Here's what you should know:
Cowboy hats come in different materials like felt or straw. Felt cowboy hats are great for cooler weather, while straw cowboy hats are perfect for summer days
Choose a cowboy hat that fits snugly on your head to avoid it flying off in windy weather.
You can find cowboy hats with different types of creases and brims. The cattleman crease and the gus crease are two popular styles.
Cowboy hats go well with denim outfits or chambray shirts. Avoid wearing them with overly dressy outfits.
Baseball Caps
Nothing screams effortless and casual quite like a baseball cap. Here are some tips:
Baseball caps are perfect for when you're running errands or having a day out in the sun.
They come in different materials, from cotton to mesh, so you can choose the one that suits your needs.
Choose a baseball cap with a solid color or embroidered detailing to add some interest to your look.
Baseball caps go well with athleisure wear, jean shorts, and graphic t-shirts.
Whether you prefer the laid-back vibe of a baseball cap or the cowgirl-chic look of a cowboy hat, there's a hat for every nashville occasion. Don't be afraid to experiment with different styles and mix and match with your outfit.
Happy hat shopping!
Jewelry: Add A Touch Of Southern Charm
What To Wear In Nashville?
Nashville, the capital city of tennessee, is known for its vibrant music scene, delicious food, and eclectic fashion sense. If you're planning a trip to this lively city, it's essential to put together the perfect outfit. And what better way to add a touch of southern charm to your look than with some stunning jewelry?
Bold Statement Earrings
Bold statement earrings are a must-have accessory for any nashville outfit. Here are a few key points to keep in mind while styling:
Choose earrings in bold colors, like turquoise or coral, to add a pop of color to your outfit.
If your outfit is already colorful, opt for statement earrings in neutral shades like gold or silver.
For a boho-chic look, styles like tassel or fringe earrings are perfect.
Keep your hair pulled back to draw attention to the statement earrings.
Layered Necklaces
Layered necklaces are another great way to add some southern charm to your outfit. Here are some key points to consider:
Choose necklaces of different lengths and styles to create a layered effect.
Opt for delicate chains with small pendants for an understated look.
If you're going for a bold look, choose chunky necklaces in bright colors.
Don't be afraid to mix metals like gold and silver for a chic and eclectic style.
Cuff Bracelets
Cuff bracelets are a great way to complete your nashville outfit. Here are some tips:
Choose cuff bracelets in bold patterns or textures for a standout accessory.
If you're wearing multiple bracelets, mix and match a cuff with bangles or beaded bracelets.
Stack multiple cuffs on one wrist for a bohemian look.
Wear a simple cuff bracelet with intricate detailing to add a touch of elegance to your outfit.
Nashville is the perfect place to experiment with your style and add a touch of southern charm to your look. With bold statement earrings, layered necklaces, and cuff bracelets, you'll be sure to turn heads in this vibrant city. So, what are you waiting for?
Start planning your nashville outfit today!
Handbags: Perfect For Every Occasion
When it comes to completing a perfect outfit, handbags are often the missing piece of the puzzle. In a city like nashville, a stylish handbag can add a touch of southern charm to any look. Here are the top three handbag styles to consider when dressing for every occasion in nashville.
Cross-Body Bags
Cross-body bags are a nashville staple, perfect for daywear or casual evenings out. Here are some key points to consider when selecting a cross-body bag for your trip to nashville:
Choose a leather or suede material to fit in with the city's country aesthetic.
Keep the size small to medium to ensure ease of wear for extended periods.
Opt for a neutral color like brown or black, which pairs with any outfit.
Look for a bag with unique detailing like studs or fringe for a fashionable twist.
Fringe Bags
Fringe detailing is a huge trend in nashville and can be found on everything from boots to jackets. A fringe handbag is the perfect way to add some fun flare to your outfit. Here are some key points to consider when selecting a fringe bag:
Choose a bag with minimal design features to ensure the fringe is the central focus.
Opt for a medium-sized bag to ensure practicality, as larger bags can become heavy with extra fringe.
Look for a bag in a warm, earthy tone such as caramel or tan to fit in with nashville's southern style.
Pair a fringe bag with a simple outfit to allow the bag to take center stage.
Leather Clutches
For evening events in nashville, a leather clutch is a versatile and stylish option. Here are some key points to consider when shopping for a leather clutch:
Choose a clutch in a neutral color such as black, brown, or cream, for versatility.
Look for a clutch with simple design features such as metallic hardware or a fold-over flap.
Opt for a clutch with a detachable chain strap, so you can wear it as a shoulder bag if preferred.
Ensure the clutch is large enough to fit your essentials, like your phone, id, and lipstick.
Nashville is a city filled with stylish people and southern charm, and with the right handbag, you'll be able to fit right in.
Frequently Asked Questions For What To Wear In Nashville?
What Is The Best Outfit For A Night Out In Nashville?
A dress or a stylish top paired with jeans and boots.
Should I Wear Cowboy Boots In Nashville?
Yes, cowboy boots are a popular fashion staple in nashville.
What Should I Wear For Hot Weather In Nashville?
Light clothes such as sundresses, shorts, and t-shirts.
Can I Wear Sneakers In Nashville?
Yes, sneakers are appropriate for certain activities such as hiking or sightseeing.
What Should I Wear For A Visit To The Country Music Hall Of Fame?
Dress comfortably for a lot of walking and wear casual, stylish clothing.
Conclusion
From boots to sundresses, there's a myriad of options to choose from when preparing your wardrobe for nashville. It's a city that's all about embracing individual style while keeping things comfortable and practical for the hot summers and milder winters.
With so much musical history and cultural diversity, don't be afraid to experiment with your outfits and add a bit of flair to your wardrobe. Remember to prioritize comfort, protection from the elements, and attire appropriate for the activity or event you'll be attending.
Whether you're looking to blend in with the locals or stand out with your style, nashville has something for every fashion sense. With this guide in hand, you can be sure you'll be dressed for success in music city.