For October in Spain, wear comfortable layers to adjust to changing temperatures.
Weather In Spain In October
The weather in Spain during October can vary, but it generally offers pleasant temperatures for exploring the country. The average temperature in October ranges from **15°C to 23°C**, providing comfortable conditions for outdoor activities. However, it is important to note that the temperature can fluctuate throughout the day, so it is advisable to dress in layers. This allows you to adjust your clothing as the temperature changes. Additionally, it is recommended to bring a **light jacket or sweater** for cooler mornings and evenings. On the other hand, rainfall in October is relatively low, with an average of around **40mm**. Despite this, it is always a good idea to pack a **light raincoat or umbrella** in case of showers. Overall, with mild temperatures and minimal rainfall, October is a great time to visit Spain. So pack accordingly, be prepared for some temperature changes, and explore the beautiful country at your own pace.
Clothing Essentials For Spain In October
When packing for a trip to Spain in October, it's important to consider the changing temperatures and plan accordingly. Lightweight and breathable fabrics are essential to stay comfortable during the day, as temperatures can still reach high levels. However, it's important to be prepared for cooler evenings by packing sweaters and jackets to layer up. This will ensure that you can adapt to the changing weather and stay warm when needed.
Another important consideration when choosing what to wear in Spain is comfortable walking shoes. Spain is known for its beautiful cobblestone streets and historic neighborhoods, so it's important to have footwear that can withstand long walks and provide support.
Overall, packing a mix of lightweight clothing and warmer layers, along with comfortable walking shoes, will ensure that you're prepared for the varying temperatures and can fully enjoy your trip to Spain in October.
Stylish Outfit Ideas For Spain In October
When planning what to wear in Spain in October, it's important to consider the mild autumn weather. For a casual daytime look, opt for lightweight fabrics such as linen or cotton. Pair a stylish blouse or shirt with comfortable jeans or cropped trousers. Layer with a light jacket or cardigan for cooler mornings and evenings.
For dining out in the evening, you can elevate your outfit by wearing a flowy dress or a tailored jumpsuit. Stick to fall colors like burgundy, olive green, or navy blue. And don't forget to accessorize with statement jewelry or a stylish belt to add a touch of personality to your ensemble.
If you plan on engaging in outdoor activities, pack breathable sportswear or activewear. Opt for moisture-wicking materials to keep you comfortable during hikes or walks. Remember to bring a light jacket and comfortable walking shoes or sneakers.
When it comes to accessories, a wide-brimmed hat can protect you from the sun, while a stylish scarf can add a pop of color to any outfit. Don't forget a sturdy and fashionable backpack or tote bag to carry your essentials while exploring the Spanish streets.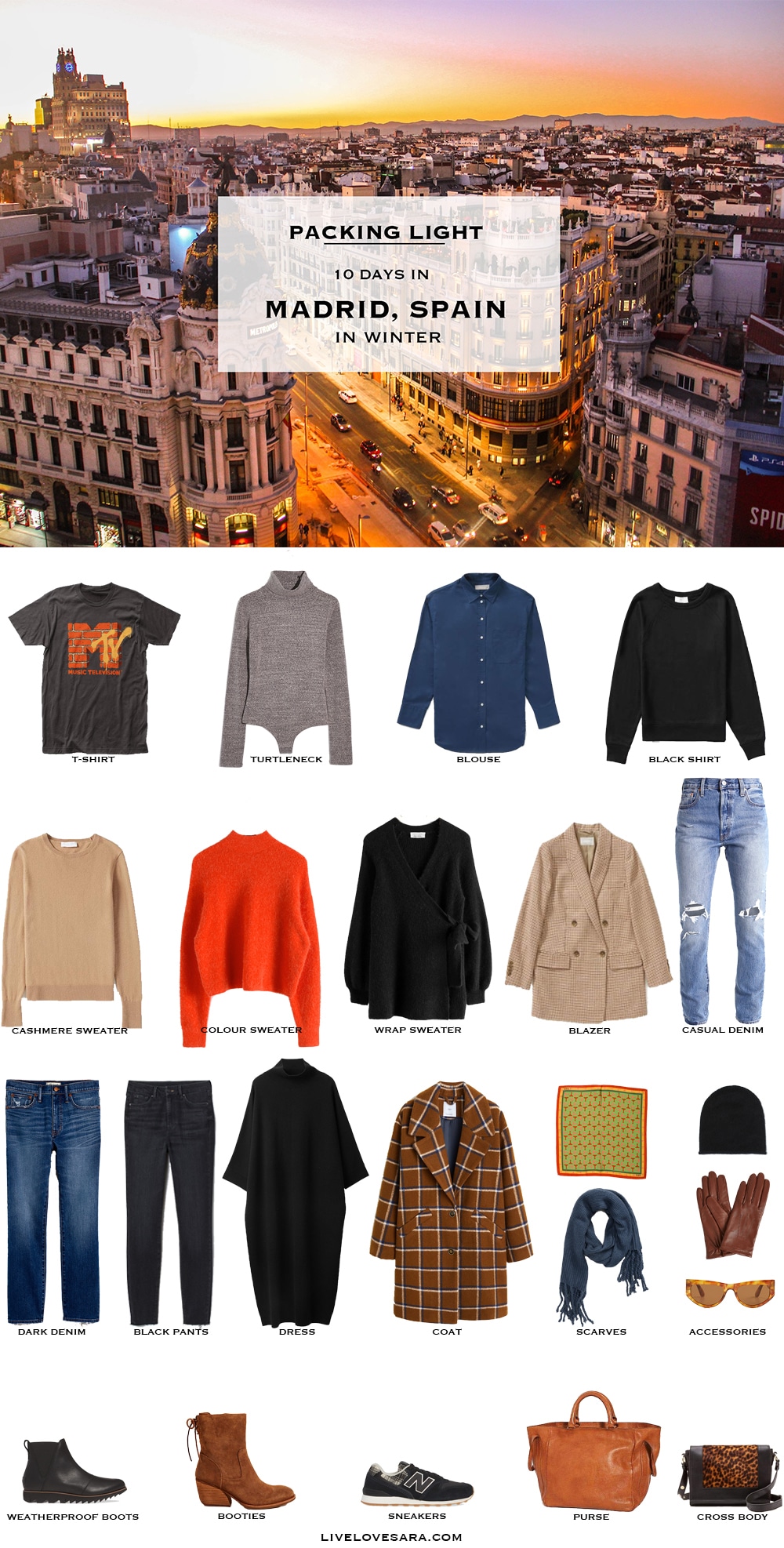 Credit: livelovesara.com
Conclusion
Finally, when planning your October wardrobe for Spain, remember to strike a balance between style and comfort. Opt for lightweight layers that can be easily added or removed throughout the day as temperatures fluctuate. Consider packing a mix of versatile essentials such as a lightweight jacket, long-sleeved shirts, and comfortable jeans.
Don't forget to bring a scarf or shawl to add a touch of warmth when needed. Footwear-wise, opt for comfortable shoes that are suitable for both city exploration and countryside walks. And of course, don't forget to pack your sunglasses and sunscreen, as the sun can still be strong during this time of year.
By carefully selecting your outfits and paying attention to the weather forecast, you can ensure that your October trip to Spain is both stylish and comfortable. Happy travels!