Wear lightweight and comfortable clothing in the philippines. For casual wear, opt for shorts or pants with breathable tops.
The tropical climate and warm weather in the philippines make it essential to dress comfortably while exploring its beautiful outdoors. When packing for the trip, keep in mind that lightweight clothing made of breathable fabrics is the ideal choice. Sunscreen, a hat, sunglasses, and comfortable walking shoes are also a must-have.
Dress modestly for visits to religious sites, with shoulders and knees covered. During the rainy season, it's best to carry a light raincoat or an umbrella to protect from sudden downpours. The philippines' vibrant culture and stunning landscapes make it an ideal destination for travelers worldwide, but be mindful of the dress code and specific occasions when visiting to ensure a pleasant experience.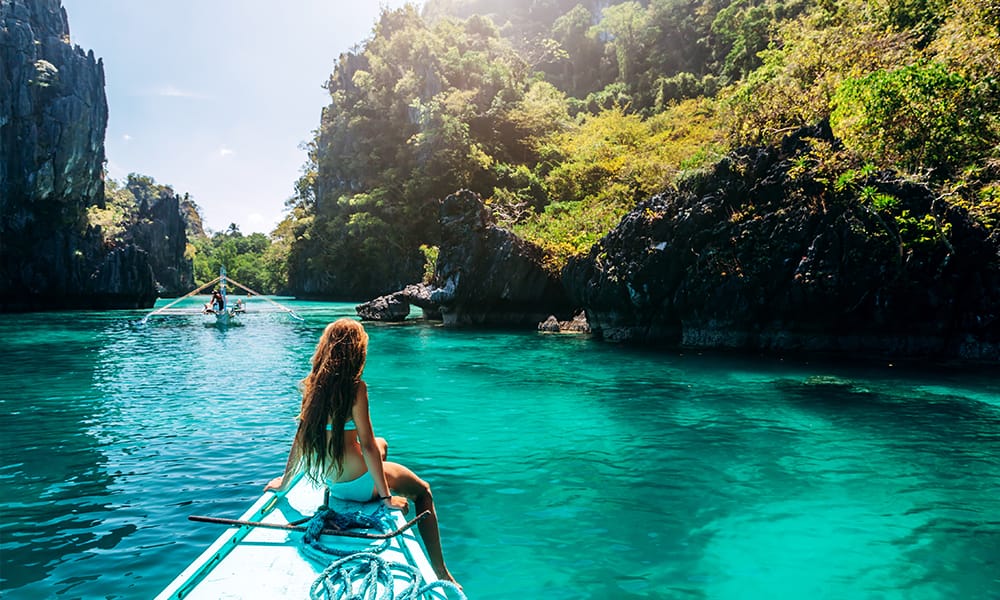 Credit: www.whattowearonvacation.com
Understanding The Climate In The Philippines
The philippines is a beautiful archipelago, rich in culture and diversity. It is a tropical country, which means that the weather can be quite unpredictable. If you are planning to visit the philippines, it is essential to consider your clothing choices.
In this blog post, we will discuss everything you need to know about dressing appropriately in the philippines.
Brief Overview Of Philippines' Climate
The climate in the philippines is tropical, which means it's hot and humid all year round.
The country has two main seasons: The dry season, which runs from november to april, and the wet season, which runs from may to october.
The temperature can range from 20°c to 38°c, depending on the location.
Highlighting The Importance Of Dressing According To The Weather
Dress according to the season. Lightweight and breathable clothing is the best option for the hot and humid weather.
Avoid wearing dark colors as they tend to absorb more heat.
Wear comfortable clothes suitable for outdoor activities, especially if you plan to explore the beaches and hiking spots.
Protect yourself from the sun by wearing a hat, sunglasses, and sunscreen.
Don't forget to bring a light jacket or sweater for indoor areas with air conditioning.
Discussing The Effect Of Climate On Clothing Materials And What To Avoid
Avoid wearing heavy clothing and fabrics such as denim or leather, as they tend to trap heat, making you feel uncomfortable.
Opt for loose-fitting cotton, rayon, or linen fabrics that are light and airy.
Avoid synthetic fabrics such as polyester, nylon, and spandex, as they trap heat and moisture, making you feel hotter.
Don't wear tight-fitting clothes, as they can restrict air circulation and make you feel sweaty and uncomfortable.
When visiting the philippines, it's important to dress smartly according to the climate. Wear comfortable and breathable clothing that suits the season. Avoid anything too heavy, tight, or synthetic, as it can make you feel uncomfortable. By following these simple guidelines, you can enjoy your trip to the philippines while staying cool and comfortable in the hot and humid weather.
Appropriate Clothing For Hot And Humid Weather
Importance Of Comfort Over Style
When it comes to dressing for hot and humid weather, it's important to prioritize comfort over style. Though fashion can be tempting, wearing comfortable clothing can make all the difference in keeping cool and dry. Here are some key points to consider:
Loose-fitting clothing allows air to circulate, and is ideal for staying cool.
Light-colored clothing reflects heat, whereas dark colors absorb it and can cause discomfort.
Breathable fabrics such as cotton and linen are ideal for hot and humid weathers.
Suggested Outfits For Touring During The Day
When exploring the philippines during the day, you'll want to dress comfortably and appropriately for the weather. Here are some outfits to consider:
Loose-fitting cotton shorts or trousers with a breathable cotton top.
Comfortable sandals or walking shoes with socks to prevent blisters.
A wide-brimmed hat to protect your face and neck from the sun.
Lightweight backpack to carry essentials.
Recommended Fabrics For Hot And Humid Climate
Selecting the right fabrics is critical in humid weather conditions. Choose fabrics that are breathable, lightweight, and wick away sweat to keep you cool and dry. Here are some of the best fabrics to opt for:
Cotton: Lightweight and breathable, cotton is the most popular fabric for hot and humid weather.
Linen: Made from natural fibers, linen is highly breathable and wicks away moisture.
Rayon: Synthetic yet breathable, rayon is soft and lightweight, making it ideal for humid climates.
Polyester: Quick-drying and lightweight, polyester is ideal for outdoor activities but less breathable than natural fabrics.
Accessories That Help Beat The Heat
Accessories can help you stay cool in hot and humid climates while also making a fashion statement. Opting for the right accessories can make your outfit more comfortable and functional. Here are some must-have accessories:
Sunglasses: Protect your eyes from the sun's harsh rays while also adding a stylish touch.
Scarves or bandanas: These can help you keep sweat at bay while also adding a pop of color to your outfit.
Lightweight, breathable scarf or shawl: Protect your skin from the sun's harmful rays while also keeping cool.
Handheld fan: On particularly hot days, a handheld fan can be a lifesaver, helping you stay cool and comfortable.
By keeping these tips in mind, you'll be able to dress appropriately and comfortably for hot and humid weather, ensuring an enjoyable and hassle-free trip to the beautiful philippines.
Dressing For Cold And Rainy Climate
Overview Of The Typhoon Season
The philippines is known for its warm and sunny weather, but it also experiences a typhoon season from june to november. During this period, the country may encounter strong winds, heavy rainfall, flash floods, and landslides. It is essential to plan ahead and prepare for the worst-case scenario.
Here are some tips on what to wear during cold and rainy climate.
Suggested Clothing For Rainy Weather
When it comes to dressing for rainy weather, it is crucial to keep in mind that the philippines is a predominantly tropical country, which means the temperature is going to remain warm, even when it's raining. Here are some clothing recommendations to keep you comfortable during rainy weather:
Waterproof jacket with a hood or umbrella to keep you dry
Slightly longer pants made of quick-drying materials
Comfortable waterproof shoes or boots (avoid flip-flops and sandals)
Pack a change of clothes in case you get wet
Recommended Materials For Cold Weather
Although the philippines is known for its tropical weather, the mountainous areas can be colder than the lowlands during the typhoon season. As such, it is important to have appropriate clothing to keep you warm and comfortable. Here are a few materials to consider when dressing for cold weather:
Thermal or woolen clothes to retain heat
Fleece or sweater to insulate your body
Jacket or parka to provide extra warmth
Thick socks to keep your feet warm
Accessories That Work Best For The Typhoon
Aside from clothing, there are some accessories you can bring to ensure your safety and comfort during a typhoon. Here are some that are highly recommended:
Waterproof bags to keep your valuables safe
Anti-slip shoes or boots to avoid accidents
Flashlight with extra batteries to navigate through dark and flooded areas
Face mask to safeguard against airborne viruses and pollutants
Dressing for cold and rainy weather in the philippines is all about being prepared for the worst possible scenario. Remember to pack appropriately, bring suitable clothing and accessories, and stay safe during the typhoon season.
Dressing For The Beach And Island Hopping
The philippines boasts of some of the world's most breathtaking beaches and stunning islands. With warm weather all year round, dressing for the beach and island hopping should be light, breezy, and comfortable. Here are our tips for what to wear in the philippines when dressing for the beach and island hopping:
Appropriate Attire For Water Sports Activities
Wear a rash guard or swim shirt when engaging in water sports activities to protect your skin from the sun.
Choose quick-drying fabrics such as nylon, spandex, or polyester since you'll be constantly in and out of the water.
Avoid wearing anything too loose or baggy as it may slow you down in water activities like surfing or snorkeling.
Bring a lightweight and packable towel for drying off after your water sports activity.
Recommended Swimwear For All Body Types
One-piece swimsuits are classic and flattering, while bikinis are perfect for tanning.
Look for swimwear with built-in support for extra comfort or opt for high-waisted bikini bottoms to accentuate your waist.
Choosing darker colors will give a slimming effect, while choosing bright colors or bold prints will give an eye-catching look.
Don't forget to bring a cover-up such as a sarong or kaftan to go over your swimwear after swimming.
The Most Recommended Footwear For The Beach
Flip-flops are perfect for the beach since they're affordable, comfortable, and easy to slip on and off.
Choose sandals with a thicker sole to protect your feet from rocky terrain or shells on the beach.
Water shoes are highly recommended especially for rock beach excursions and island hopping where there may be sharp corals or rocks.
How To Style Your Beachwear For That Ig-Worthy Shot
First and foremost, make sure you're comfortable in your swimwear.
Accessorize with hats, sunglasses or beach bags to add some personality to your beach look.
When posing for a photo, elongate your legs and arch your back slightly. It'll make you look taller and slimmer.
Experiment with different poses and angles to add some variety to your aesthetic.
Remember, when it comes to dressing for the beach and island hopping in the philippines, comfort is always key. By keeping these tips in mind, you'll look stylish and feel comfortable while enjoying the sun, sand, and sea.
Frequently Asked Questions Of What To Wear In The Philippines?
What Is The Weather Like In The Philippines?
The philippines has a tropical climate that is hot and humid all year round. Temperatures typically range from 25°c to 35°c, with december to february being slightly cooler and the rainy season is from june to november.
What Should I Wear In The Philippines?
Light and breathable clothing made from natural fabrics such as cotton and linen are ideal. For outdoor activities, comfortable shoes are a must. It's important to note that most filipinos dress conservatively, so avoid wearing revealing clothing.
Do I Need To Bring A Raincoat Or Umbrella?
It's a good idea to bring a raincoat or umbrella during the rainy season. However, many stores in the philippines also sell affordable and colorful rain gear should you need to purchase one during your trip.
Should I Bring A Swimsuit?
The philippines is known for its stunning beaches and islands, so be sure to pack a swimsuit. Just keep in mind that modesty is valued in the philippines, so choose a swimsuit that is appropriate for public beaches.
Do I Need To Bring Insect Repellent?
The philippines is a tropical country and mosquitoes are common especially during the rainy season. It's best to bring insect repellent and apply them regularly, or chose a hotel or accommodation with screens on windows and air conditioning.
Conclusion
When packing for your trip to the philippines, it's crucial to keep the climate and culture in mind. Light and breathable fabrics are a must to combat the heat and humidity. Opting for cultural clothing, such as the barong tagalog, is a great way to embrace local customs and feel more at home.
Additionally, packing versatile accessories like scarves and hats will help protect you from the sun while adding flair to your outfits. In terms of footwear, comfortable sandals or sneakers are recommended for exploring the country's beaches and cities. To summarize, dressing for the philippines requires a balance of practicality and style, with a focus on staying cool and comfortable.
By following these tips and adding your own personal touch, you'll be ready to fully enjoy your philippine adventure.