To dress appropriately for miami, opt for lightweight and breathable clothing. Miami is a coastal city located in the southern part of the united states known for its vibrant culture, bright sunny weather, and scenic beaches.
For most tourists and locals, choosing what to wear in miami can be a bit of a challenge. Considering miami's hot and humid weather, it's important to opt for lightweight and breathable clothing. Ideal clothing choices include cotton t-shirts, shorts, sundresses, and sandals.
It's also good to have a swimsuit or a bikini for beach days. Additionally, sunglasses, hats, and sunscreen are a must to protect yourself from the florida sunshine. In this article, we will explore some additional tips for dressing appropriately for miami's unique cultural and social scene.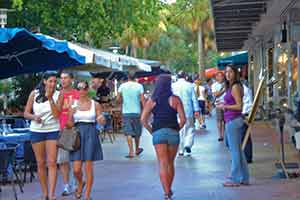 Credit: www.hipstyleandvalue.com
Dress Code In Miami: Understanding The Culture And Climate
Miami is known for its sunny beaches, warm weather, and vibrant nightlife. It is one of the most exciting vacation destinations in the us. However, before you get ready for that florida sunshine, it is essential to understand the city's dress code, especially if you come from a cooler climate.
In this post, we will dive into the dress code in miami and what you should wear to look stylish and comfortable throughout your stay.
Understanding Miami'S Climate:
Miami's hot and humid climate is a significant factor that impacts the dress code. During the summer months (june-august), the temperature can rise up to 90°f, and the humidity can be quite high. Here are some tips to keep in mind:
Loose-fitting clothes made of lightweight breathable fabrics like cotton or linen are perfect choices for the miami heat.
Shorts, skirts, sundresses, and tank tops are excellent options that allow your skin to breathe and stay cool.
Don't forget a wide-brimmed hat and sunglasses to protect your head and eyes and stay comfortable in the sun.
Miami'S Beach Culture And Nightlife:
Miami's beach culture and nightlife are the city's biggest draws. Whether you plan on hitting the beach during the day, exploring the city at night, or attending a swanky event, here are some things to keep in mind:
Miami's beaches are casual, so board shorts, bikinis, and cover-ups are must-haves. Bring a beach bag to carry your sunblock and towels.
Dress up for miami's nightlife, especially if you plan to visit some of its iconic nightclubs. For men, wear dress pants or tailored shorts with a button-up shirt or a blazer. For women, a chic dress or a stylish top with high-waisted trousers or a skirt is an excellent choice.
For events like weddings or gala dinners, opt for a formal attire. Men can wear a suit, while women can choose from a cocktail dress or an evening gown.
The Importance Of Dressing For Comfort:
Miami might be a city that values style, but it is also a city where you need to dress for comfort. Here are some tips to keep in mind:
Opt for comfortable footwear like sneakers, sandals, or flats while exploring the city or hitting the beach. Avoid high heels, which can be tough on miami's uneven sidewalks.
Don't forget to pack a light jacket or a sweater if you plan on spending time indoors. Air conditioning can be quite strong in restaurants and other indoor spaces.
Remember to prioritize comfort over style. It's essential to feel good in what you're wearing to make the most of your miami vacation.
Miami's dress code is all about staying comfortable, practical, and stylish. With the tips provided above, you'll be ready to pack your bags and hit the florida sunshine in style.
Packing Essentials For Miami: A Functional Checklist
Miami is famous for its sunny skies and hot, humid climate, which means packing the right clothing can be a challenge. Whether you're hitting the beach, exploring the city, or dining out, it's important to pack the essentials that will keep you comfortable and stylish.
Here's a packing checklist to help you prepare for your miami trip:
List Of Essential Items Such As Light And Breathable Fabrics, Sunglasses, And Sunscreen
Lightweight and breathable fabrics, such as cotton or linen, are ideal for miami's tropical climate.
Pack sunscreen with a high spf to protect your skin from the intense sun.
Don't forget to pack sunglasses to protect your eyes from the bright miami sunshine.
Choosing The Right Footwear
Comfortable shoes are an essential item for exploring miami. Opt for stylish yet practical options that will work for day and night.
Sneakers or walking shoes are excellent for tours or when you need to do a lot of walking.
Sandals or flip flops are ideal for the beach or pool.
Heels or dress shoes are perfect for a night out and will elevate your outfit.
Highlight The Need For Versatile Clothing
Packing versatile clothing that can easily transition from day to night is key to making the most of your miami trip.
A sundress or skirt can be dressed up with heels and jewelry for evening wear.
A lightweight jacket or cardigan can be thrown over a dress or tank top for cooler evening temperatures.
Must-Pack Accessories
Accessories can elevate your outfit and complete your look. Don't forget to pack hats, bags, and jewelry.
A floppy hat is perfect for the beach or pool.
Crossbody bags are practical for exploring and can hold all your essentials.
Statement jewelry, such as chunky bracelets or bold earrings, can add interest to an outfit.
How To Pack Smart
Rolling your clothes instead of folding them can save space and prevent wrinkles.
Opt for packing cubes or compression bags to maximize your luggage space.
Pack outfits together, so you won't have to spend time searching for items to match.
By following this packing checklist, you'll be set for a fantastic, stylish, and comfortable miami vacation.
Miami'S Fashion Scene: What'S In And What'S Out
The vibrant city of miami is home to a diverse yet thriving fashion scene that draws inspiration from a variety of cultural influences. From beachwear to formal attire, there's practically no limit to the range of styles and patterns you can explore in miami.
In this blog post, we'll shed light on the essentials of the miami fashion scene, including what to wear and what to avoid. Let's dive in!
The Classic Miami Look
The classic miami look is the embodiment of vibrant energy, colors, and patterns that define the essence of this vibrant city. Here are some of the basics that make up the timeless miami look:
Flowy dresses with tropical prints, usually made from light fabrics such as cotton or linen.
Vibrant colored shorts with patterns, such as palm trees, hibiscus flowers, or flamingos.
Footwear such as espadrilles, sandals, and flip-flops are popular on miami beach, specifically when it comes to daytime beachwear.
Straw hats, fedoras, and sunglasses that are both stylish and practical.
Outfit Suggestions And Recommendations
To fit in with the city's fashion vibe, we recommend adding the following to your wardrobe during your stay in miami:
Brightly-colored jumpsuits with tie-dye designs or bold geometric prints to express your personal style.
If wearing long dresses, maxi dresses with bold floral designs are always a good choice.
Leopard prints, whether in a dress, a skirt, or a top. They are classic, accentuate your curves, and add a pop of pattern to your outfit.
Platform sandals with chunky heels or any wedges because they are comfortable and stylish at the same time.
The following boutiques and stores are some of the best places to shop in miami for the latest fashion trends:
The webster miami is a contemporary boutique in south beach known for their exclusive designer collections for both men and women.
Аzul miami is a trendy boutique located on 8th street for affordable athleisure and beachwear
Aventura mall, an upscale mall with over 300 of the most modern designer and brand labels.
Common Fashion Mistakes To Avoid
Make sure to avoid the following fashion faux pas during your stay in miami:
Stiletto heels are an absolute no-go in miami because the city's pavement and sidewalks are often uneven, and discomfort during the day or night can set on quicker than expected.
Avoid wearing dark colored clothing such as black because miami is already hot and humid, which makes things worse. Lighter hues are the way to go.
Since miami is known for its beaches, it's essential to put a top on after leaving the beach or pool. Walking in just a bikini or swimsuit will ultimately get you some hot looks.
Sustainability And Miami'S Fashion Industry
While miami's fashion scene is trending towards more sustainable and ethical fashion choices, not everyone is on board with this movement yet. That's why it is crucial to shop at boutiques like mimo market or wanderlista that offer eco-friendly products and sustainable fashion.
It's important to keep ethical considerations in mind as we choose how to dress for our stay in miami.
The bottom line:
The miami fashion scene has something for everyone. Whether you're into vibrant prints or prefer more classic looks, miami fashion has got you covered. The above suggestions should guide you in exploring your personal style while keeping up with the latest trends.
So grab your shopping bags and get ready to join miami's fashion revolution.
Dressing For Specific Activities In Miami
Beach Attire:
Miami is known to have some of the best beaches in the world, and dressing appropriately for them is crucial. Here's what you need to know:
Swimsuits are the go-to beach attire, and they come in different styles, shapes, and colors. Women can go for bikinis or one-pieces, while men can wear swim trunks.
Cover-ups are essential for when you're not in the water. Women can opt for kaftans, sundresses, or sarongs, while men can wear a t-shirt or a loose-fitting shirt.
Sun protection is crucial, so don't forget to bring a hat, sunglasses, and sunscreen.
Flip flops or sandals are the preferred footwear, as they are easy to slip on and off.
Water Sports And Activities:
Miami's crystal-clear waters and favorable weather conditions make it the perfect destination for water activities. Here's what to wear when trying popular water sports like paddleboarding, snorkeling, and parasailing:
For paddleboarding, wearing a swimsuit with a rash guard or a t-shirt is recommended. Don't forget to bring a hat and sunglasses to protect yourself from the sun.
For snorkeling, wear a swimsuit, a rash guard, or a wetsuit. Bringing a snorkeling mask, fins, and a life jacket is also recommended.
Parasailing requires you to wear comfortable clothes that won't restrict your movement, such as shorts and a t-shirt. Don't forget to bring a hat and sunglasses.
Exploring Miami'S Culture And Landmarks:
Miami has a rich culture and history that is best experienced by visiting its landmarks and tourist attractions. Here are some outfit ideas for sightseeing:
Wear comfortable shoes, such as sneakers or flats, as you'll be doing a lot of walking.
Dress according to the weather, as miami can get hot and humid. Opt for light fabrics and breathable clothing.
Visiting museums and indoor tourist attractions may require dressing more conservatively, so avoid wearing revealing clothing.
Social Events And Nightlife:
Miami is famous for its vibrant nightlife, and attending social events is a must. Here's what to wear when going to nightclubs, bars, and events like miami's art basel:
Dress codes may vary, so always check the venue's website or call ahead to confirm. Generally, miami has a relaxed dress code, so dress to impress but be comfortable.
Men can wear dress pants or jeans paired with a dress shirt or a button-down. Women can opt for a cocktail dress or a stylish jumpsuit.
Heels are perfectly acceptable, but flats or sandals may be a better option if you plan on dancing the night away.
Remember, miami is all about being stylish, comfortable, and ready for anything. Whether you're lazing on the beach or attending a swanky event, make sure your outfit reflects the city's vibrant energy.
Outfit Planning And Styling Tips
With its stunning beaches, sizzling nightlife, and vibrant culture, miami is a city that's always on the go. Knowing what to wear in miami can be a bit tricky, especially if you're not familiar with the city's fashion culture. But worry not, as we've got you covered! We'll share some outfit planning and styling tips that will help you look your best while exploring the magic city.
So, let's jump right in!
Understanding The Importance Of Versatile Pieces In Outfit Planning
When you're packing for miami, it's essential to choose versatile pieces that can be mixed and matched to create different outfits. By doing so, you'll be able to make the most out of your luggage space and create a look that's distinct, comfortable, and stylish.
Some versatile pieces you might want to consider packing include:
A pair of classic denim jeans
A white t-shirt or tank top
A versatile blazer or jacket
A maxi dress
Comfortable flats or sneakers
Sunglasses
Introduction To Color Theory: Tips On Combining Colors To Create An Eye-Catching Outfit
Miami is known for its bright, bold, and vibrant colors. Incorporating these into your outfits can be a little intimidating, but don't worry! You don't have to be a fashion expert to create a stylish ensemble. Here are some tips on color theory to keep in mind:
Start with one color and build from there
Consider your skin tone when choosing colors
Don't be afraid to mix and match colors, as long as they complement each other
You can never go wrong with black and white
Don't forget to accessorize with colorful pieces, such as jewelry or hats
Dressing For Your Body Type: Tips On How To Dress Based On One'S Body Shape
Everyone has a unique body type, and dressing according to it can help enhance your best features and make you feel confident in your skin. Here are some tips on how to dress based on your body shape:
Hourglass: Aim for fitted tops and dresses that show off your waistline
Apple: Choose empire waistlines or a-line dresses to draw attention away from the midsection
Pear: Opt for tops that draw attention to your upper body and skirts that flare out at the hips
Rectangle: Go for pieces that create curves, such as peplum tops or ruffle skirts
Mixing Prints And Patterns: Explain How To Mix Prints And Patterns To Create A Chic Look
Mixing patterns and prints might seem daunting, but when done right, it can elevate your outfit to the next level. Here are some tips on how to mix prints and patterns:
Start with a simple foundation piece, such as a neutral-colored top or bottom
Choose prints that share a common color
Mix prints of different scales, such as a small floral print with a larger checkered one
Stripes and polka dots are great starter patterns to mix and match
Don't forget to balance out the outfit with some solid-colored pieces
Accessorizing: Tips On How To Accessorize And Elevate A Basic Outfit
The right accessories can take a basic outfit and make it look chic and put-together. Here are some tips on how to accessorize in miami:
Dress up a casual outfit with statement jewelry, such as oversized earrings or necklaces
Add a pop of color with a brightly-colored scarf or bag
Complete the look with a wide-brimmed hat or a pair of classic sunglasses
Layer your pieces, such as stacking bracelets or rings
Accentuate your waistline with a fashion belt
And that brings us to the end of our styling and outfit planning tips for miami. By keeping these tips in mind, you'll be able to look and feel your best as you explore all that the magic city has to offer.
Happy packing!
Frequently Asked Questions For What To Wear Miami?
What Is The Dress Code In Miami?
Miami has a fun and laid-back vibe, but dressing up is common. Think bright colors, flowy dresses, and light fabrics. Don't skimp on the sunscreen, and always have a hat or sunglasses.
What Should I Wear To The Beach In Miami?
Miami is known for its beaches, so bring your swimsuits, sundresses, hats, and flip flops. Cover-ups are optional, but recommended if you need to take a quick break from the sun.
Can I Wear Sneakers In Miami?
Sneakers can be worn in miami but stick to trendy or classic styles that can elevate your look. Pair them with fitted jeans and a fun top. Just avoid the bulky or athletic sneakers.
What Is The Attire For Miami Nightlife?
Miami nightlife is known for being glamorous. Opt for a cocktail dress, dress pants with a dress shirt for men or a trendy jumpsuit. Heels are a must, but make sure you can dance in them.
Do I Need To Bring A Jacket To Miami?
Bring a light jacket or sweater for cooler nights. Miami has a tropical climate, but temperatures can drop by a few degrees at night. Look for lightweight options that won't weigh you down.
Conclusion
As you can see, miami is a vibrant city that offers a lot of options to dress up or dress down. The weather can be quite unpredictable, so it's important to always be prepared for a sudden change in temperature or weather conditions.
Whether you're heading to the beach or exploring the streets of south beach, you want to make sure you're comfortable and stylish at the same time. Keep in mind that miami is a laid-back city, so you can get away with wearing casual outfits for most occasions.
However, if you want to stand out, you can add some bold colors, patterns, or accessories to your outfit. With this guide, hopefully, you feel more confident about what to wear in miami and can enjoy all the city has to offer without worrying about your attire.