On a cruise, dress comfortably and appropriately for the destination and planned activities. A variety of clothing options, from casual to formal, are typically appropriate for a cruise.
A cruise vacation is an exciting opportunity to relax, explore, and enjoy a new environment. However, figuring out what to wear can be a daunting task. With multiple formal nights, casual excursions, and varied climates, packing for a cruise can feel overwhelming.
But don't worry, with a little bit of planning, it's easy to find the ideal clothing options for your upcoming adventure. Whether your itinerary includes tropical islands, cultural excursions, or historical landmarks, there's a perfect outfit for every moment. In this article, we'll provide a detailed guide on what to wear on a cruise, taking into account the destination, activities, and dress codes. So, let's dive in!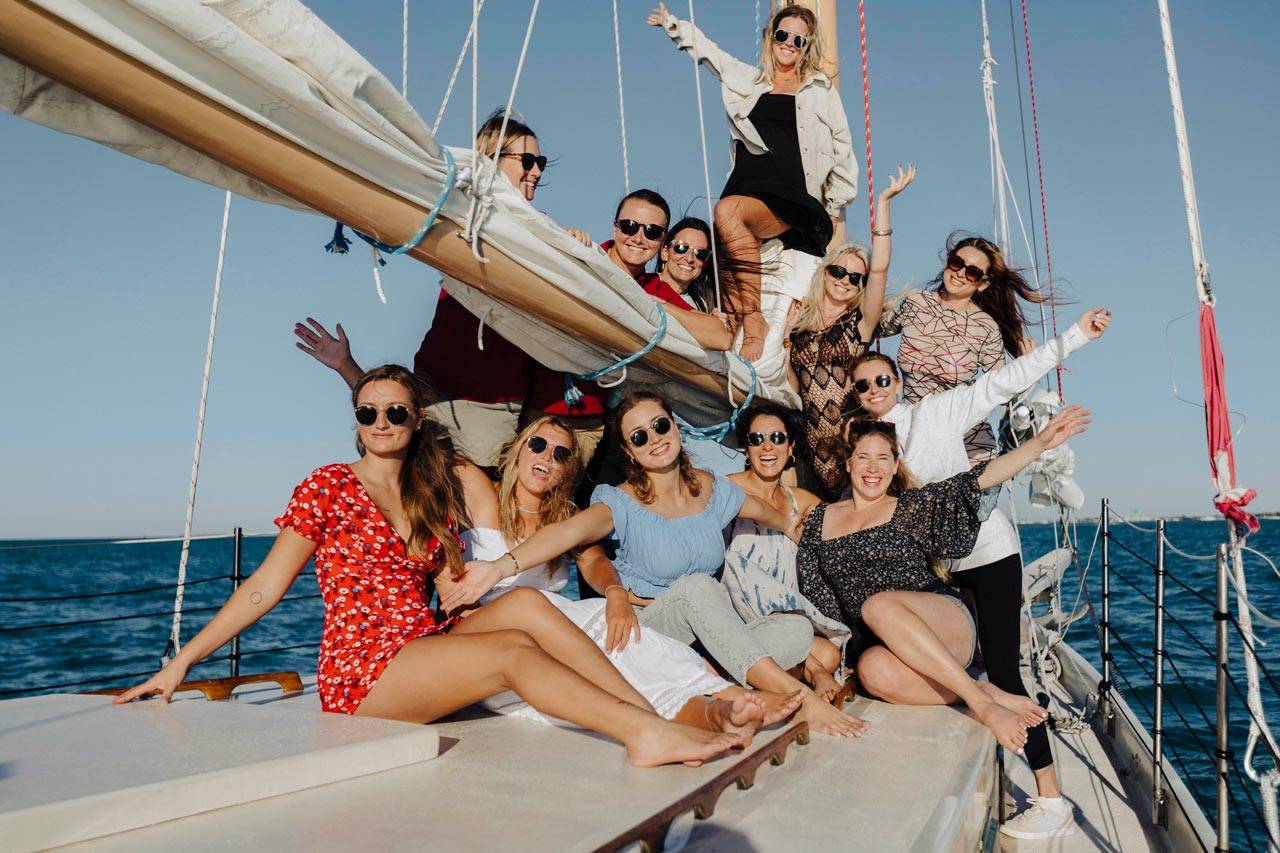 Credit: www.dangercharters.com
Understanding The Dress Codes
Cruising is one of the most unique and enjoyable ways to travel, and when it comes to what to pack, one of the most important considerations is understanding the dress codes. Here, we'll explore the different dress codes on a cruise and offer advice on what to wear to ensure you're comfortable and stylish throughout your trip.
Breaking Down The Different Dress Codes On A Cruise
Cruise lines typically have three main dress codes: casual, smart casual, and formal. While specific guidelines may vary depending on the cruise line, the following points are generally true.
Casual: This is the most relaxed dress code and is typically allowed during the day. Think comfortable and casual, but not too revealing. Shorts, sundresses, and jeans are all appropriate.
Smart casual: This is often required in the evening and typically means wearing something a little more refined. Men can wear dress pants or chinos with a collared shirt. Women can opt for a nice dress, pants, or a blouse.
Formal: This is the time to pull out your fancy dresses and suits. Men should wear a tuxedo or dark suit with a tie, while women should wear a cocktail dress or gown.
How To Dress For Formal Nights
Formal nights are some of the most exciting events on a cruise, and dressing appropriately can make all the difference. Here are some tips:
Choose formal attire that is comfortable and easy to move in. Make sure you can sit, stand, and dance without feeling constricted.
Don't be afraid to add some flair to your outfit with bold accessories or jewelry. Just remember that less is often more, so choose statement pieces that complement your outfit rather than overpower it.
If you're unsure of what to wear, check the cruise line's website for specific guidelines. They often provide a detailed breakdown of what is or is not allowed.
Casual Attire For The Rest Of The Trip
While formal nights are certainly attention-grabbing, having the correct casual attire is just as important. Here are some tips:
Opt for lightweight and comfortable clothing that can withstand sun, wind, and sea air. Cotton, linen, and breathable fabrics are great choices.
Don't forget to pack appropriate footwear. Sandals, loafers, and boat shoes are great for casual wear.
Keep your skin protected from the sun by bringing along a wide-brimmed hat, sunglasses, and sunscreen with a high spf.
Overall, understanding the dress codes on a cruise is key to a comfortable and enjoyable experience. By packing appropriate attire and paying attention to specific guidelines, you can ensure that you're well-prepared for any occasion on your trip.
Choosing The Perfect Attire
Choosing what to pack for a cruise can be a tricky task as you'll be visiting multiple destinations, each with its own dress code and weather conditions. But don't worry, we've got you covered on how to choose the perfect attire for your upcoming cruise.
Let's dive right in and explore some essential tips for packing smartly for your cruise vacation.
Tips For Packing Smartly
Research on the dress code of the cruise liner you'll be traveling on before packing for your trip.
Pack clothes that you can mix and match to create multiple outfits from fewer items.
Make sure you pack comfortable shoes for walking tours during port excursions.
Bring a jacket or shawl for cool evenings onboard the ship.
Don't forget to pack sunscreen, a hat, and sunglasses to protect yourself from the sun when lounging on the deck.
Now that we've covered some packing basics, let's move on to what to wear during adventurous excursions.
What To Wear During Adventurous Excursions
Always prioritize comfort over fashion when going on an adventure in your port of call.
Make sure you pack clothes that are appropriate for the activity you plan to do. So pack hiking shoes for a jungle tour and swimwear for a beach trip.
If you plan on doing water sports, bring a rash guard to protect your skin from the sun and from any potential scratches.
Pack a waterproof bag to carry any valuable belongings around while participating in any active excursion.
Lastly, we must consider the weather. Dressing for the weather is crucial to ensure you are comfortable throughout your trip.
Dressing For The Weather
Check the weather forecast for your destinations ahead of time to make appropriate clothing choices.
Invest in good quality clothes that will protect you from the sun, rain, and wind. When you're at sea, the weather can change suddenly, so it's essential to be prepared.
If you're visiting destinations with high humidity, pack clothes made from breathable fabrics like cotton to help keep you cool and comfortable.
Make sure to pack a lightweight raincoat and umbrella in case of unexpected showers.
So there you have it, our top recommendations for choosing the perfect attire for a cruise vacation. Pack smartly, dress appropriately, and have a wonderful time exploring new destinations while keeping comfortable and protected.
Packing Essentials
Packing for a cruise can be daunting, especially if it's your first time. However, with a little preparation, you can have a great time knowing you have all the essentials. Here are some must-haves for any cruise trip:
Sunscreen and aftersun: Cruises are all about soaking up the sun, but too much of it can be harmful to your skin. So, pack sunscreen with a high spf and aftersun to soothe any sunburns.
Swimwear: Whether you're planning to swim in the pool, the ocean, or relax by the hot tub, swimwear is a must-pack item for any cruise.
Comfortable clothes: Opt for breathable, loose-fitted clothes that won't restrict your movements; linen, cotton, and jerseys are excellent options.
Excursion clothes: Check the itinerary and pack clothes that align with the activities you have planned. Make sure you have hiking shoes and appropriate clothing if you plan to hike.
Formal wear: Many cruises have formal events and dinners, so make sure you pack some elegant dresses or suits.
Medication and toiletries: Prescription medication, seasickness medication, toothpaste, shampoo, conditioner, and other essential toiletries should be in your packing list.
Accessories That Add Sophistication
Accessories can add a touch of sophistication to your outfit. Here are some accessories that you can pack:
Jewelry: Simple but elegant jewelry can elevate your outfit, like stud earrings, a delicate necklace, and a bracelet.
Scarves: Scarves are versatile, functional, and can complete your outfit. They will keep you warm on a chilly day and add a pop of color to your attire.
Sunglasses: Not only do sunglasses protect your eyes from the sun's glare, but they also add style to your look.
Hats: Sun hats are perfect for keeping the sun off your face, while baseball or cap hats are great for casual wear.
Shoes To Accommodate Different Activities
A wise traveler once said – take half as many clothes and twice as many shoes. Having a pair of shoes for different activities can make your cruise comfortable. Here are some shoes that you should pack:
Comfortable sneakers: Sneakers are great for exploring, hiking, or walking tours.
Sandals/flip flops: These shoes are perfect for lounging by the pool or the beach.
Dress shoes: If you're planning on attending formal events or dinners, dress shoes are a must.
Water shoes: Water shoes protect your feet from sharp objects, making them ideal for water sports, such as snorkeling or kayaking.
Now that you know what to pack for a cruise, you can focus on enjoying the trip. Remember, pack light, comfortable, and practical clothes, along with must-haves like sunscreen, swimwear, and comfortable shoes. With a bit of preparation and the right packing list, you can have a fantastic cruise experience.
Dressing For Your Destinations
What to wear on a cruise? Dressing for your destinations.
A cruise is all about relaxation, adventure and making fond memories. One of the first things to consider when packing for your cruise is what clothes you will need. You want to look great, but you also want to feel comfortable and confident in your outfits.
This post will guide you through what to wear on a cruise based on your destination, cultural norms and daily activities.
Outfit Ideas For Different Cruise Destinations
Choosing appropriate clothing for your cruise destination can make all the difference. Ensure you pack versatile pieces that will help you adapt to the weather and dress codes of each place. Here are some ideas for what to wear based on different locations:
Caribbean: Bring along light, breezy clothes, such as summery dresses, shorts, and flowy tops. Add a wide-brimmed hat and comfortable walking shoes.
Alaska: Pack warm and waterproof layers, including a parka, a wool sweater, a beanie, and waterproof boots. Thermal underwear or base layers will be helpful to keep you warm on outdoor excursions.
Mediterranean: Opt for versatile and chic outfits, think maxi dresses, tailored shorts, cute rompers, and sophisticated tops. Accessorize with sunglasses, a small crossbody purse, and block heel sandals.
European cities: Dress in stylish and comfortable clothing for a day exploring charming cities, such as comfortable flat shoes, high-waisted jeans, a linen blazer, and a backpack. For fancy dining or theater excursions, opt for cocktail dresses, suits, or blouses with elegant skirts.
Cultural Norms To Consider When Picking Out Clothes
When packing for your cruise, it is essential to consider cultural norms at your destinations. Here are some tips to help guide you:
Respectful clothing: Some countries, regions, and tourist attractions require visitors to dress modestly, covering their shoulders, knees, or head. When in doubt, you should always err on the side of caution.
Shoes: Some cultural sites require you to take off your shoes before entering, so avoid lacing up boots with too many buckles or straps.
Colour: Some colors may be associated with mourning and death in certain cultures, while others are considered vibrant and joyful. Before packing bright-colored items or mourning colors, research the cultural significance at your destination.
Religious sites: Pack a scarf or cover-up that can be used to cover your head, shoulders and knees when entering religious sites.
Adapting Your Wardrobe To Both Day And Night Activities
Cruises offer a wide range of activities, from exciting excursions and sporty activities to fine dining and theater performances. Here are some tips on how to adapt your wardrobe to the day and night activities on the ship:
For daytime excursions, wear comfortable and casual clothes, such as t-shirts, shorts, and sneakers that allow you to move around easily.
Bring along some formal or semi-formal attire for the evenings, such as cocktail dresses, suits, and blouses with elegant skirts. Most cruises have specified dress codes for various onboard activities, so do some research before deciding what to pack.
Pack a swimsuit and cover-up for poolside relaxation.
Bring along versatile layering pieces, such as pashminas or cardigans that will help you stay warm in air-conditioned cabins and restaurants.
Accessorize outfits with statement jewelry, scarves, hats, and shoes that can be dressed down during the day and dressed up at night.
Packing for a cruise is all about versatility and preparation. Consider different climates, cultural norms, and itineraries, and then plan your clothing accordingly. With the tips outlined above, you should have everything you need to enjoy your trip in style.
Happy cruising!
Styling For Different Body Types
Cruises are an excellent opportunity to unwind, explore new places and have fun. However, figuring out what to wear can be quite a challenge, especially when you are still not sure about your body type, and it can get even more complicated for curvier or fuller women.
Fortunately, there are styling tips and fashion guidelines that can help enhance your body features and make you feel confident and fabulous.
Dressing For Your Unique Body Type
Knowing your body type is the first step to finding the perfect cruise outfit, as not every style works for every shape. Here are some pointers to help you figure out your shape:
Hourglass: A well-defined waist, proportional bust and hips. Want to flatter your curves? Choose form-fitting dresses or separates that showcase your silhouette.
Apple: A round middle, wider torso, and slimmer legs. Choose longer tops that cover your stomach and highlight your shoulders. Wide-leg pants or a-line dresses can balance out your proportions.
Pear: Narrower shoulders and a wider lower body, with fuller hips and thighs. Consider v-neck tops or fitted tops to balance out your bottom half. Try a-line skirts or dresses to flatter your hips.
Straight: Minimal curves, little waist definition. Create an illusion of curves with ruffles or other details, and a belt to cinch your waist.
Flattering Silhouettes And Styles
Once you have identified your body type, it is time to choose the best silhouette and styles to flatter your unique features. Regardless of your shape, these dressing tips can help create a flattering look:
Look for flowy materials that skim your body, or snugger-fitting clothes that accentuate your silhouette.
For a cruise, pack clothes that are versatile and that can be dressed up or down.
Choose comfortable fabrics that are breathable such as linen, cotton or silk to keep you cool in the hot weather.
Bold prints, bright colors and embellishments draw attention to your curves and add a pop of flair to your wardrobe.
Enhancing Your Features With Fashion Choices
When choosing cruise wear, consider accessories and add-ons that can enhance your features or balance your proportions.
Shoes: Wedges or block heels can lengthen your legs, especially if you are wearing a dress.
Jewelry: Statement earrings or a chunky necklace can draw attention to your face, while bracelets and cuffs can give the illusion of slender arms.
Bags: Crossbody or clutch bags are perfect for a night out, while a tote or backpack works well for day trips.
Hats: Wide-brimmed hats not only provide sun protection but can also add drama and sophistication to a cruise outfit.
Dressing for a cruise doesn't have to be complicated. By following these helpful tips, you can embrace your unique shape, create flattering silhouettes, and enhance your features with fashion choices. Remember, the key is to feel confident and comfortable in whatever you wear, so you can enjoy your trip to the fullest!
Frequently Asked Questions For What To Wear On A Cruise?
What Should I Wear On A Cruise During The Day?
During the day, you can wear casual clothes such as shorts, t-shirts, sundresses, and swimwear. Don't forget to bring a hat and sunglasses. Check the itinerary and dress appropriately for shore excursions.
What Should I Wear On A Cruise To Dinner?
Dress codes vary by cruise line and restaurant. Formal nights call for cocktail dresses and suits, while smart-casual attire is typical for other nights. Check with the cruise line for specific dress code guidelines.
Can I Wear Jeans On A Cruise?
Jeans are acceptable for certain cruise activities such as daytime excursions or casual dinner venues. However, they may not be allowed in formal dining rooms or during formal nights. Check with the cruise line for specific dress code guidelines.
What Kind Of Shoes Should I Bring On A Cruise?
Bring comfortable walking shoes for excursions, flip-flops for the pool, and dress shoes for formal nights or specialty restaurants. Comfortable sneakers or athletic shoes are also a good option for the gym or onboard activities.
Do I Need To Bring Formal Wear On A Cruise?
Most cruise lines have at least one formal night where passengers dress in cocktail dresses, suits, or tuxedos. However, if you prefer not to participate, alternative dining options are available where casual attire is allowed.
Should I Pack Layers For A Cruise?
Yes, it's a good idea to bring layers as temperatures can vary on the ship and during shore excursions. A light jacket or sweater is also recommended for cooler destinations or evening activities.
Conclusion
When it comes to cruising, choosing the right outfit can make or break your vacation. By now, you're well-versed in what to pack, whether you're planning to spend your days lounging by the pool or exploring new destinations. But remember, what you wear on a cruise is not just about practicality but also fashion.
You should balance comfort, style, and the type of onboard experience you're seeking. Keep in mind that different cruise lines have different dress codes, from casual to formal. You don't want to be underdressed or overdressed for the occasion. Select versatile pieces that can be mixed and matched, and accessorize appropriately.
Whether it's a little black dress or a pair of tailored shorts, choose outfits that make you feel confident and comfortable in your own skin. By following these tips, you'll be well on your way to the perfect cruise wardrobe, allowing you to relax, enjoy every moment, and make unforgettable memories.