For a casual birthday party, opt for comfortable and relaxed clothing such as jeans and a t-shirt, or a sundress and sandals. It's important to dress appropriately for the occasion while also feeling comfortable and confident.
Consider the location, weather, and dress code (if any) before choosing your outfit. Dressing casually does not mean you have to sacrifice style as you can add accessories or layers to elevate your look. Keep in mind that it's the thought and effort that counts, so don't stress too much about your outfit and focus on having a good time with the birthday person and guests.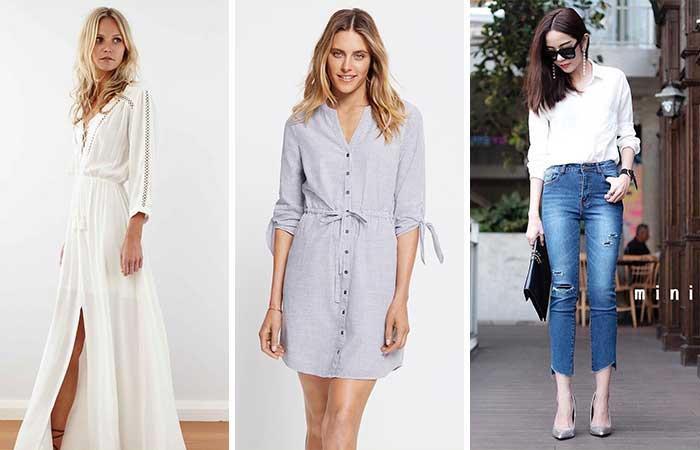 Credit: www.stylecraze.com
Understanding Casual Birthday Parties
What Is A Casual Birthday Party?
Casual birthday parties are often informal events where people celebrate the birthday of a loved one in a relaxed atmosphere. Such parties are not as formal as others, and as such, guests may not need to wear anything too formal.
If you are invited to a casual birthday party and you are wondering what to wear, here are some ideas:
Dress in comfortable attire
Consider the venue beforehand
Opt for simple accessories
Dress in layers
Pay attention to the invitation
Different Types Of Casual Birthday Parties
There are various types of casual birthday parties, and as such, it is essential to know what type of event you will be attending to decide what to wear. These are some of the different types of casual birthday parties you may encounter:
Backyard bbq
Picnic in the park
House party
Restaurant event
Here are some tips on what to wear for each type of casual birthday party.
Backyard Bbq
Wear comfortable shoes
Dress in light fabrics such as linen
Consider a sun hat to shield you from the sun
Shorts, sundresses, or khaki pants are always a good bet
Dress in bright colors to match the vibrant atmosphere
Beach Party
Dress in light fabrics for the warm weather
Opt for a breezy sundress or shorts and tank top
Wear sandals or flip-flops
Pack sunglasses and a sun hat for protection from the sun
Dress in bright or pastel colors for a beach vibe
Picnic In The Park
Wear comfortable shoes to walk around in
Dress in layers
Bring a light jacket or sweater in case of cool weather
Wear simple accessories
Opt for trousers, shorts or sundresses for a relaxed and casual look
House Party
Dress in comfortable and relaxed clothing
Consider the dress code mentioned in the invitation
Dress in bright colors to match the celebratory atmosphere
Simple jewelry is preferable
Wear comfortable shoes as you may be standing and socializing for hours
Restaurant Event
Dress in business-casual attire
Consider the restaurant's dress code beforehand
Dress in elegant yet comfortable attire
Dress shoes and heels are essential to complete the look
Accessories should be minimal to showcase your elegant outfit.
Dressing For A Casual Birthday Party
Are you attending a casual birthday party and worried about what to wear? We've got you covered! Dressing for a casual birthday party requires some thought and effort. You want to look put together without being overdressed. Below we've provided some key points on the importance of dressing appropriately, outfit ideas, and accessories to elevate your look.
The Importance Of Dressing Appropriate
It's always essential to dress appropriately for any occasion, including a casual birthday party. Not only will you feel more confident, but you'll also make a good impression on the host and other guests. Here are some key factors to keep in mind when choosing your outfit:
Consider the location and time of the party. Is it indoors or outdoors? Will you be standing or sitting? Will you be walking a lot? Dress accordingly.
Check if there is a particular dress code or theme for the party. If so, try to follow it to avoid standing out in a negative way.
Dress in layers so you can easily adjust your outfit based on the temperature.
Avoid revealing outfits as they can be inappropriate for a casual setting.
Ditching The Jeans And T-Shirt: Outfit Ideas For A Casual Birthday Party
While jeans and a t-shirt are comfortable, they are not always appropriate for a casual birthday party. Here are some outfit ideas that will make you look stylish and feel comfortable:
A sundress paired with sneakers
High-waisted pants with a fitted top and sandals
A maxi skirt with a crop top and ballet flats
Rompers or jumpsuits with wedge sandals
A midi dress with ankle boots and a leather jacket.
Remember to avoid anything too revealing, too casual, or too formal.
Accessories To Elevate Your Casual Look
Accessories can elevate your casual look from basic to chic. Here are some ideas for accessories to complete your outfit:
Layered necklaces to add texture to your outfit
Statement earrings to grab attention
A belt to accentuate your waistline
A colorful scarf to add color and pattern to your outfit
A crossbody bag or clutch to keep your essentials close at hand.
Avoid over-accessorizing, as it can make your outfit look cluttered.
Dressing for a casual birthday party requires some thought and effort, but it's worth it. By keeping in mind the key points we've provided above, you can look stylish and put together without being overdressed. So, go ahead and enjoy the party with confidence and style!
Decoding Dress Codes
Understanding Dress Codes For Casual Birthday Parties
If you're wondering what to wear to a casual birthday party, the first step is to understand the dress code. Here are some things to keep in mind:
Casual dress code usually means comfortable clothing that you would wear on a regular day, but with an added touch of style.
Dressing up is not mandatory but avoid looking too casual as if you are going for grocery shopping or running errands.
Most casual birthday parties take place in the afternoon or early evening, so aim for a relaxed, informal look rather than something too formal.
Deciding On The Right Outfit Based On The Invitation
Once you understand the dress code, the next step is to decide on what to wear based on the invitation details. Here are some things to consider:
Location: The location of the birthday party plays an essential role in deciding what to wear. A pool party, for example, requires swimwear, while a picnic in the park requires comfortable and casual wear.
Theme: If the party has a theme, make sure to incorporate it into your outfit. If the theme is tropical, wear some floral prints or something bright and colorful.
Weather: Check the weather forecast before deciding what to wear. If it's hot, go for something light and breathable, and if it's chilly, opt for an outfit that will keep you warm.
Remember, the most important thing is to feel comfortable and confident in your outfit. Don't hesitate to add your personal style to your look, be creative and have fun!
Ensuring Comfort And Practicality
Balancing Style And Comfort
Choosing the perfect outfit for a casual birthday party can be challenging. You want to look stylish and put-together, but also feel comfortable and at ease in what you are wearing. Balancing style and comfort is the key to nailing the right birthday party look.
Here are some tips to help you balance style and comfort:
Opt for loose-fitting clothing that will not restrict your movements. Consider slouchy jeans or a flowy dress.
Add pops of color to your outfit with a statement piece such as a bright scarf or bold jewelry.
Choose lightweight fabrics that will keep you cool. Avoid heavy materials that will make you feel weighed down.
Mix and match patterns and textures to add visual interest to your outfit. But beware of overdoing it- simplicity is key!
Layer your clothing for versatility, particularly if you are going from daytime to evening celebrations.
The Right Footwear For A Casual Birthday Party
Wearing the right footwear can help you look stylish while still feeling comfortable and confident throughout the party. Here are some tips for choosing the right footwear for a casual birthday party:
Opt for flats or sneakers if you will be on your feet for an extended period. Strappy sandals or heels can cause discomfort and fatigue.
Consider the weather and the venue when choosing shoes. Factors like a grassy lawn or inclement weather can influence your choice of footwear.
Match your shoes to the style of your outfit. For instance, a pair of trendy sneakers can elevate a casual outfit while still keeping you comfortable.
Need to dress up your outfit? Try a pair of ankle boots with a low heel.
When selecting an outfit for a casual birthday party, ensure that you balance style and comfort effectively. Choose outfits that are loose-fitting, lightweight, and use a mix of patterns and textures. Also, consider the desired footwear that is appropriate for the occasion and comfortable for the entire party.
Follow these simple tips and tricks, and you will look and feel amazing throughout the party.
Frequently Asked Questions On What To Wear To A Casual Birthday Party?
What To Wear To A Casual Birthday Party?
Wear comfortable clothes and avoid overdressing, opting for casual pants, skirts or dresses. Pair with elegant accessories for a touch of refinement.
Can I Wear Jeans And A T-Shirt To A Casual Birthday Party?
Yes, as long as they're clean and in good condition. Opt for fitted or tapered jeans and pair them with a cute top or blouse.
What Shoes Should I Wear To A Casual Birthday Party?
Wear comfortable shoes that match your outfit's style. Flats, sandals, and sneakers work best, but dressy boots or heels can be chosen too.
Can I Wear A Hat Or Cap To A Casual Birthday Party?
Yes, hats or caps can be trendy and stylish. A casual party with close friends is the perfect occasion to wear one.
Is It Okay To Wear Black To A Casual Party?
Yes, black is always a chic and safe option for a casual birthday party. Make sure to add some colourful accessories to brighten up your outfit.
Conclusion
As you prepare for your next casual birthday party, keep in mind that fashion choices are subjective, and personal comfort should rank above everything else. However, you can easily remain stylish and comfortable by selecting clothes that fit well, match the party's tone and reflect your personal style.
Go for a specific theme if the party has one, and pick the right shoes and accessories. Don't forget to layer up if it gets cold, and above all, ensure that you have a good time. With these tips, you'll be well on your way to finding the perfect casual outfit for any birthday party.
Remember, it's not just about the clothes but also having fun while looking good. So go out there, rock your style and enjoy the party!