For beach party outfits, ladies can wear flowy dresses or skirts paired with wedges or sandals. Accessorize with a straw hat and tote bag to complete the beachy look.
Summertime means beach parties, and these occasions call for the perfect outfit to help you feel comfortable, confident, and stylish. Whether you're heading to a beach bar or just going to hang out with friends, it's important to plan your beach party outfit in advance.
You'll want to look your best without sacrificing comfort, so choosing flowy dresses and skirts is an excellent idea. You can also play with colors, patterns, and textures to express your unique style. In this article, we'll explore some great beach party outfits for ladies that are sure to turn heads and make the most of your day by the sea.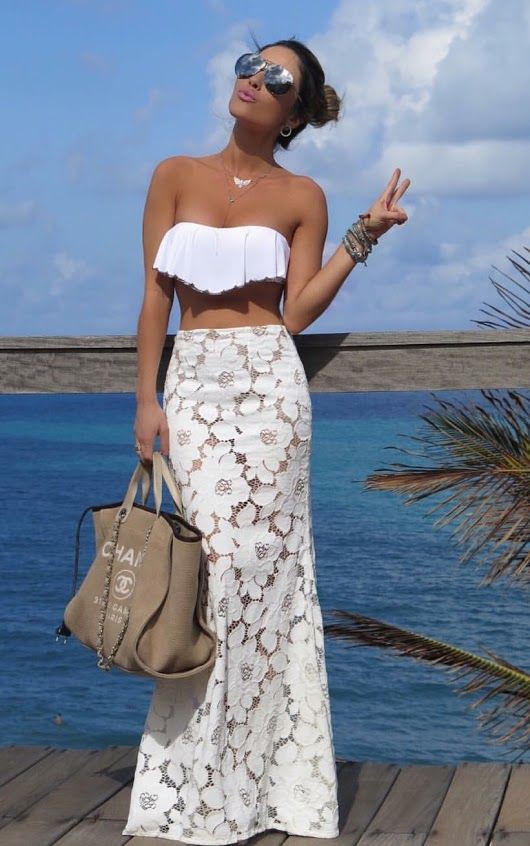 Credit: www.stylevore.com
Dress For The Occasion
Beach Party Outfits For Ladies: Dress For The Occasion
Beach parties are a perfect way to enjoy the summer while meeting new people and having fun. However, choosing the right outfit can be a daunting task. You want to look stylish and comfortable while adhering to the beach party's dress code and theme.
In this post, we will show you how to find the perfect balance between comfort and style, understand the dress code of various beach parties and match your outfit to the party's theme.
How To Find The Right Balance Between Comfort And Style
Finding the right balance between comfort and style is important for any beach party. Here are some tips to help you achieve the perfect balance:
Choose lightweight and breathable fabrics like cotton, linen, or chiffon to keep you cool and comfortable in the heat.
Opt for loose-fitted clothes such as flowy maxi dresses, rompers, or shorts to allow flexibility for outdoor activities like volleyball and frisbee.
Avoid heavy accessories that may cause discomfort, and stick to minimal and dainty jewelry such as bracelets, rings, and necklaces.
Choose comfortable footwear such as sandals or flip-flops, avoiding high heels or wedges that might be challenging to traverse the sand.
Understanding The Dress Code For Different Types Of Beach Parties
Depending on the event's theme, beach party dress codes can vary from casual to formal. Here are some common dress codes you might encounter:
Casual: This dress code is most common for a laid-back gathering with friends. Ladies can wear shorts or capris, sundresses, and simple tops. Avoid wearing overly revealing clothing.
Beach chic: Beach chic requires a more put-together outfit. A lightweight maxi dress, a jumpsuit or romper, or a skirt with a blouse are appropriate for this dress code. Accessorize with statement jewelry and sunglasses.
Bohemian: For a bohemian-themed beach party, ladies can wear flowy dresses, patterned or embroidered kaftans, or tops with bell-bottoms or flared jeans. Don't forget to accessorize with flowers in your hair, aviator sunglasses, and headbands.
Formal: Formal beach events require formal attire. A long, flowing gown or a dressy pantsuit would be appropriate. Choose luxurious fabrics such as silk, velvet, lace, or chiffon.
Matching Your Outfit To The Theme Of The Party
Matching your outfit to the party theme enhances the overall experience. Here are some common beach party themes and outfit ideas to match them:
Luau: A colorful flowy dress, tropical print kaftan, or a hula skirt would match perfectly with this hawaiian-themed party. Accessorize with leis & flower crowns.
Nautical: A striped shirt, sailor hat, and navy-blue shorts are perfect nautical-themed outfit. Accessorize with white sneakers or boat shoes with a rope detail.
Vintage: A retro bikini with a high-waisted bottom with a crop top, a vintage-inspired sundress, or a bohemian maxi dress will be ideal for a vintage beach party. Don't forget the stylistic hats and sunglasses.
The hollywood glamour: A flowing, elegant dress, paired with sparkling jewelry, heels, and an elegant clutch matches the hollywood glamour theme.
Now that you have an idea of what to wear for your next beach party, always remember to have fun and stay comfortable. With these outfits, you'll undoubtedly be turning heads while feeling confident and at ease.
Choosing The Perfect Outfit
Beach Party Outfits For Ladies: Choosing The Perfect Outfit
Are you planning on attending a beach party with your girlfriends soon but struggling to choose the perfect outfit? Don't worry; we've got you covered! We'll give you some tips on how to select an outfit that is both stylish and comfortable for a day at the beach.
The Best Fabric Materials For Beach Wear
When it comes to selecting the perfect beach outfit, consider the type of fabric material. Good beachwear should be lightweight, breathable, and quick-drying. Some of the best fabric materials for beachwear include:
Cotton
Linen
Rayon
Chambray
Jersey knit
These materials will prevent you from feeling hot and stuffy while enjoying your day at the beach.
How To Style And Accessorize Your Outfit
Styling is crucial when it comes to beachwear. Choosing the right accessories can make all the difference. Here are some tips on how to style and accessorize your beachwear outfit:
Choose a bright-colored dress with a bohemian pattern
Pair that dress with a white sunhat and oversized sunglasses
Wear simple flip-flops or sandals to add comfort and style, without distracting from your outfit
Accessorize your outfit with a pair of big hoop earrings and a cute beach bag
By following the above tips, you can create a stylish and comfortable beach outfit that is sure to turn heads.
Maximizing Functionality With Pockets And Storage
When going to the beach, functionality is vital. You want to make sure you have everything you need, but you also don't want to bring an overly bulky bag. Look for outfits with pockets or storage to keep your essentials close at hand.
Some examples of these types of outfits include:
Dresses with pockets
Cargo shorts
Rompers with built-in storage pockets
These types of outfits are not only functional but also chic and fashionable.
Remember, the key to choosing the perfect beach outfit is to combine both style and comfort. By selecting the right fabric materials, accessories, and outfits with built-in storage, you can create a look that will be both stylish and comfortable for your next beach party.
Footwear For The Beach
Beach Party Outfits For Ladies: Footwear For The Beach
Going to the beach and having fun under the sun is one of the most exciting things to do, especially when it comes to beach parties. Planning the right outfit can make your beach trip even more enjoyable. When it comes to dressing up for a beach party, footwear is often overlooked, but it is an essential part of your outfit.
Here are some helpful tips on choosing the right footwear for different beach terrains.
Choosing The Right Type Of Footwear For Different Beach Terrains
When selecting footwear for the beach, you must keep in mind the type of terrain you will be walking on. Different beaches have different terrains, and each requires a different type of footwear. Here are a few options to consider:
Flat sandals: Perfect for sandy beaches, flat sandals are comfortable and easy to wear. They also provide excellent ventilation for your feet, allowing them to breathe in the hot weather.
Espadrilles: These are a great option for rocky beaches as they have a sturdy sole that provides ample support and protection.
Sneakers: Sneakers with gripped soles work well for pebble beaches as they offer extra stability to prevent slipping.
Optimal Design For Style And Comfort
When it comes to beach footwear, you need to ensure they are comfortable, but that doesn't mean you need to compromise on style. Here are some things to consider when choosing the right footwear for your beach party outfit:
Lightweight material: Heavy footwear will weigh you down, slow you down and cause discomfort. Consider using lighter, breathable footwear designs to ensure comfort and freedom of movement.
Support: Ensure that your footwear provides plenty of arch support and cushioning. This will prevent blisters, back pain and foot fatigue.
Waterproof: You're bound to get wet feet, so choose waterproof footwear that can handle the water and sand without ruining your outfit – the last thing you want is wet socks!
Best Styles For Dressing Up Or Dressing Down
Figuring out how to dress for a beach party can be challenging. You want to be stylish, comfortable and casual, but also prevent sand and heat from getting in your way. Here are some footwear style options for dressing up or down:
Flip flops: This classic and stylish staple is ideal for a relaxed and casual beach party. Choose flip flops with unique details such as straps, colors, and even beach-themed accessories to add character to your outfit.
Wedges: Dress up your beach party outfit with comfortable, stylish and versatile wedges. Choose wedges in bright colors to add a pop of color to your outfit.
Jelly sandals: Elegant, comfortable and waterproof jelly sandals are perfect for dressing up for special beach events. Whether it's a beach cocktail party or a wedding at a beachside resort, jelly sandals add glamor and elegance to your outfit.
The perfect footwear for your beach party outfit depends on the terrain of the beach, the comfort and style of the footwear, and the overall attire you intend to sport. With the right footwear, you can enjoy the beach party in style and comfort, without compromising on your outfit's uniqueness and individuality.
Hair And Beauty
Beach Party Outfits For Ladies: Hair And Beauty
Beach parties are all about fun and relaxation, but that doesn't mean you should slack off on your hair and makeup game. It's crucial to choose low-maintenance hairstyles and enough sun protection that won't make you feel weighed down. Here are some tips for nailing the perfect beachy look:
Low Maintenance Hairstyles For The Beach
When you're at the beach, you don't want to spend hours on your hairdo. Instead, consider these effortless styles:
Messy buns: Pull your hair into a loose bun and let some strands fall naturally around your face. It looks chic, takes only minutes, and keeps hair out of your face while you enjoy a beach volleyball game.
Braids: Not only do beachy braids add some cool texture to your hair, but they also protect them from the sun. French, fishtail, or dutch braids, all provide a casual yet stylish appearance.
Beach waves: The classic and effortless beachy wave is the go-to style for a beach party. It makes you look stunning without trying too hard.
Achieving A Natural, Beachy Look With Makeup
When it comes to beach makeup, less is more. You don't want to worry about smudging and sweating off your expensive makeup. Here are some tips to achieve a natural, beachy look with minimal effort:
Lightweight foundations: Choose a lightweight foundation and apply it with a damp beauty blender to give yourself a fresh, barely-there look.
Waterproof mascara: Since you're by the water, go for a waterproof mascara that won't run when you go for a dip.
Lip balm with spf: Lips are often forgotten but just as susceptible to sun damage as your skin. So, apply a lip balm with spf to protect and hydrate them.
Navigating The Beach Environment With Sun Protection And Beauty Products
Your hair and skin are prone to damage from the sun, sand, and sea, so using beauty products while partaking in outdoor activities is critical.
Sunscreen: Sunscreen is a must-have to protect your skin from sunburn, which could ruin the party. Choose a sunscreen with a high spf if you're spending the day outside.
After sun lotion: Even if you do not get sunburnt, your skin may still feel damaged after a full day in the sun. So, apply a moisturising after sun lotion.
Hydrating hair mist: Saltwater and chlorine can seriously affect your hair health, so hydrating your hair with mist, before and after hitting the water can help.
Remember, the key to looking and feeling fantastic at the beach is keeping it simple and effortless. Adhere to these hair and beauty tips for your next beach party, and you're sure to look flawless.
Frequently Asked Questions On Beach Party Outfits For Ladies
What Are Some Trendy Beach Party Outfits For Ladies?
Ladies can rock a flowy dress, a crop top and shorts combo, or a printed maxi dress for a beach party. Pair with sandals or wedges for a fashionable look.
Can I Wear Heels To A Beach Party?
While heels may look great with your outfit, they're not very practical for a beach party. Opt for comfortable sandals or wedges that won't sink into the sand.
What Swimwear Is Appropriate For A Beach Party?
Bikinis and one-piece swimsuits are both appropriate for a beach party. Just make sure you choose a comfortable fit and a style that complements your body type.
Are Hats Necessary For A Beach Party?
Hats are not necessary but they can provide protection from the sun and add a stylish touch to your outfit. A wide-brimmed straw hat or a baseball cap can both work.
How Should I Accessorize For A Beach Party?
Keep it simple with minimal jewelry like a pair of earrings or a statement necklace. A beachy tote bag, sunglasses, and a beach towel can also add to your look.
Conclusion
So there you have it, ladies, some fabulous beach party outfits to make you stand out. Remember, choosing an outfit that makes you comfortable and confident is key. You don't need to break the bank to look great. Get creative with mixing and matching different items to create new looks using your existing wardrobe.
Don't be afraid to try new things, like bold prints or accessorizing with statement jewelry. When it comes to beach parties, the possibilities are endless. With these tips, you can make sure you are dressed to impress at your next beach gathering.
So go ahead, soak up the sun, enjoy the music, and have fun with your loved ones, all while looking fabulous!