For a comfortable and appropriate clothing option in japan, wear simple and comfortable attire with minimal accessories. Japan is a unique blend of modern and traditional culture with a distinct sense of fashion.
It is important for visitors to dress appropriately and comfortably while exploring the country. Wearing simple and comfortable attire with minimal accessories is recommended as japan values modesty and simplicity. The country has distinct weather changes throughout the year, so it is crucial to pack for the weather to ensure a comfortable trip.
Furthermore, taking off shoes when entering homes and certain establishments is a customary practice, so it is essential to wear comfortable shoes that are easy to take off and put on. In this article, we will guide you on what to wear to japan to make your trip comfortable and memorable.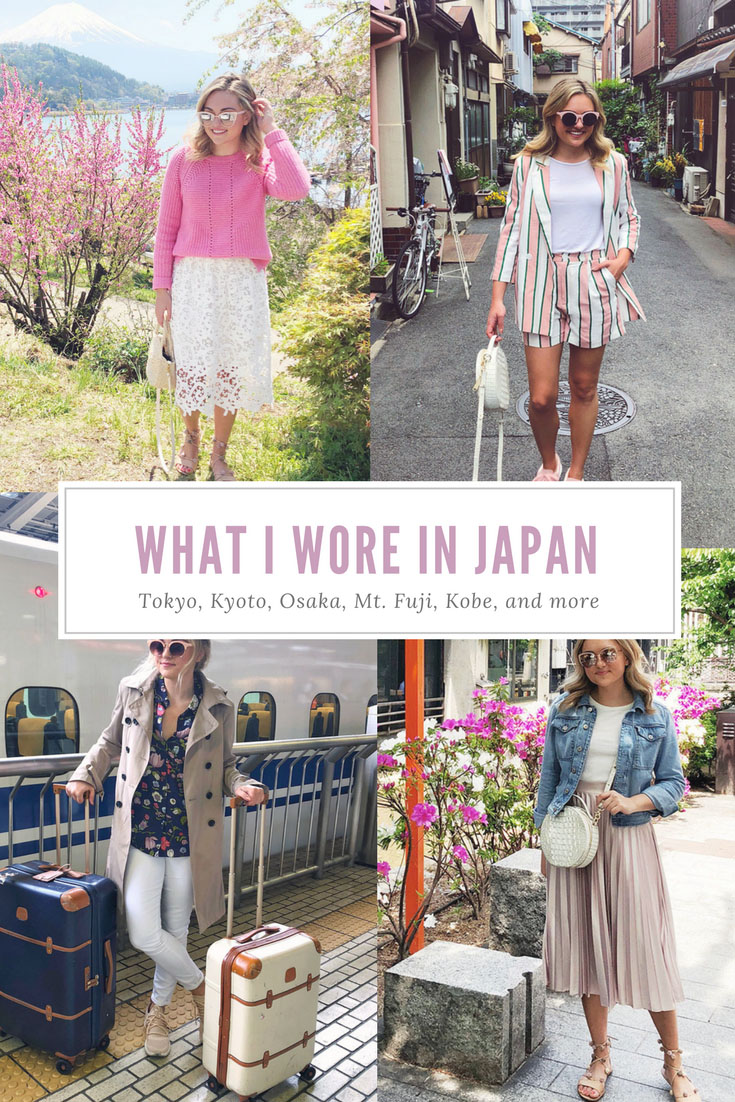 Credit: bowsandsequins.com
Understanding Japan'S Culture And Climate
If you're planning a trip to japan, it's important to understand the country's culture and climate before deciding what to wear. Japan is a country that values modesty and respect, and dressing appropriately plays a crucial role in showing proper etiquette.
Additionally, the country experiences four distinct seasons, each with its own temperatures and weather patterns. Here's what you need to know about understanding japan's culture and climate when deciding what to wear.
Japan'S Four Seasons
Japan experiences four distinct seasons, each lasting approximately three months. They are:
Spring (march to may): Temperatures are mild, but it can still be chilly, especially in the mornings and evenings. Expect occasional rain and wind.
Summer (june to august): Temperatures are hot and humid, with occasional typhoons and thunderstorms.
Autumn (september to november): Temperatures cool down, but still remain mild. The country experiences beautiful fall foliage during this time.
Winter (december to february): Temperatures drop below freezing, with snowfall in many regions.
Dressing Appropriately For Each Season
When it comes to dressing for japan's four seasons, it's important to consider the weather and temperature. Here are some tips for what to wear:
Spring: Layer your clothing to accommodate for the fluctuating temperatures. A light jacket or sweater is recommended.
Summer: Wear breathable and light clothing such as cotton or linen, as temperatures can become extremely hot and humid.
Autumn: Layering is important during this season as well. Bring a light jacket or cardigan for when temperatures drop in the evenings.
Winter: Dress in layers and wear pieces made of wool or fleece to stay warm. Hats, scarves, and gloves are also necessary accessories.
Clothing Etiquette In Japan
Japan is known for its strict etiquette when it comes to clothing. Here are some important considerations to keep in mind:
Modesty is valued, so avoid revealing clothing such as shorts, tank tops, and low-cut tops.
Remove your shoes before entering someone's home or certain establishments such as temples and traditional restaurants. Wear socks with no holes or bare feet.
Tattoos are often associated with the yakuza (japanese mafia) and are generally not accepted in public places such as hot springs, public baths, and gyms.
When visiting religious sites, it's recommended to wear conservative clothing that covers your shoulders and knees.
Understanding japan's culture and climate is essential to knowing what to wear when traveling there. Dressing appropriately shows respect for the country and its customs, and ensures a comfortable and enjoyable trip.
Dressing For Different Occasions In Japan
Japan is a country known for its unique culture and traditions, which are reflected in their fashion choices. If you are visiting japan soon, one of the most important things to consider is the appropriate attire for different occasions. Dressing up appropriately will not only show your respect for the japanese culture but will also help you feel comfortable and confident.
Here are the key points to keep in mind when selecting your wardrobe according to the occasion.
Business Attire In Japan
In japan, it is common for employees to have a dress code at work. The traditional concept of business attire in japan is known as "sebiro" or "seifuku. " Here are a few points to consider when dressing for a business meeting or event in japan:
Men should wear a dark-colored suit with a tie and dress shoes.
Women can wear a formal skirt suit or a knee-length skirt with a blouse. Avoid wearing revealing or flashy clothing and accessories.
Dark colors like navy blue, black or grey are considered appropriate for business meetings.
Make sure your clothes are clean, well-pressed, and fit you well. Avoid wearing strong perfumes or colognes as they may bother others.
Casual Wear In Japan
Casual attire is becoming more popular and acceptable in japan, especially in urban areas. Here are some essential points to keep in mind when looking for comfortable yet stylish casual outfits:
Women can wear dresses, skirts, blouses, t-shirts, jeans, or shorts. Avoid wearing revealing outfits.
Men can wear shirts, t-shirts, jeans, or shorts.
Choose simple and comfortable footwear like sneakers or sandals.
Japan can get pretty hot and humid during the summer months, so lightweight and breathable fabrics like cotton are recommended.
Formal Wear In Japan
Formal occasions in japan like weddings, funerals, and formal dinners require a special dress code. Here are some points to keep in mind:
Traditionally, women are expected to wear a full-length kimono or formal wear like a long skirt with a blouse or dress. It is also acceptable to wear a western-style evening gown.
Men should wear a black or white suit with a tie and dress shoes. Kimono or yukata can also be worn for formal occasions.
Bright and flashy clothing, as well as revealing outfits, are not appropriate for formal events.
Avoid wearing white or black dresses to weddings as they are reserved for funerals.
Dressing up for different occasions in japan requires some attention to detail and knowledge of their culture and traditions. By keeping these key points in mind, you can ensure that you dress respectfully according to the occasion, make a good impression, and feel comfortable in your outfit.
What To Pack For A Trip To Japan
Japan is a perfect destination to experience unique culture and natural beauty at the same time. However, figuring out what to wear in japan could be challenging. To help ease your worries, here's a detailed guide on what to pack for your japanese adventure.
Basic Clothing Essentials
Comfortable shoes: Since you'd be doing a lot of walking, comfortable shoes are a must. Consider wearing sneakers, loafers, or boots.
Breathable clothes: Japanese summers could be hot and humid, so pack loose-fitting clothes made with breathable fabric such as cotton or linen.
Cover-ups: Japan is a conservative country, so it's preferable to carry a cover-up such as a light sweater or a scarf to wear over sleeveless tops or dresses.
Long pants or skirts: Many religious sites and traditional restaurants in japan require visitors to wear long pants or skirts. Packing a pair of long pants or skirts would save you from any inconvenience.
Must-Have Accessories
An umbrella: Japan is famous for its unpredictable weather, so carrying an umbrella is a wise decision.
A backpack: Carrying a backpack could come in handy while exploring century-old streets and shrines.
A reusable water bottle: Public water fountains are readily available all around japan, and carrying a reusable water bottle saves money and reduces plastic waste.
A camera: Japan offers some of the most stunning sights in the world, so it's essential to capture all the memories with a camera.
Japanese Souvenirs That Double As Fashion Items
Yukata robes: Yukata is a traditional japanese garment worn by men and women. The light cotton fabric makes them comfortable during the humid summer season.
Tabi socks: Tabi socks are a unique japanese souvenir, and they are the perfect accompaniment for traditional japanese sandals.
Tenugui towels: Tenugui towels feature minimalist designs and come in handy as headbands, souvenirs, or even as handkerchiefs.
Kimonos: Kimonos are traditional japanese garments that are famous worldwide and are commonly worn by women. They come in various fabrics for different seasons and occasions.
Visiting japan requires practicality, versatility, and comfort in clothing. By keeping this guide in mind, you'll always be on par with the japanese locals when you pack your bags.
Shopping For Clothes In Japan
When it comes to traveling to japan, packing for the trip can be an exciting but challenging task, especially when it comes to clothing. Japan is a unique country with its own fashion styles and customs that might be different from what we are used to.
Fortunately, japan is also a shopping paradise for both locals and visitors, making it easy to find appropriate clothing options. In this blog post, we will discuss where to shop for clothes in japan, popular japanese fashion brands, and unique and traditional japanese clothing.
Where To Shop For Clothes In Japan
Japan has a plethora of shopping options available for all types of fashion styles and budgets. Here are some of the popular options for shopping for clothing in japan:
Department stores: Japan is famous for its large department stores such as isetan, mitsukoshi, and takashimaya. They offer a wide selection of clothing from famous international brands to local luxury brands and unique designer boutiques. Many of these department stores also have tax-free shopping options for tourists.
Shopping streets: Japan has plenty of shopping streets that offer a unique shopping experience. Some of the popular ones are takeshita street in harajuku, nakamise shopping street in asakusa, and shinsaibashi-suji shopping street in osaka. These streets are lined up with stores selling everything from fashion clothing, accessories, and souvenirs.
Outlet malls: If you're looking for a budget-friendly shopping option, japan has several outlet malls, such as gotemba premium outlets and rinku premium outlets. These outlets offer discounted products from various international and local brands.
Secondhand shops: Japan has a thriving secondhand clothing market, and stores like ragtag, kinji, and komehyo offer gently used clothing from luxury to streetwear brands. The quality of secondhand clothing in japan is top-notch, and you can find some unique gems.
Popular Japanese Fashion Brands
Japan has some famous globally recognized fashion brands. Here are some of the popular ones:
Uniqlo: Uniqlo is a japanese casual wear designer, manufacturer, and retailer that offers high-quality, functional, and affordable clothing. They have a vast selection of clothing, including their signature casual wear, heattech, and airism lines.
Comme des garçons: Comme des garçons is a japanese fashion brand founded by rei kawakubo. The brand is known for its avant-garde and unconventional designs.
Bape: Bape is a streetwear brand founded in 1993 by tomoaki nagao. The brand is known for its signature camo pattern, ape head logo, and limited edition collaborations.
Yohji yamamoto: Yohji yamamoto is a japanese fashion designer known for his avant-garde and dark aesthetic designs. His clothing is a popular choice among fashion enthusiasts.
Unique And Traditional Japanese Clothing
Japan has a rich cultural heritage and various unique clothing styles that make excellent souvenirs or cultural experiences. Here are some of the popular traditional clothing styles in japan:
Kimono: Kimono is a traditional japanese garment worn by women, men, and children for formal events or ceremonies. Kimonos are made of silk or other high-quality fabrics and feature intricate patterns and designs.
Yukata: Yukata is a casual summer kimono made of lightweight cotton or synthetic fabrics. They are popular among both japanese and foreign visitors as a comfortable and stylish summer wear option.
Hakama: Hakama is a traditional japanese skirt-like pants worn by men and women on special occasions, such as graduation ceremonies, tea ceremonies, and martial arts events.
Geta: Geta is a traditional japanese wooden sandal worn with kimono or yukata. They feature a raised wooden block under the sole.
Japan is a fashion lover's paradise with many shopping options ranging from luxury brands to budget-friendly options. Additionally, japan offers unique and traditional clothing styles that are excellent souvenirs or cultural experiences. Happy shopping!
Tips For Packing Light And Staying Comfortable
Are you planning a trip to japan but not sure what to pack? Japan is known for its distinct fashion style, but that doesn't mean you need to sacrifice comfort for style. Here are some packing tips to ensure you stay comfortable and stylish during your travels.
Choosing The Right Fabrics
Choosing the right fabrics is essential when packing for japan. The climate can vary from city to city, so it's important to pack clothes that are suitable for the different weather conditions. Here are some fabrics to consider for your japan trip:
Cotton: Cotton is a breathable material that is perfect for warmer weather. Plus, it's lightweight and easy to pack.
Wool: Wool is a great fabric for colder climates as it provides warmth and insulation.
Nylon: Nylon is a durable, water-resistant material that is ideal for rainy weather.
Denim: Denim is a versatile fabric that can be dressed up or down. Plus, it's durable and easy to wear.
Layering Techniques
Layering is key to dressing for japan's varying weather conditions. Here are some layering tips to keep in mind:
Start with a base layer: A lightweight, moisture-wicking shirt is a great starting point for any outfit.
Add a mid-layer: A sweater or cardigan is perfect for adding warmth when it's cold outside.
Finish with a top layer: A jacket or coat is essential for staying warm and dry in rainy weather.
What To Wear On A Long Flight To Japan
Comfort is key when it comes to long flights. Here are some outfit ideas to ensure you still look stylish when traveling to japan:
Leggings or sweatpants paired with a comfortable t-shirt or sweater.
A loose-fitting dress paired with a cozy cardigan or shawl.
Comfortable shoes are a must. Sneakers or slip-on flats are a great option.
Japan is a unique destination with a distinct fashion style. However, by packing the right fabrics, utilizing layering techniques, and dressing for comfort on long flights, you can ensure a comfortable and stylish trip. Remember to be mindful of the weather conditions in each city you visit and pack accordingly.
Frequently Asked Questions Of What To Wear To Japan?
What Should I Wear In Japan During Summer?
Light clothing and breathable fabrics such as cotton and linen are recommended during the summer. However, it's important to also have a light jacket or sweater for the occasional cool evening breeze or air conditioned indoor spaces.
Can I Wear Sandals In Japan?
Yes, you can wear sandals in japan. However, it is advised to avoid flip-flops, especially in the cities, as they can be seen as too casual. It's best to opt for more formal and stylish sandals for a comfortable and stylish option.
Are There Any Clothing Restrictions When Visiting Temples?
Yes, visitors are required to dress modestly when visiting temples in japan. This means covering up bare shoulders and knees. It is best to wear long pants or a long skirt and a shirt that covers your shoulders.
What Should I Wear During Winter In Japan?
Winter clothing such as warm jackets, scarves, gloves, and hats are necessary during the colder months in japan. It is best to wear thermal or wool clothing to keep warm and comfortable during the cold weather.
Can I Wear Western-Style Clothing In Japan?
Yes, western-style clothing is generally accepted in japan. However, it is recommended to dress semi-formally for business and formal occasions. It's also important to note that some traditional events may require more formal attire, such as a kimono or yukata.
Conclusion
As you plan for your trip to japan, it is essential to consider how to dress appropriately. With japan's unique culture and weather patterns, it is essential to pack the right clothes. From traditional kimonos to modern streetwear, japan offers a diversity of fashion styles to explore.
Remember to keep your attire comfortable and conservative when visiting religious sites, and avoid flashy and revealing outfits. For the colder months, a warm jacket or coat, and waterproof boots will suffice. Additionally, for the warmer seasons, lightweight fabrics such as cotton and linen are ideal.
Overall, dressing appropriately in japan shows respect and cultural awareness and enhances your overall travel experience. So pack smart, stay comfortable and embrace the uniqueness of japan's fashion, cultures, and traditions.