A light jacket or long-sleeved shirt paired with shorts or light pants and sandals work well for beach nights. Evenings at the beach can be magical, but dressing perfectly for the occasion can be a tricky task.
The beach setting can be unpredictable with changing temperatures and humidity levels. Therefore choosing flattering and comfortable attire, and also suitable footwear becomes essential to enjoying a beach night fully. In this article, we shall discuss some attire ideas that offer versatility, fashion, and comfort all in one.
From lightweight clothes to breathable fabrics, pick outfits that make you feel comfortable and presentable. Let's delve deeper into what you should wear to the beach at night.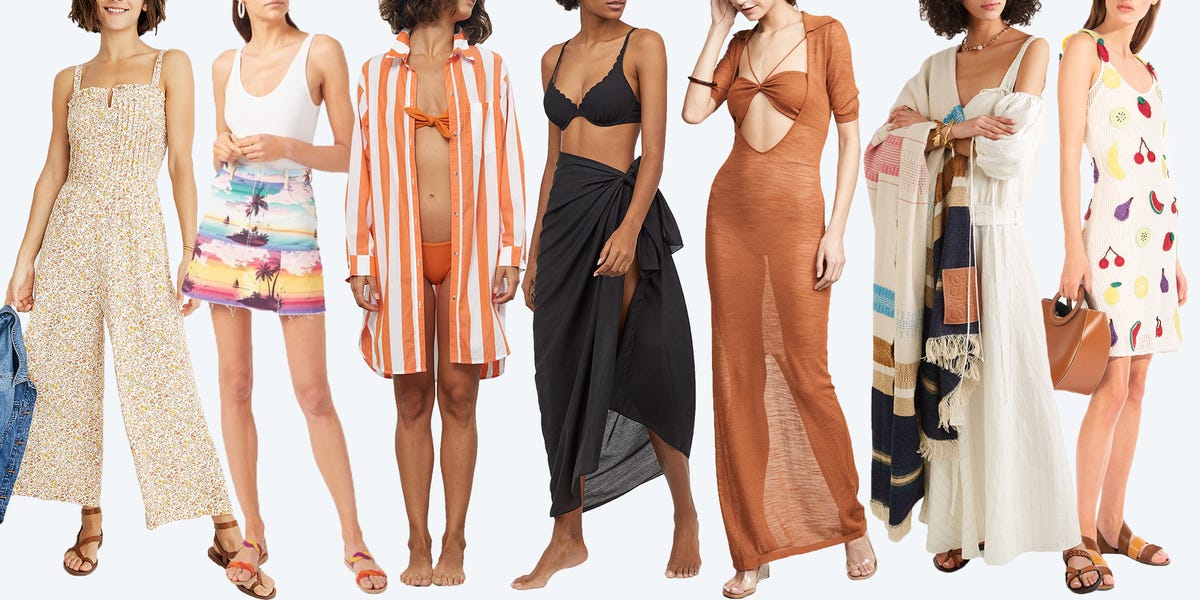 Credit: www.elle.com
Understanding The Weather And Temperature
The Importance Of Knowing The Temperature Before Deciding What To Wear
Knowing the temperature is crucial when deciding what to wear to the beach at night. Wearing inappropriate clothes can quickly ruin your beach experience, making you feel uncomfortable and unhappy. Here are some key points to consider:
Check the weather forecast for the expected temperature range before leaving for the beach.
Consider that the temperature at the beach can be several degrees lower than in other places.
Take into account the humidity level and the strength of the wind.
Clothing Materials That Work With Cool Beach Temperatures
On cooler nights, you'll still need to dress appropriately for a comfortable and enjoyable beach experience.
Opt for breathable, lightweight and layered clothing such as a light sweater, long sleeve shirts, and jackets.
Choose fabrics that retain warmth, such as wool or fleece, but do not retain moisture.
Consider wearing pants if the temperature is too low.
Clothing Materials That Work With Warm Beach Temperatures
If the temperature is warm, light, airy clothes are best to keep yourself cool and comfortable all night long.
Choose materials that are lightweight, breathable and moisture-wicking, such as cotton or linen.
Opt for loose-fitting clothes to allow your skin to breathe.
Try wearing shorts and a t-shirt or a sundress to stay cool.
Accessories To Consider To Layer Outfits For Changing Temperatures
When you're at the beach at night, temperatures can fluctuate rapidly, so layering is key.
Wear a scarf or shawl as a versatile accessory that can be worn as a wrap or used as a blanket if temperatures drop.
Bring a hat or beanie to protect your head from wind and keep it warm if needed.
Pack a lightweight jacket or hoodie that can be easily removed or added depending on the temperature.
With these tips in mind, you're now ready to make the most out of your beach experience even on chilly nights. Keep in mind that with the right clothing materials and accessories, you can enjoy the beach even at night-time, no matter the temperature.
Dressing For The Beach Party Scene
Understanding Party Themes And Dress Codes
Attending a beach party requires understanding the party theme and dress code. This sets the tone for the night and ensures that you dress appropriately. Below are some general themes and dress codes you may encounter:
Tropical/beachy theme: Think casual, lightweight clothing such as sundresses, maxi dresses, shorts, tank tops, and button-down shirts. Avoid heavy fabrics and dark colors.
Formal beach party: Smart casual or cocktail attire for men and women. Men can opt for linen or cotton suits, while women can wear dresses or dressy separates. Shoes should be dressy, and accessories such as jewelry and watches are a must.
Festival or rave: This is the time to bring out your most flamboyant outfit. Think neon colors, mesh fabrics, and bold prints. Comfortable shoes such as sneakers or sandals are a must.
Costume party: This requires creativity. Dress up as your favorite celebrity or fictional character, or go for a beach-related costume such as a mermaid or a pirate.
Choosing The Right Outfit For The Occasion
Choosing the right outfit is crucial when it comes to beach parties. After all, you want to be both stylish and comfortable. Here are some tips to keep in mind while selecting your outfit:
Consider the weather: Dress appropriately for the temperature, and ensure your outfit is suitable for both indoors and outdoors.
Comfort is key: Wear something that will allow you to dance and move around freely. Avoid anything that feels too tight or restrictive.
Keep it light: Choose lightweight fabrics such as cotton, linen, or rayon. Avoid heavy, synthetic materials as they can be uncomfortable in the heat.
Accessorize smartly: Consider wearing a statement necklace, bracelet, or earrings to add some flair to your outfit while keeping it simple.
Outfit Inspiration For Different Types Of Beach Parties
Here are some outfit ideas for different types of beach parties:
A tropical beachy party: For the ladies, wear a floral maxi dress with strappy sandals and a sling bag. Men can wear a printed short-sleeved shirt with shorts and boat shoes.
Formal beach party: Women can choose a midi or knee-length dress with espadrille wedges and a clutch. Men can opt for a linen or cotton suit with loafers.
Festival or rave: Wear a bright-colored mesh crop top, high waisted shorts, and sneakers. Accessorize with chunky jewelry, sunglasses, and a fanny pack.
Costume party: Ladies can dress up as mermaids with sequin tops, flowy skirts, and a mermaid crown. Men can dress up as pirates with a striped shirt, black pants, and a captain's hat.
Accessorizing For The Party Scene
Accessories can make or break an outfit. Here are some tips for accessorizing for beach parties:
Statement jewelry: Choose a piece of jewelry that will make a statement without overpowering your outfit. Think chandelier earrings, tassel necklaces, or cuff bracelets.
Sunglasses: A must-have accessory for any beach party. Choose a pair that complements your face shape and outfit.
Shoes: Comfort should be the priority when it comes to beach party shoes, but that doesn't mean they can't be stylish. Opt for sandals, sneakers, or espadrilles.
Bags: Go for a clutch or a small crossbody bag that will hold your essentials. Avoid heavy backpacks as they can be uncomfortable to carry around.
Remember that the ultimate goal is to have fun and feel confident. Use these tips and outfit ideas to create a look that's perfect for the beach party scene.
Navigating Safety Concerns For Nighttime Beach Activities
Clothing Options That Promote Safety
Selecting appropriate clothing for nighttime beach activities can be challenging. However, dressing appropriately can minimize potential safety hazards. The following bullet points highlight clothing options that promote safety:
Wear bright and reflective clothing to increase visibility while walking or running on the beach.
Consider wearing a hat or a cap to protect your head against any low hanging branches, and also to protect your face against glare from campfires on the beach.
Avoid wearing loose-fitting clothing, as it may get caught up in rocks or other objects in the sand.
Ensuring Visibility In Dimly Lit Areas
One of the biggest concerns with night-time beach activities is ensuring visibility in dimly lit areas. Here are some tips to ensure you remain visible while enjoying the beach after dark:
Carry a torch with you at all times to avoid stepping on sharp objects or rocks.
Wearing reflective clothing is a great way to ensure other beachgoers and drivers can easily see you.
Avoid sitting or standing in the dark where drivers may not see you.
Footwear Options For Beach Activities
Having the right footwear can also be an essential aspect of a safe and enjoyable nighttime beach experience. Consider the following tips for beach footwear:
Comfortable shoes or sandals should be a priority, as they allow you to move quickly in case of emergency.
Closed-toed shoes can protect your feet from hidden beach debris such as sharp shells, rocks, or broken glass.
Sneakers with good traction can be useful in rocky areas or if you are planning on doing any nighttime hiking along coastal trails.
Clothing Options For Activities Such As Bonfires And Night Swimming
Bonfires and night swimming are popular nighttime beach activities. Appropriate clothing ensures that the activities remain safe and enjoyable. Here are some clothing options to consider:
Wear a light cardigan or sweater to protect yourself from the sea breeze and to keep you warm during an evening bonfire.
If you're going swimming, bring a swimming costume that is well-fitted, and avoid loose clothing that could trip you up in the water.
Consider wearing water shoes if you're planning on swimming after dark. They protect your feet from sharp rocks on the shore and provide added traction on slippery surfaces.
Building A Versatile And Chic Beach Wardrobe
Heading (): Essential Clothing Items For Multiple Beach Occasions
When planning your beach wardrobe, don't expect to wear the same attire for all occasions. Prepare for different beach activities by bringing versatile clothing that cater to each event. Here are some essential clothing items that should be included in your beach wardrobe:
Flowy sundresses that can be easily dressed up or down.
Swimwear that is not only comfortable but also looks stylish for sunbathing.
Maxi dresses for those evening beachside walks.
Cover-ups that can be worn over swimsuits, dresses or shorts.
Shorts that can be paired with any top.
Comfortable sandals that you can walk around in for hours.
A light sweater for cooler evenings.
Heading (): Stylish Ways To Mix And Match Outfits
Packing for a beach trip can be stressful, especially when you want to look stylish without being weighed down. But, there's no need to bring your entire wardrobe with you. To save space and still look chic, here are some tips for mixing and matching outfits:
Choose a color palette for your wardrobe to keep all your clothing cohesive.
Bring versatile pieces that can be worn in different combinations.
Layer your clothing to create different looks.
Add accessories such as hats, sunglasses, and jewelry to elevate your outfits.
Heading (): Tips For Packing Light While Staying Fashion-Forward
No one wants to lug around unnecessary luggage when traveling, which is why packing light is the way to go. But, packing light doesn't mean sacrificing style. Here are some tips for packing light while staying fashion-forward:
Plan your outfits in advance and pack accordingly.
Choose lightweight fabrics that are easy to pack and won't take up too much space.
Pack versatile clothing that can be worn in different outfits.
Roll your clothing instead of folding them to save space.
Heading (): Diy Outfit Hacks For Revamping Old Beachwear
Upcycling old clothing is not only environmentally friendly, but it's also a great way to update your wardrobe without breaking the bank. Here are some diy outfit hacks for revamping old beachwear:
Tie-dye your old white t-shirts for a new and colorful look.
Cut up your old shorts and distress them for a trendy look.
Add studs or beading to your cover-ups for a unique touch.
Turn your old maxi dress into a skirt by wearing a top over it.
Building a versatile and chic beach wardrobe doesn't have to be complicated. With the right essential items, outfit combinations, and diy hacks, you can pack light and look stylish for every beach occasion.
Nailing The Beach Night Look With Makeup And Hair
Heading to the beach at night is no excuse to let your beauty game slip. From simple and beach-appropriate makeup looks to hairstyles that work with the beach atmosphere, here's how to slay the beach night look with ease.
Simple And Beach-Appropriate Makeup Looks
Makeup that's too heavy can make you feel uncomfortable and stand out in an unflattering way. Instead, opt for simple and beach-appropriate makeup looks that will enhance your natural beauty without overpowering it. Here are a few tips:
Use a tinted moisturizer or a lightweight bb cream instead of a foundation for a more natural look.
Emphasize your eyes with a touch of mascara and a neutral eye shadow palette.
Add a pop of color to your lips by using a tinted lip balm or a sheer lipstick.
Hairstyles That Work With The Beach Atmosphere
The beach night look is all about laid-back vibes, so choose hairstyles that reflect this carefree attitude. Here are a few options:
Beachy waves are the classic go-to hairstyle for any beach occasion. Use a salt spray on damp hair and scrunch your locks with your fingers to create the perfect beachy texture.
A messy bun is another great option for a more effortless look. Pull your hair back into a loose bun, leaving a few strands out for a more natural feel.
Braids are perfect for the beach! Try a simple side braid, a fishtail braid, or a braided crown to keep your hair off your face and give it a subtle boho touch.
Accessorizing With Hair And Beauty Products
Accessories are the finishing touch that pulls the whole look together. Here are a few ways to accessorize with hair and beauty products:
Use a texturizing spray or a sea salt spray to add volume and texture to your hair.
Try a hair wrap or a headscarf for a pop of color and style.
Use a body shimmer lotion to add a hint of sparkle to your skin.
Don't forget to apply sunscreen, preferably with an spf of at least 30. Sun protection is key to keeping your skin healthy and looking young.
Whether you're enjoying a night out with friends or having a romantic beachside dinner, these beauty tips will help you achieve the perfect beach night look. Remember to keep it simple, embrace the beachy vibe, and have fun!
Frequently Asked Questions On What To Wear To The Beach At Night?
What Should I Wear To The Beach At Night?
Wear something comfortable like a loose maxi dress or a pair of shorts and breezy top. Avoid tight clothing and opt for sandals or flip-flops instead of heels. A light sweater or wrap will keep you warm in cooler temperatures.
Can I Wear A Swimsuit To The Beach At Night?
Yes, you can wear a bathing suit to the beach at night. However, you may want to bring a cover-up or wrap to keep warm or get yourself dried up after a dip in the ocean. Mix and match a tankini top with shorts or a sarong to create a beach-friendly outfit.
What Accessories Can I Wear To The Beach At Night?
Wear beach-friendly accessories like a straw hat, sunglasses, and a statement necklace. A crossbody bag or tote will make it easy to carry around your essentials. Avoid jewelry that will tarnish in the salty air and opt for waterproof options if you plan to take a nighttime swim.
Conclusion
It's not just a day affair when it comes to going to the beach, as the warm sand, cool breeze, and tranquil waters make for an ideal night out. You can create a chic outfit that is perfect for a night out by mixing and matching clothing options and adding some accessories.
Some great options include flowy maxi dresses, shorts, light-colored tops, kaftans, and rompers. Keep in mind that comfort is key, so opt for breathable and lightweight fabrics. Accessorize with sunglasses, a sun hat, mini clutch bags, and statement jewelry to complete the look.
Now that you know what to wear to the beach at night, you can focus on enjoying the sand and surf while also looking stylish. Whether it's a bonfire, a beach party, or a romantic evening, you are sure to stand out with these fashion tips in mind.
So, get ready for a stunning night at the beach with your perfect outfit!